The following content may contain affiliate links. When you click and shop the links, we receive a commission.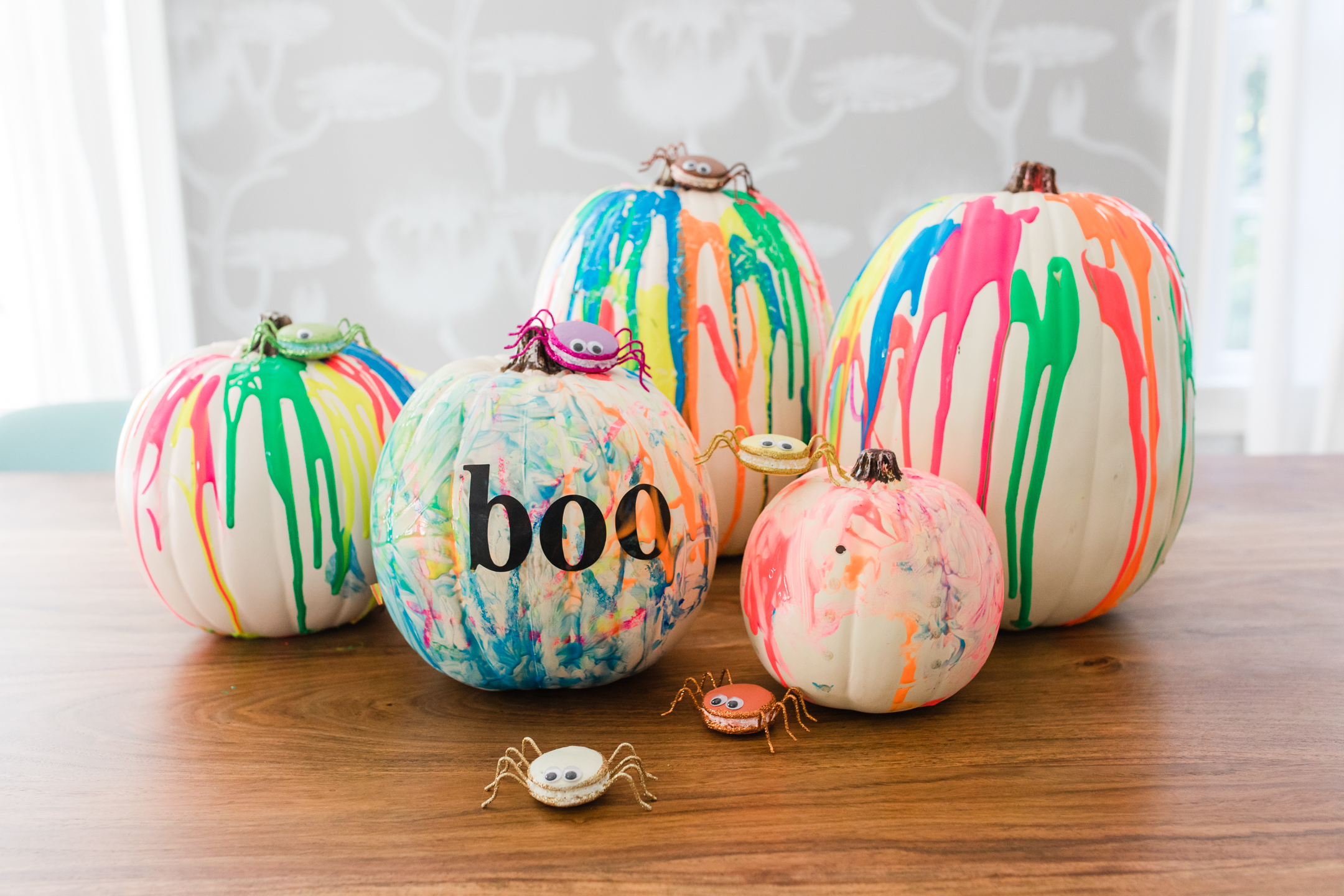 This blog post was originally published on October 23, 2017.
Every year around this time, I like to pick a new, fun way to decorate pumpkins with my family! I'm normally a traditional Jack-o-Lantern gal, but since having kids, I find that having to cut and carve a pumpkin really isn't too kid-friendly.  So we've stuck to crafting them the past few years — and I gotta say I've been having a blast!
This year I wanted to go against the traditional orange and black vibes and do something a bit more colorful and modern.
Allow me to introduce you to…my DIY Technicolor Pumpkins for Halloween!
Both of my kids really like playing and crafting with paint. Marlowe can have a bit more control now that she's three, so I had her help me with some drip art.  Major just went totally crazy with the finger painting.  LOL.  I find that if you keep the colors super neon and the palette really restrained (choose three or four colors only), the finished product will look intentional and not like a disaster. Ha!
directions…
Step 1
Add Words!
Begin by placing any words or letters you'd like to put on the pumpkins! You want to make sure you do this before any paint touches the pumpkins.
Step 2
Set Up!
Next, set up your painting area! I take zero chances and put a drop cloth down in my backyard to really make sure my kids can go crazy and have fun with zero stress on Mama's end.
Step 3
Paint!
Now you can begin to paint! I like to drip the paint down the sides of the pumpkins to create a spooky effect.  For Major, I did the drips and then let him have fun smushing it around. He also drew with the solid paint. Allow the pumpkins to dry for 6-12 hours and then display!