The following content may contain affiliate links. When you click and shop the links, we receive a commission.
With school around the corner, I've been trying to think up some cute ways to welcome Marlowe's new second-grade teacher back to the school year. Even though our country has made some great strides since the vaccine in our battle against COVID, this year is shaping up to be just as unexpected as last year. It won't be easy for kids OR students to navigate. I'm definitely going to be sending Marlowe to school on the first day with a little treat in her backpack!
I wanted to make a craft with her that was easy, but also had a store-bought component. Something homemade is always great, but I am lucky enough to have lots of teachers following me and my blog, and they always let me know that teachers LOVE gift cards. I decided to make a cute gift card holder that's shaped like an apple, with a pencil stem! This craft is super inexpensive, and uses felt, a pencil, and any planter you may have. The little Hershey's Kisses on the inside serve as a sweet treat, and help the gift card from banging around in there. I plan to fill our teacher's "apple" with a gift card to Starbucks. Everyone needs a special latte from time to time, especially people dealing with multitudes of children in a classroom! LOL.
And because our teachers deserve a lot of extra help this year, I decided that I'm going to use this blog post to clear a teacher's list! If you are a teacher, please comment below, and leave a link to your amazon list. Feel free to share a little about your classroom, too! I will pick one and clear the whole list. 
If you are NOT a teacher but would like to clear a teacher's list, feel free to browse around in the comments section and choose one! Just make sure to reply to the comment that you've cleared the list so people know that one has been taken. Thank you so much for helping me with this, and enjoy this back-to-school craft!
Step 1
Paint
Paint the clay pot using your foam brush and red paint.
Step 2
Cut
When the paint has fully dried, cut a pencil about 2-3 inches from the eraser with a sharp knife, and glue it to the top of the clay pot's lid with your glue gun.
Step 3
Glue
Take your green felt and cut out some leaves. You can also draw some detail on them with a dark green marker as I did, but it's optional. Then adhere the leaves around the pencil resting on the clay pot's lid with your glue gun.  
Step 4
Fill
Finally, fill your pot with your Hershey's Kisses and pop your gift card inside!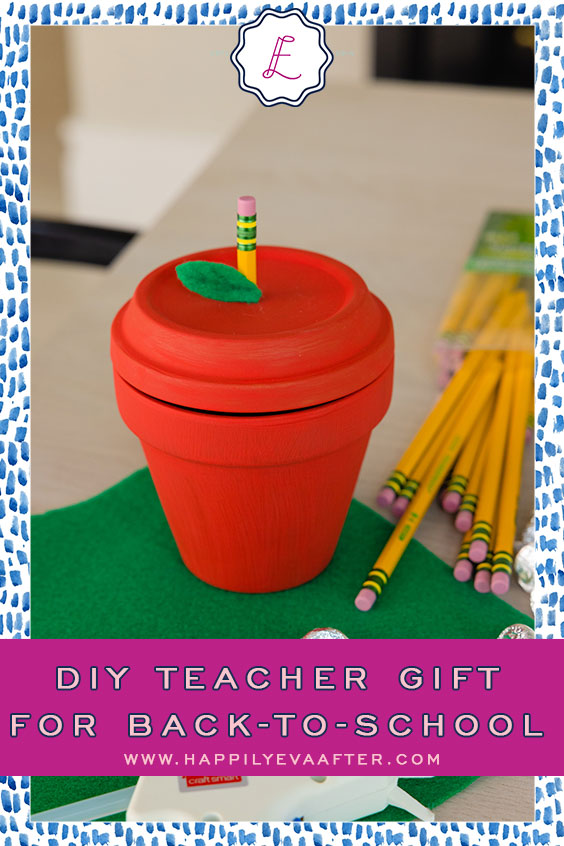 ---
Photographs by Julia Dags | Copyright © 2021 Happily Eva After, Inc. All Rights Reserved.