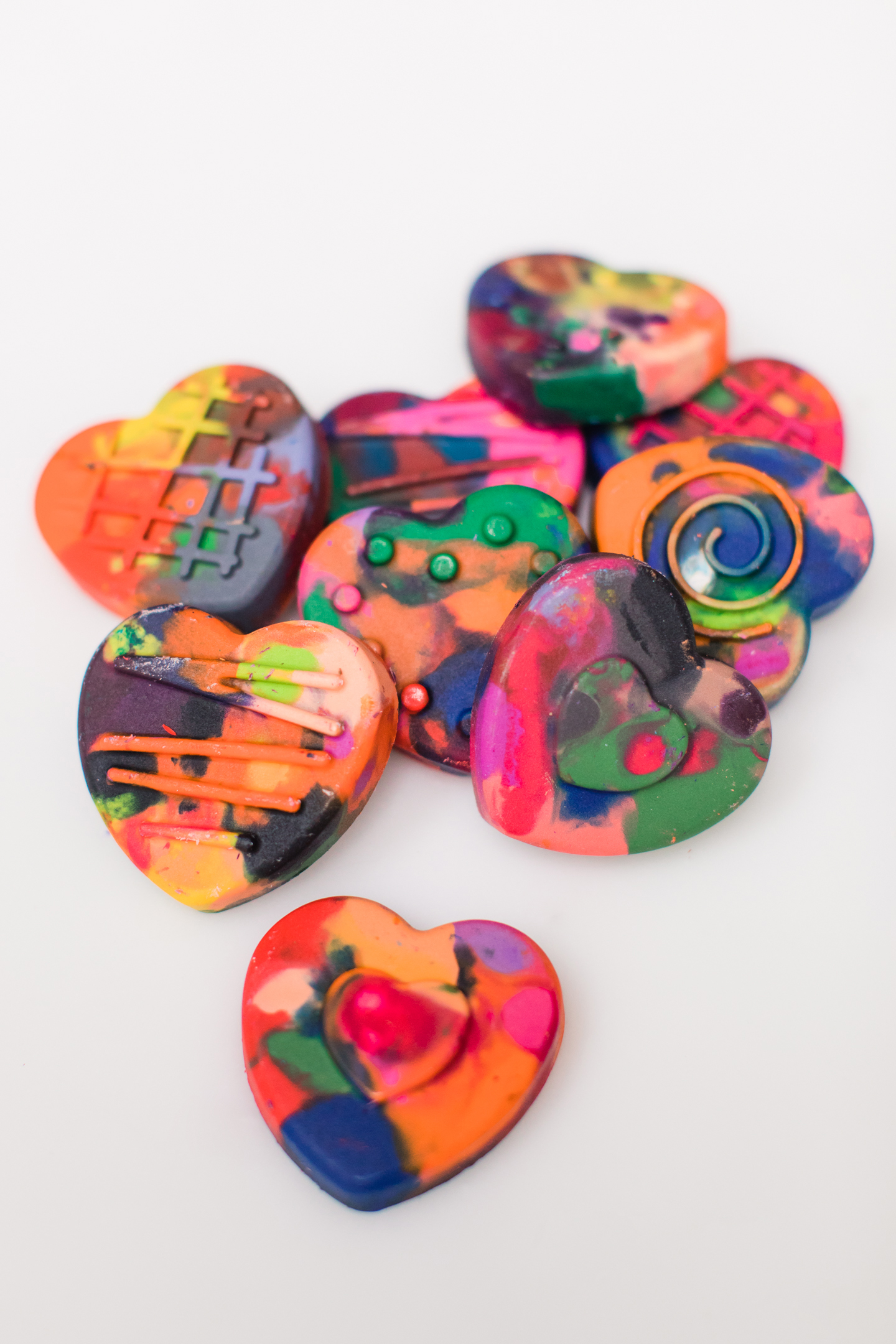 This blog post was originally published on February 8th, 2018.
I've been getting a ton of questions recently about what I plan on doing for Marlowe's Valentine's Day favors for her class at school.  This year we made something really fun, and it was so easy to do that I thought I would share in case it can serve as inspiration! These D.I.Y. Crayon Heart Favors were so simple to make, and you can use bits of broken crayons to make them—it's like the ultimate recycled, re-purposed Valentine's Day craft!
I also love the fact that it's a kid-friendly Valentine's Day favor that isn't candy! I personally don't mind if my kids eat candy on Valentine's Day, but I know some other parents feel differently, and I want to make sure I'm respectful of everyone in the class. These festive and useful crayons are a great compromise!
Step 1
Unwrap Crayons
Preheat Oven to 230ºF. If your crayons are already without the paper wrapping, begin to break the crayons into 1/2 inch pieces. If you're using new crayons, use a knife to carefully slice down the paper so you can peel it off of the crayons.  (I unwrapped crayons for an hour and kept getting paper cuts under my fingernails before Kyle walked into the kitchen and was like "BABE!" Lol.) 
Step 2
Fill Mold & Bake
Fill your mold with multicolored crayons bits, and bake in the oven for 15 minutes. Do not overbake! You want the crayons *just* melted but not so melted that the colors start mixing together and creating crayon sludge.  
Step 3
Cool
Move the mold to a heat-safe surface, and allow to cool for 1-2 hours.  When fully cooled, pop the heart crayons out of the mold.
Step 4
Address
Slip each one into a clear cellophane bag, and tie it with a tag.  I wrote on the tags: "You Make My Life More COLORFUL. xoxo Marlowe"