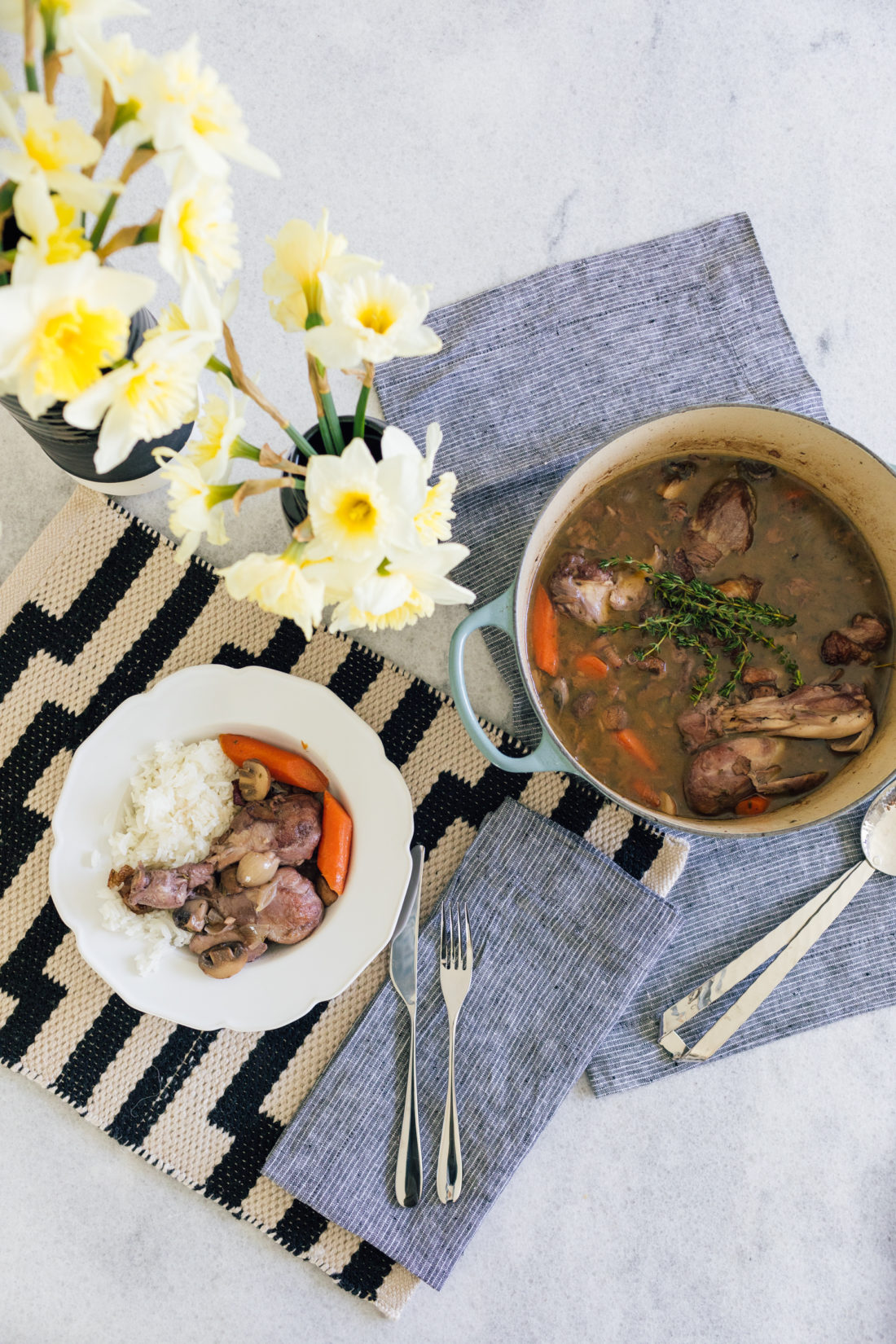 Now that I'm in our new house, I've been using the kitchen a ton. It's so nice to finally feel settled enough to cook some homemade food for my family. It's what I've been looking forward to this entire time! I thought I'd kick this week off with a really delicious, simple, one-pot recipe that the whole family can enjoy. "Coq Au Vin" literally translates to Hen In Wine…so what's not to like? LOL. And don't worry, the alcohol totally cooks off during the cooking process, so it's safe for kids AND preggos! I actually loved eating this when I was pregnant. So cozy.
This recipe is best cooked in a large dutch oven. I prefer a heavy duty and super chic Le Creuset! Coq Au Vin is a great springtime recipe for when you want to cook something delicious for those still-chilly nights. It's also a perfect recipe for easy entertaining! I usually serve this with either buttered Egg Noodles or rice to soak up all the yummy sauce– and make a big green salad on the side. This recipe serves 4-6 people, and takes about 50 minutes to make, start to finish.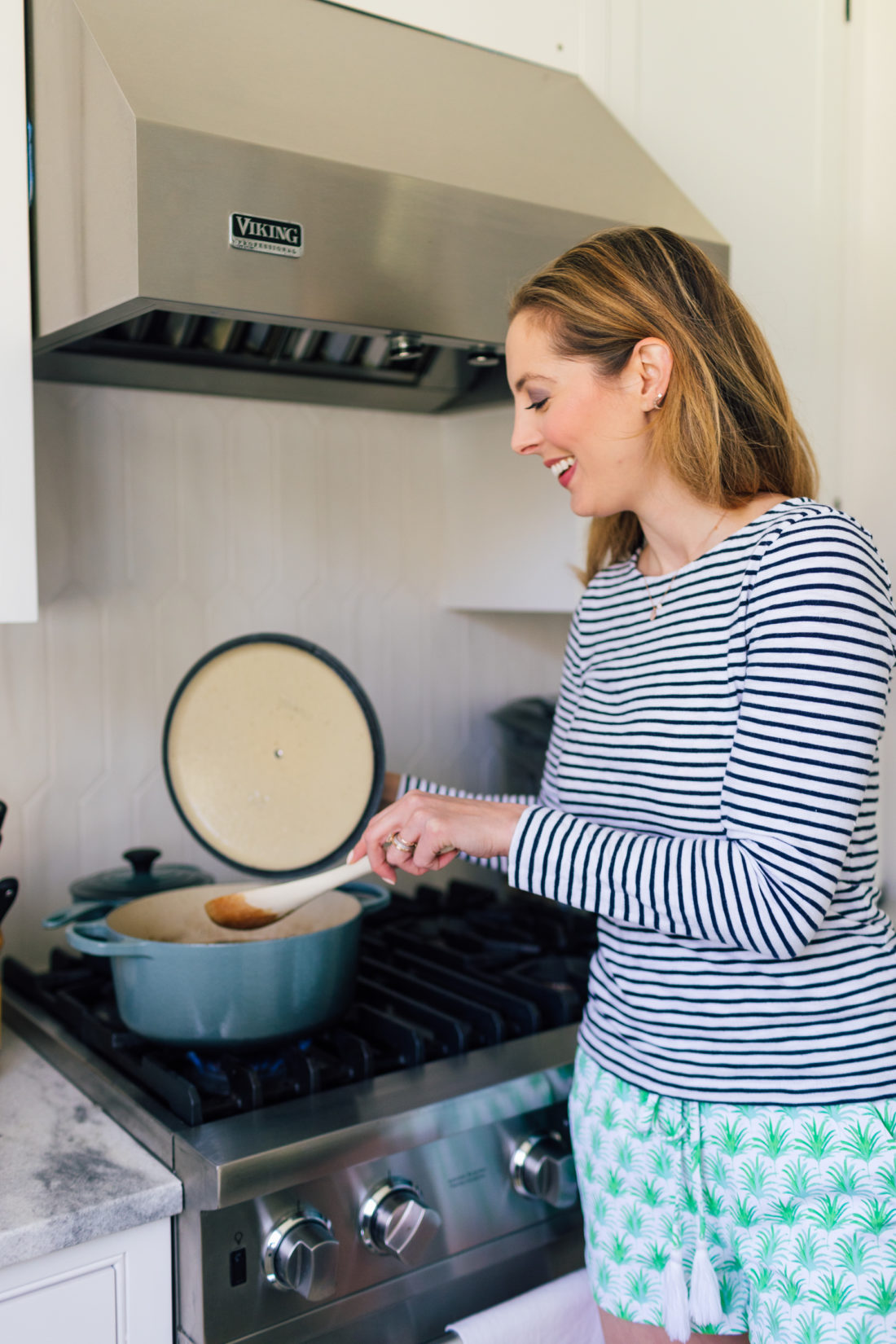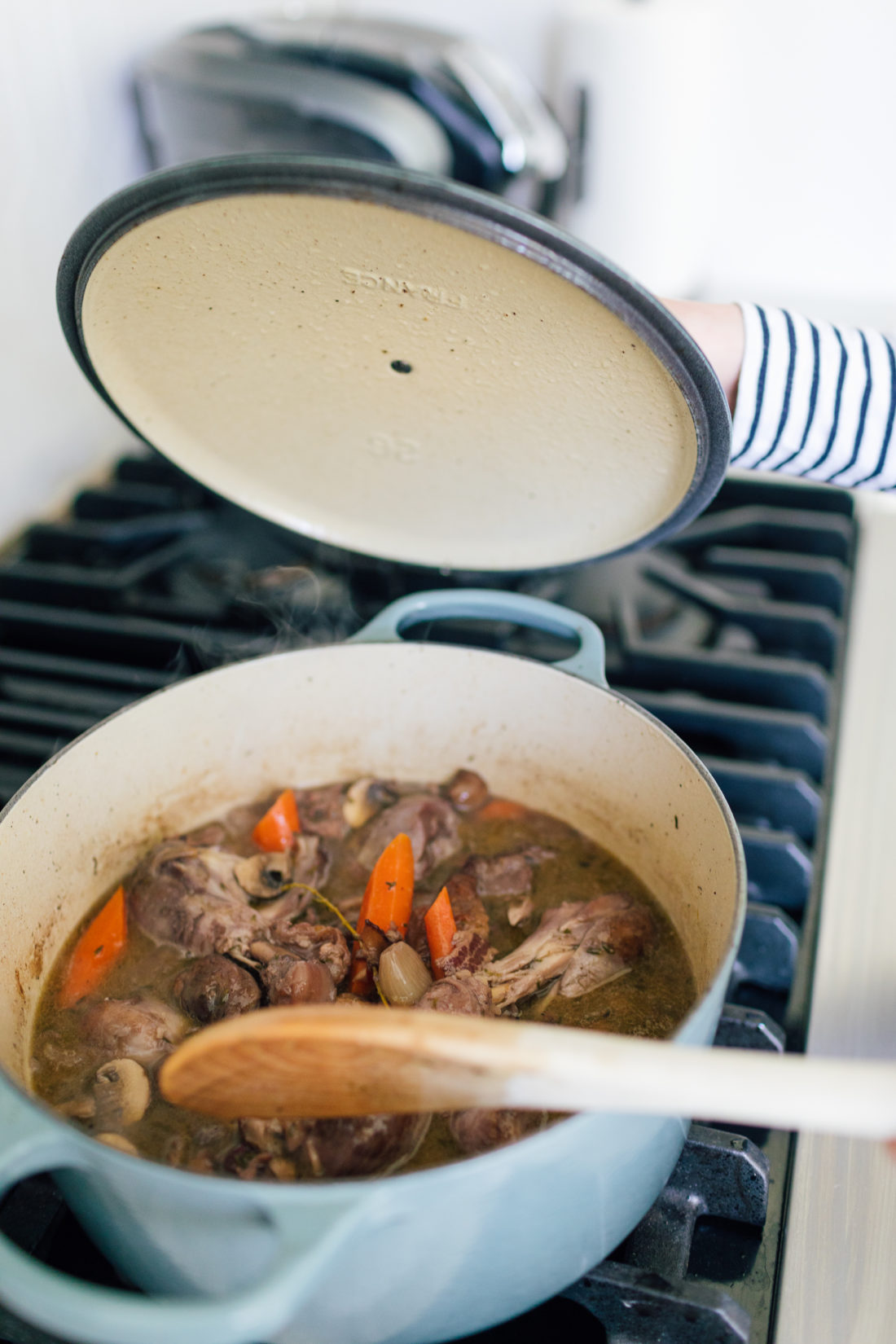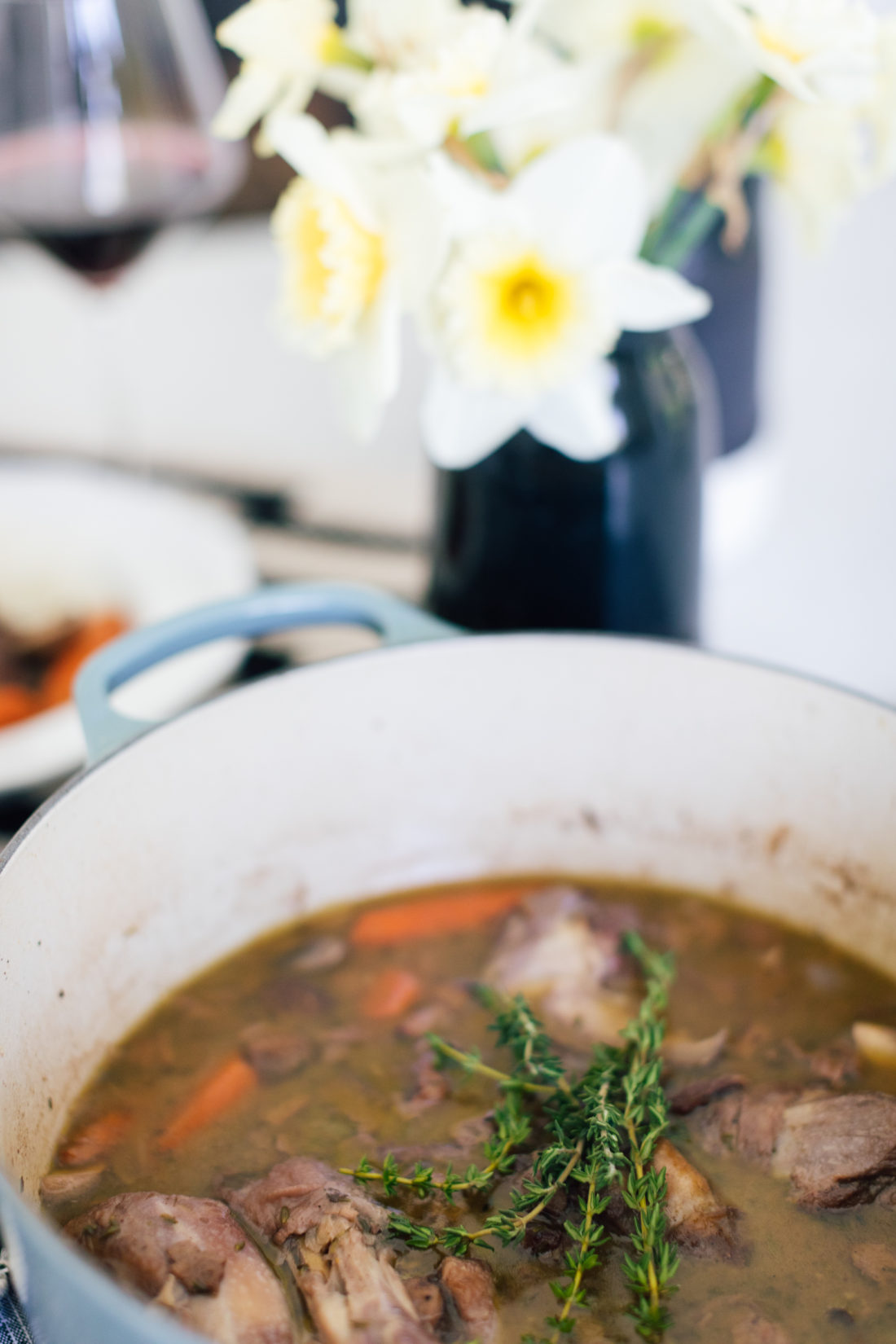 Recipe…
8oz pancetta, diced
1 package of Chicken drumsticks
1 package of Chicken thighs
6 cloves of garlic, diced
4 shallots, quartered
1 Container Baby Bello or Crimini mushrooms, halved
Salt and pepper
5 sprigs Thyme
1 Bay Leaf
2 tbsp Tomato Paste
3 cups Red Wine
2 cups Chicken stock
4 large carrots, cut in to 2 inch chunks
3 Tablespoons Butter
3 Tablespoons All-purpose Flour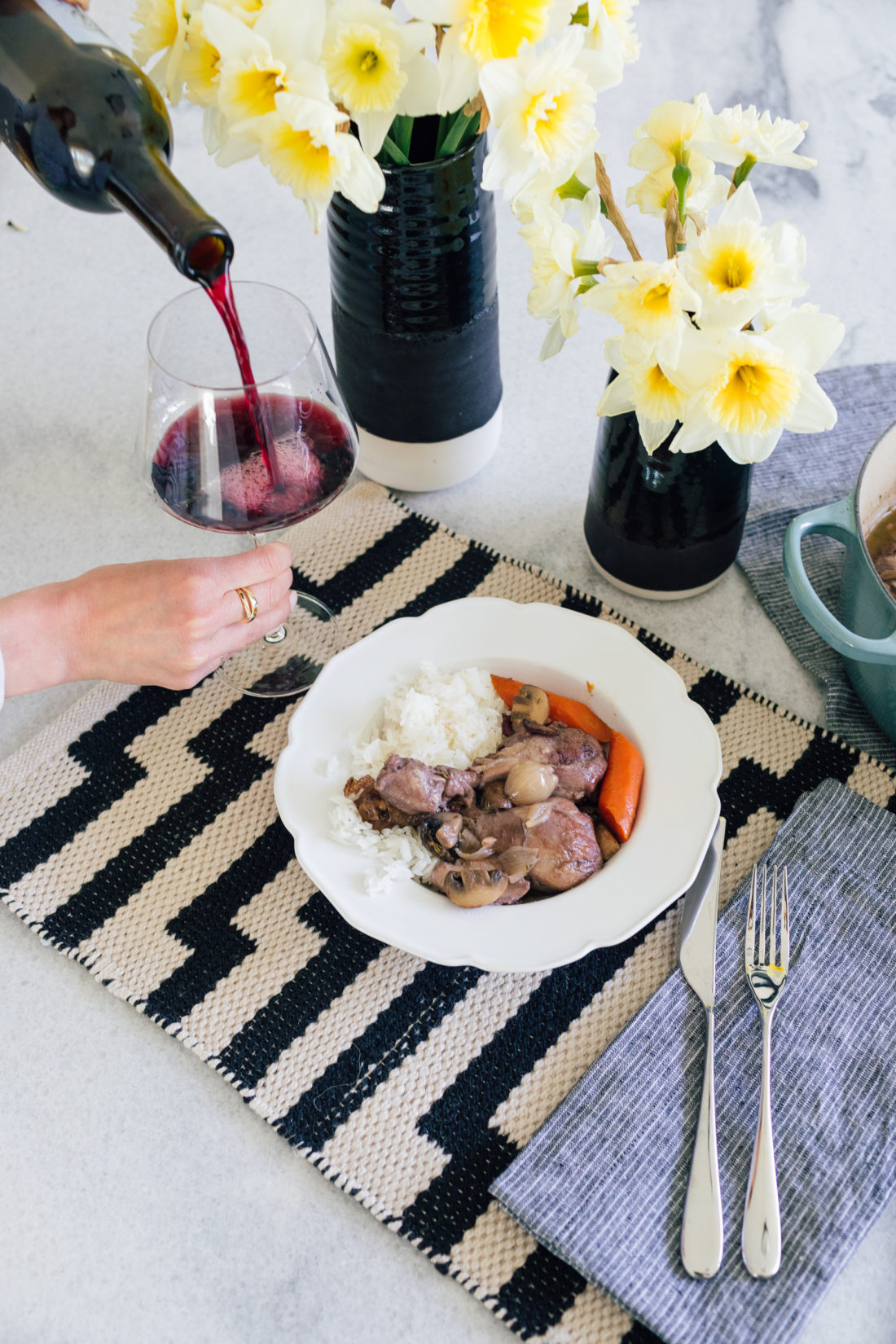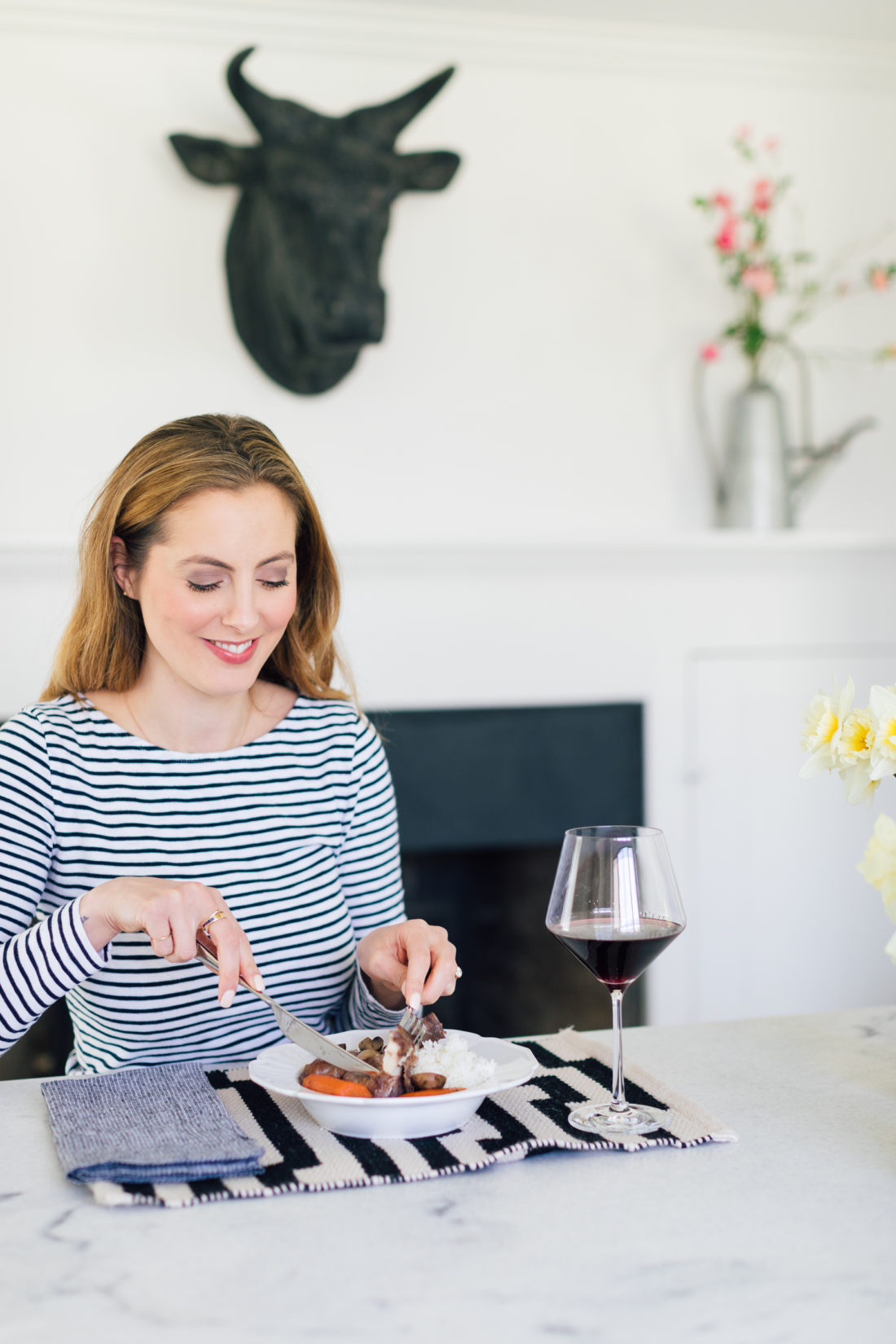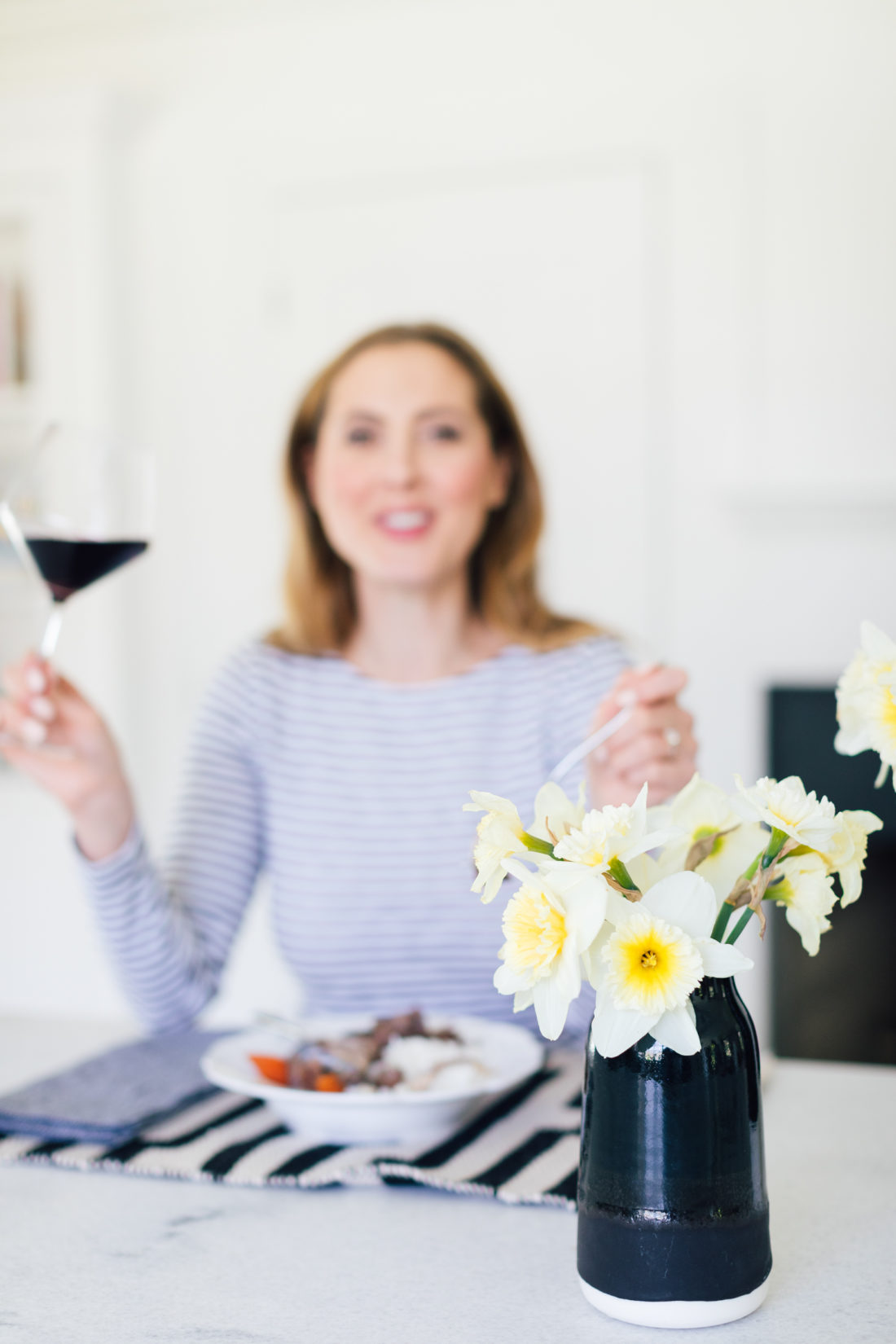 Preheat the oven to 350 degrees.  Season the chicken pieces generously with salt and pepper.  Meanwhile, in a large oven-proof pot or dutch oven, cook the pancetta over medium high heat until browned and crispy– approximately 8 minutes.  Remove from the pan with a slotted spoon and put on a paper towel lined plate to drain.  Add the chicken pieces to the pan in batches so the pot isn't crowded, and brown well on all sides.  As the pieces brown, remove them to a plate beside the stove. In the same pot, add garlic, shallots, thyme, bay leaf, and tomato paste. Cook until fragrant, about one minute.  Add the chicken stock to the pan and deglaze, scraping up the browned bits on the bottom.  Add the chicken parts back to the pan, add the wine and carrots, the pancetta, and bring the liquid to a simmer. Cover with a tight fitting ild, and place the pot in the oven.  Cook for 30 minutes.  Carefully remove the pot from the oven and put back on top of the stove.  Gently melt the butter over the stove or in a microwave safe dish.  In a small mixing bowl, mix together the butter, flour, and a few tablespoons of the liquid from the pot on the stove.  Whisk together, then pour the mixture in to the chicken pot. Add the mushroom to the pot, and cover.  Cook over medium heat for 10 minutes.  Season to taste with salt and pepper.  Serve over buttered noodles or rice, and serve with more of that wine!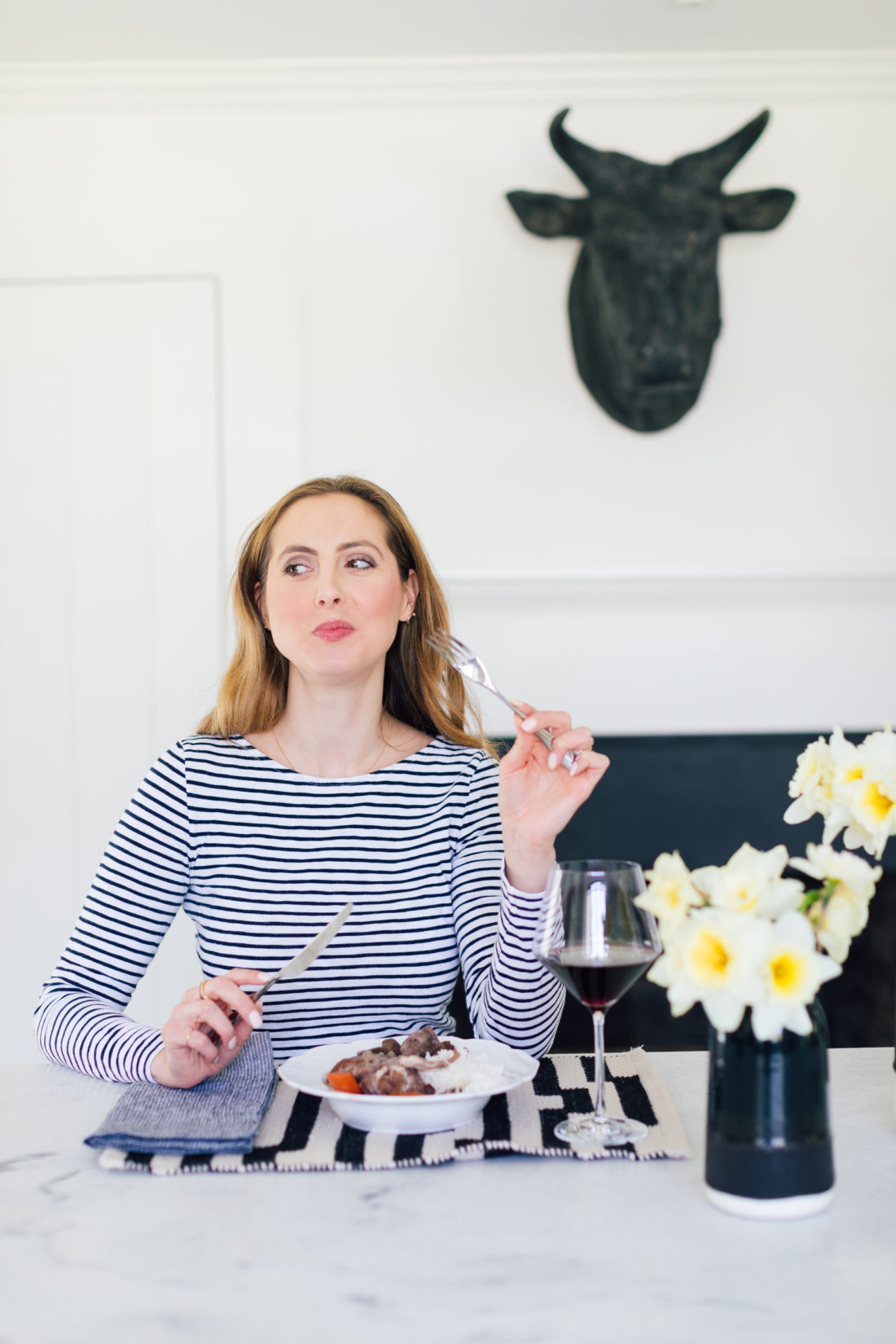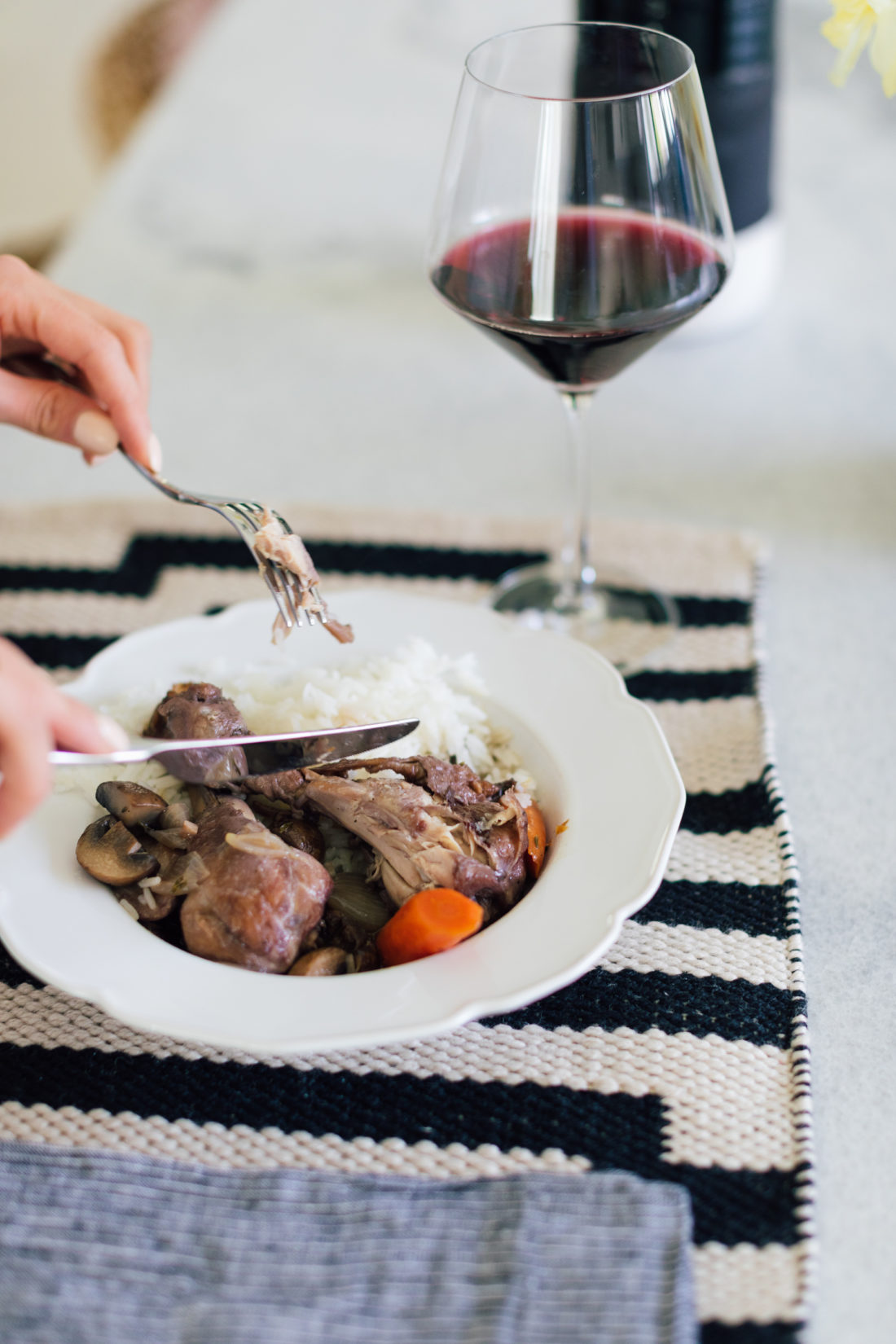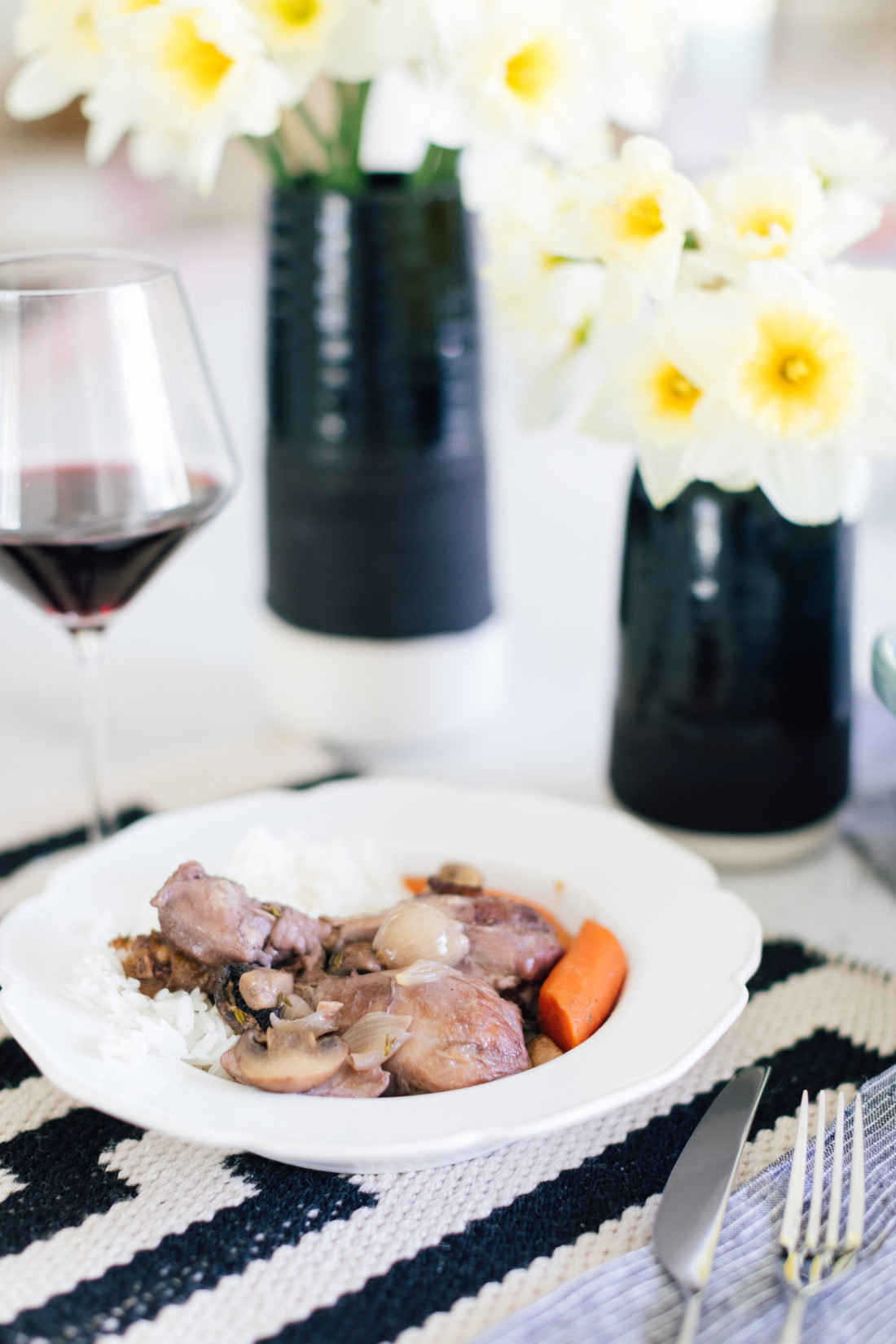 Shop the look…

Photographs by Julia Dags