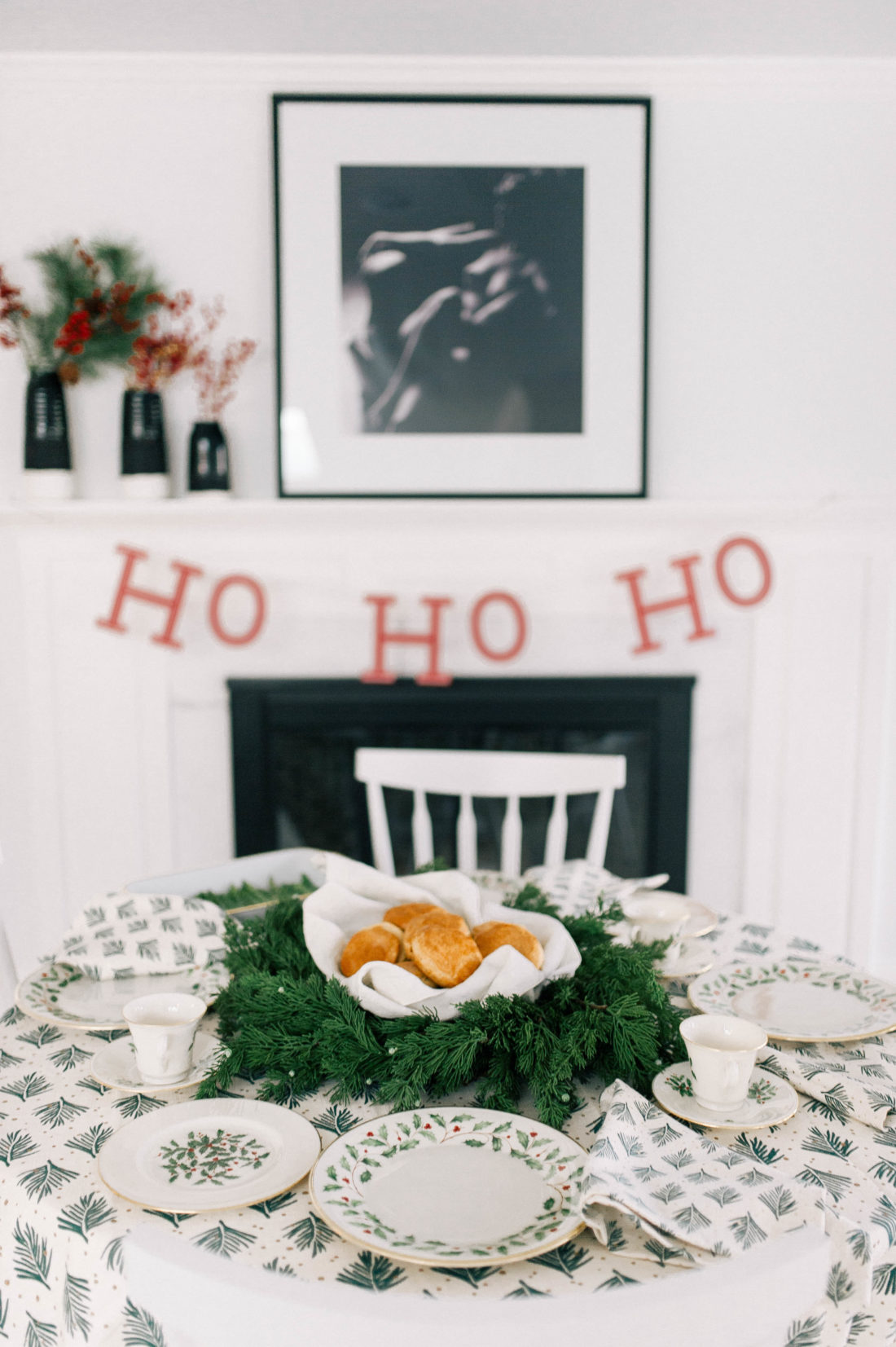 It's less than a week until Christmas! I've mentioned recently that it's our first Christmas celebrating at our new home– which means we get to make up all of our new Traditions! It's so exciting! A few years ago my Grandmother on my Mom's side (Grandma to me, Gigi to my kids!) generously passed down her Christmas china to me.  She knows how obsessed I am with all things decor (and nostalgia), and I am beyond thankful to have something so special of her to hold on to and pass down for generations.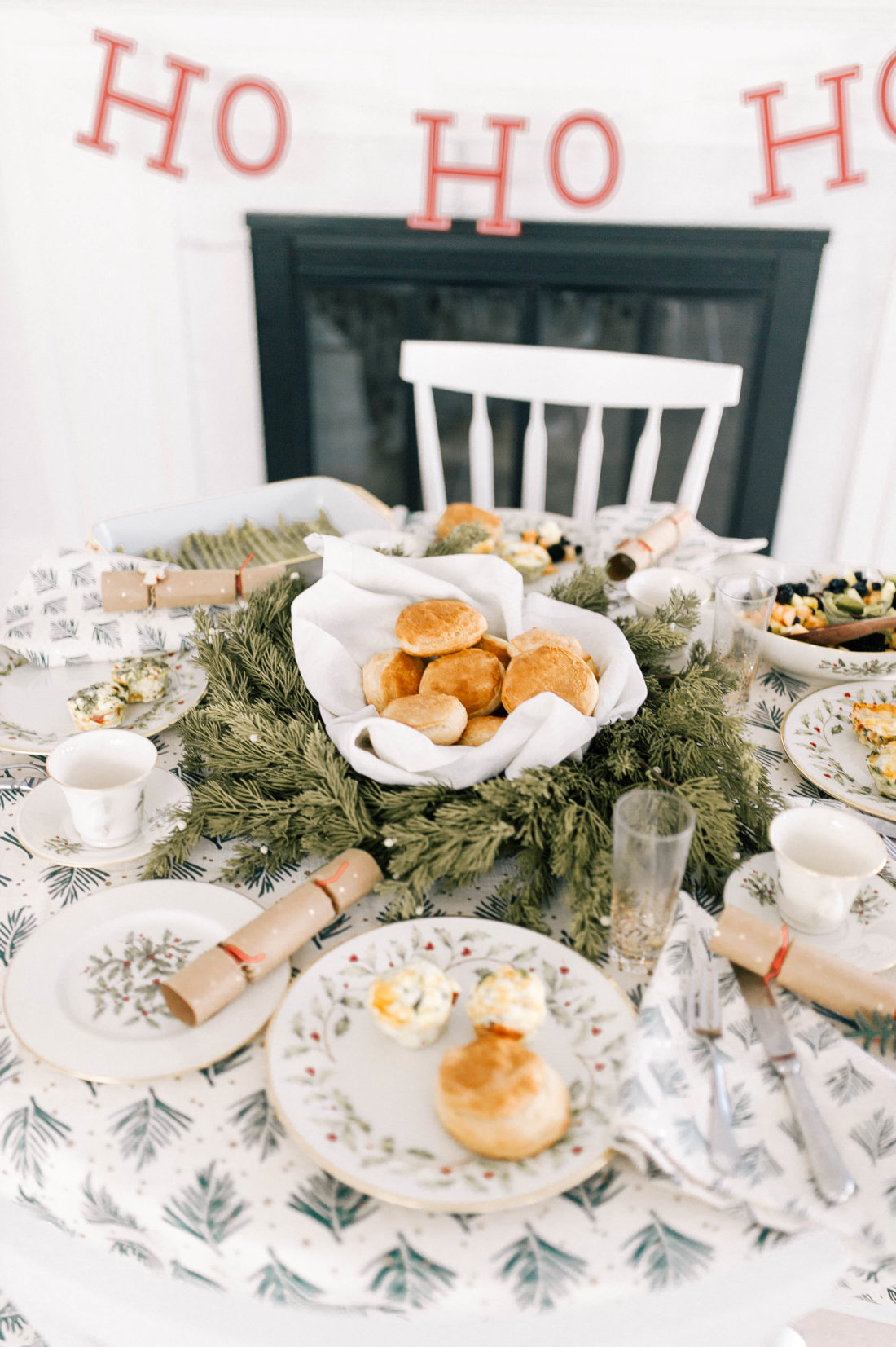 I have posted some images of this traditional Lenox Christmas china on social media, and I was so tickled when some readers reached out to me and let me know that their own Grandmothers had passed the same china down to them! I mean, too cute! It's such a special tradition– and I of course HAD to find a way to consistently work it in to our holiday celebrations. Welcome to the first annual Martino Family Christmas Day Brunch! LOL.
This year on Christmas morning, we plan on having a yummy and nostalgic brunch with my Grandmother's china.  I offset it with some more modern linens to freshen the look a bit.  All of the food is grown up AND kid approved– and we will definitely be serving some mimosas and bloody mary's to go with it! I can't wait!  I'm not quite sure how I ended up with a toddler who goes nuts for poached asparagus spears…but I did? LOL.  I think keeping these little tender cuties whole adds to the appeal of eating them.  Major even tried these asparagus for the first time recently and loved gnawing on them.  I love serving a breakfast for our special holiday that is as nutritious as it is delicious!
Entertaining Tip: using a holiday wreath with a serving bowl inside is my favorite, easy way to spruce up a Christmas table!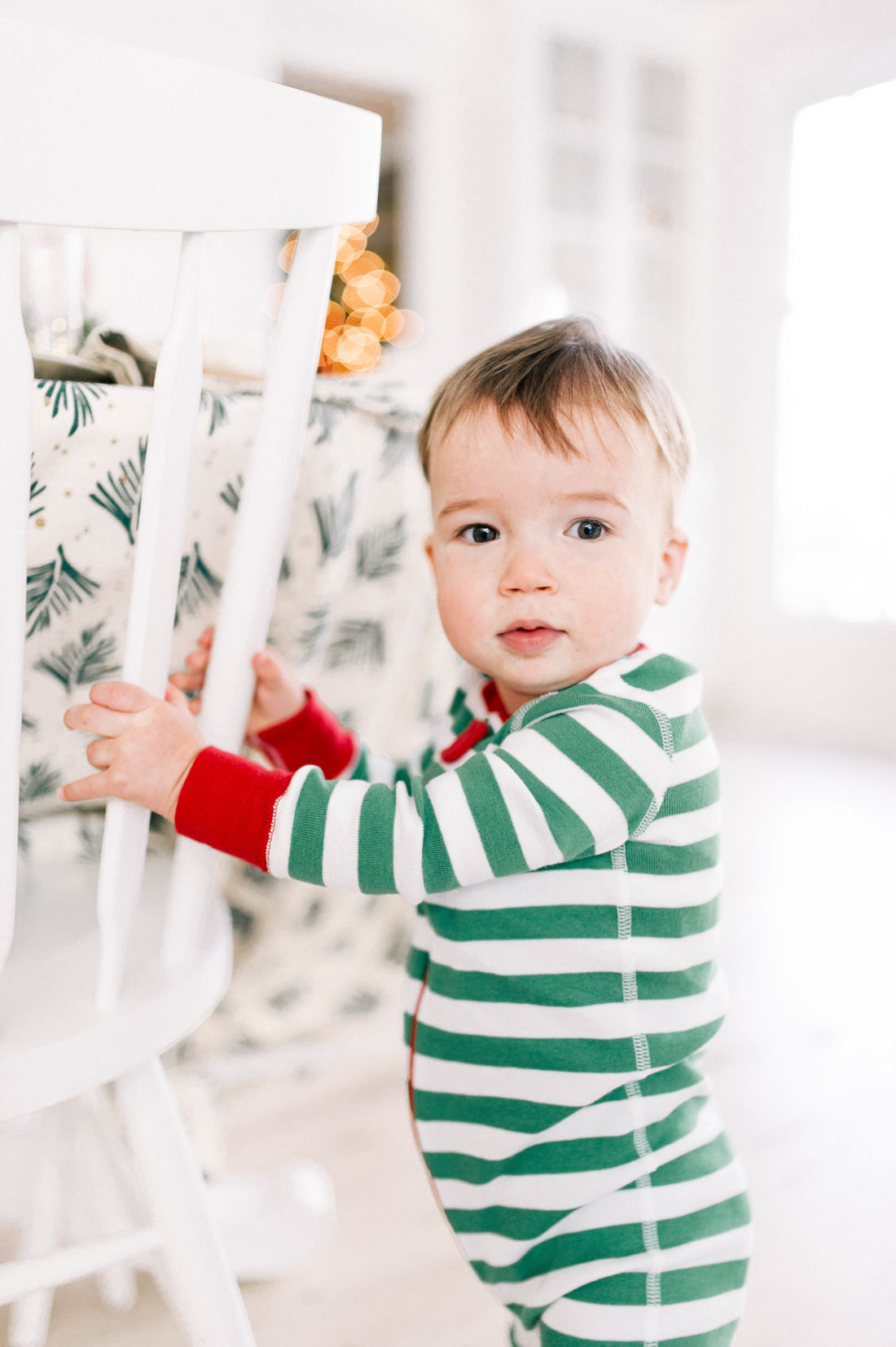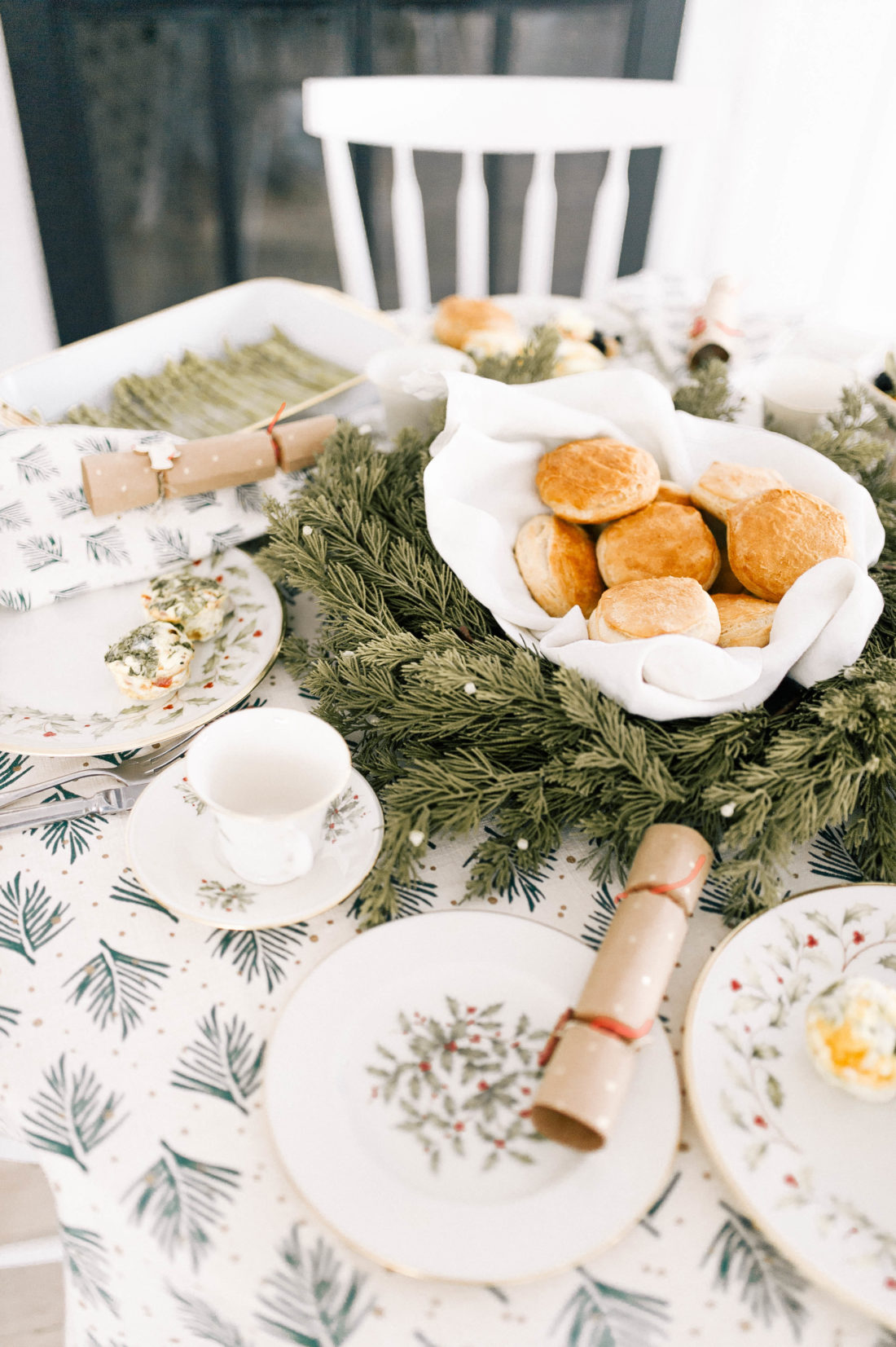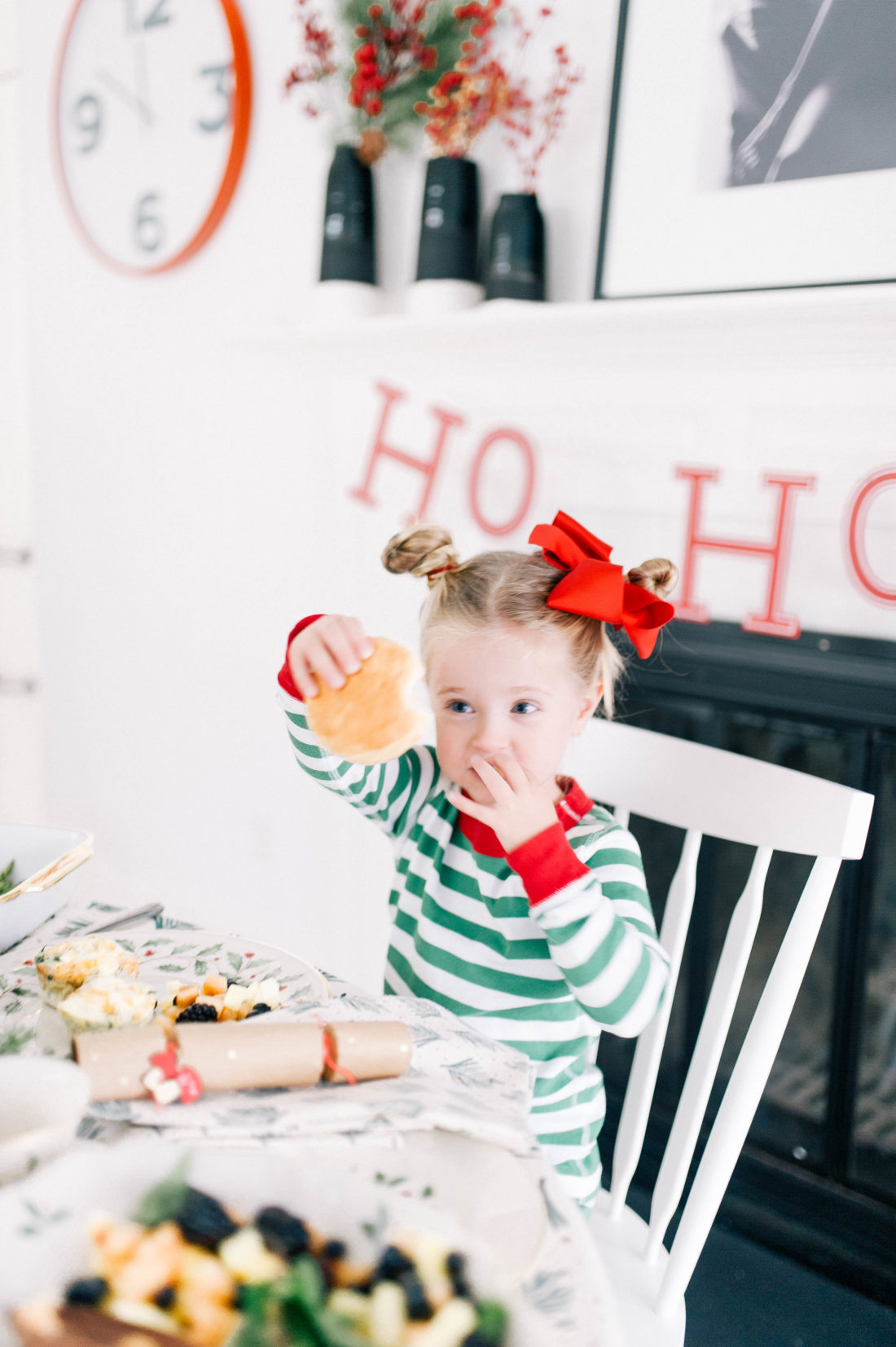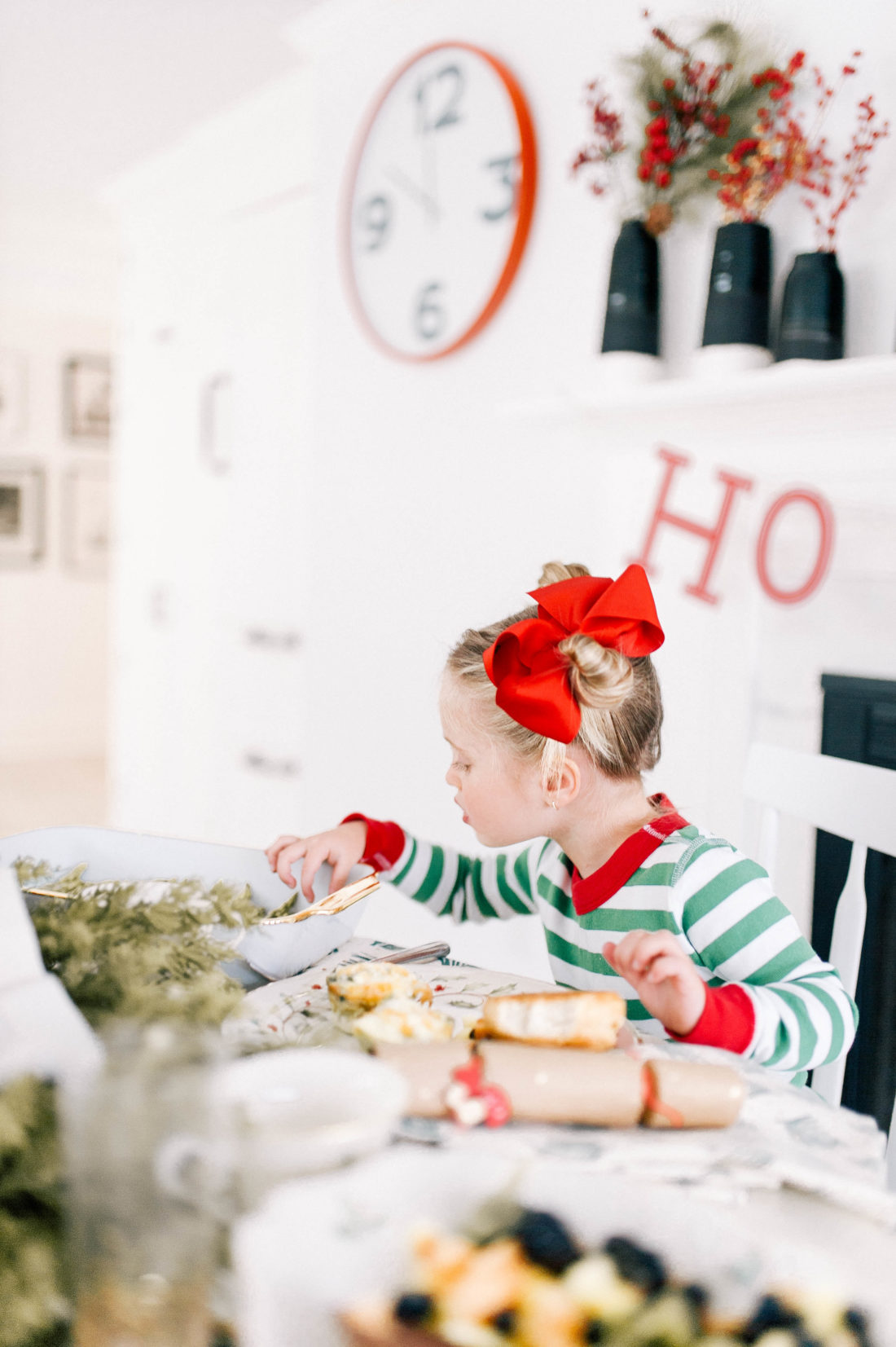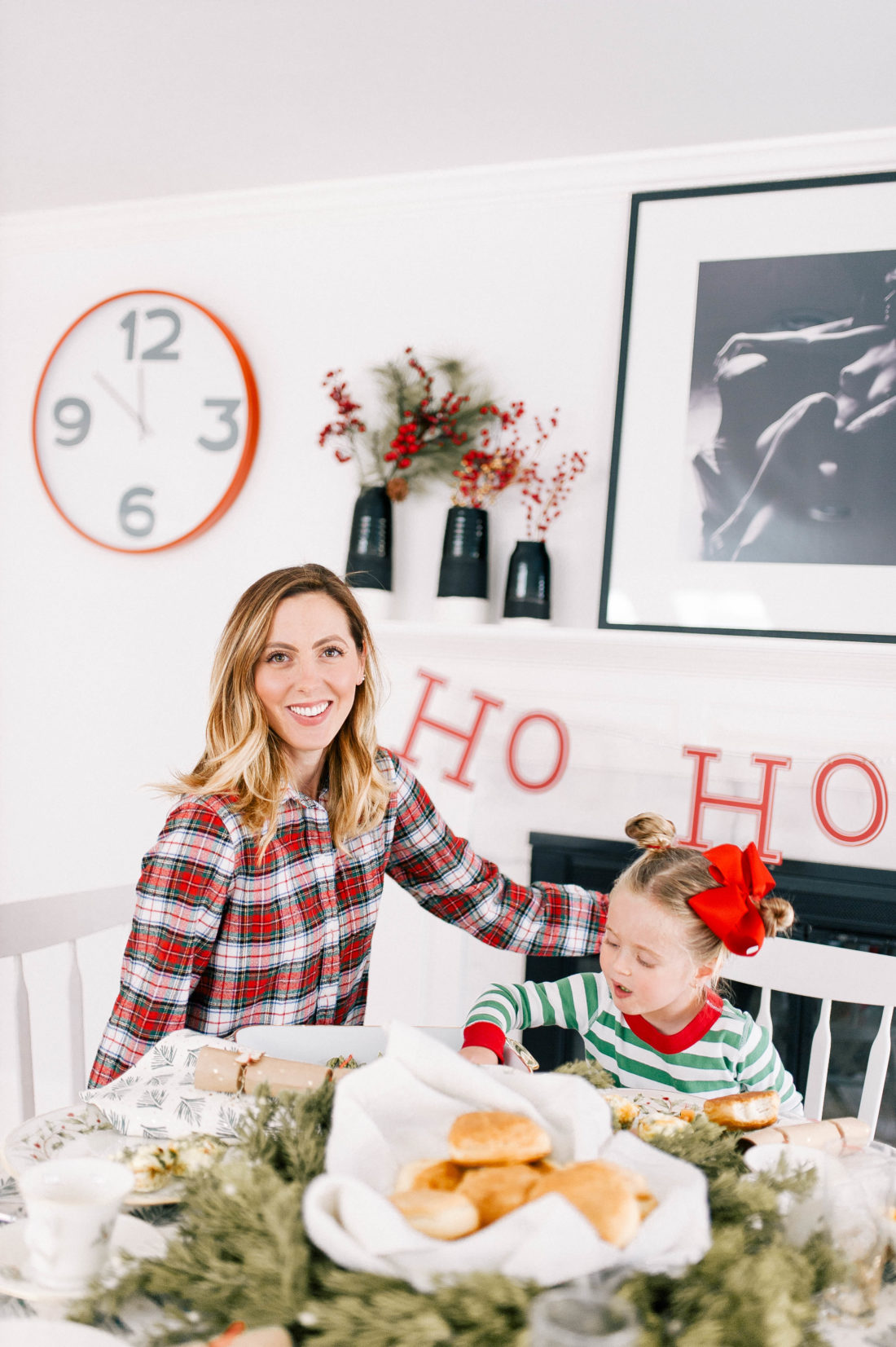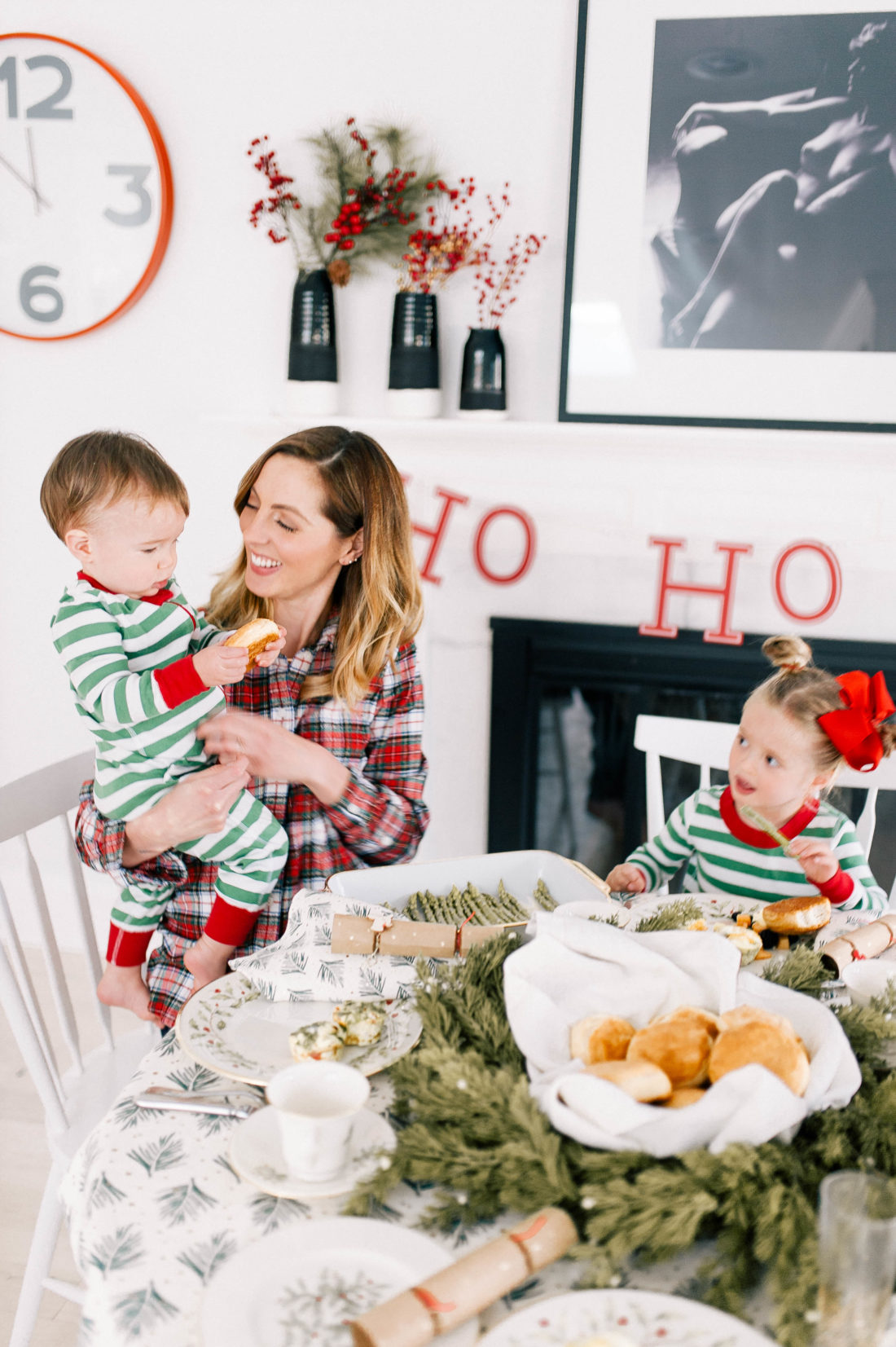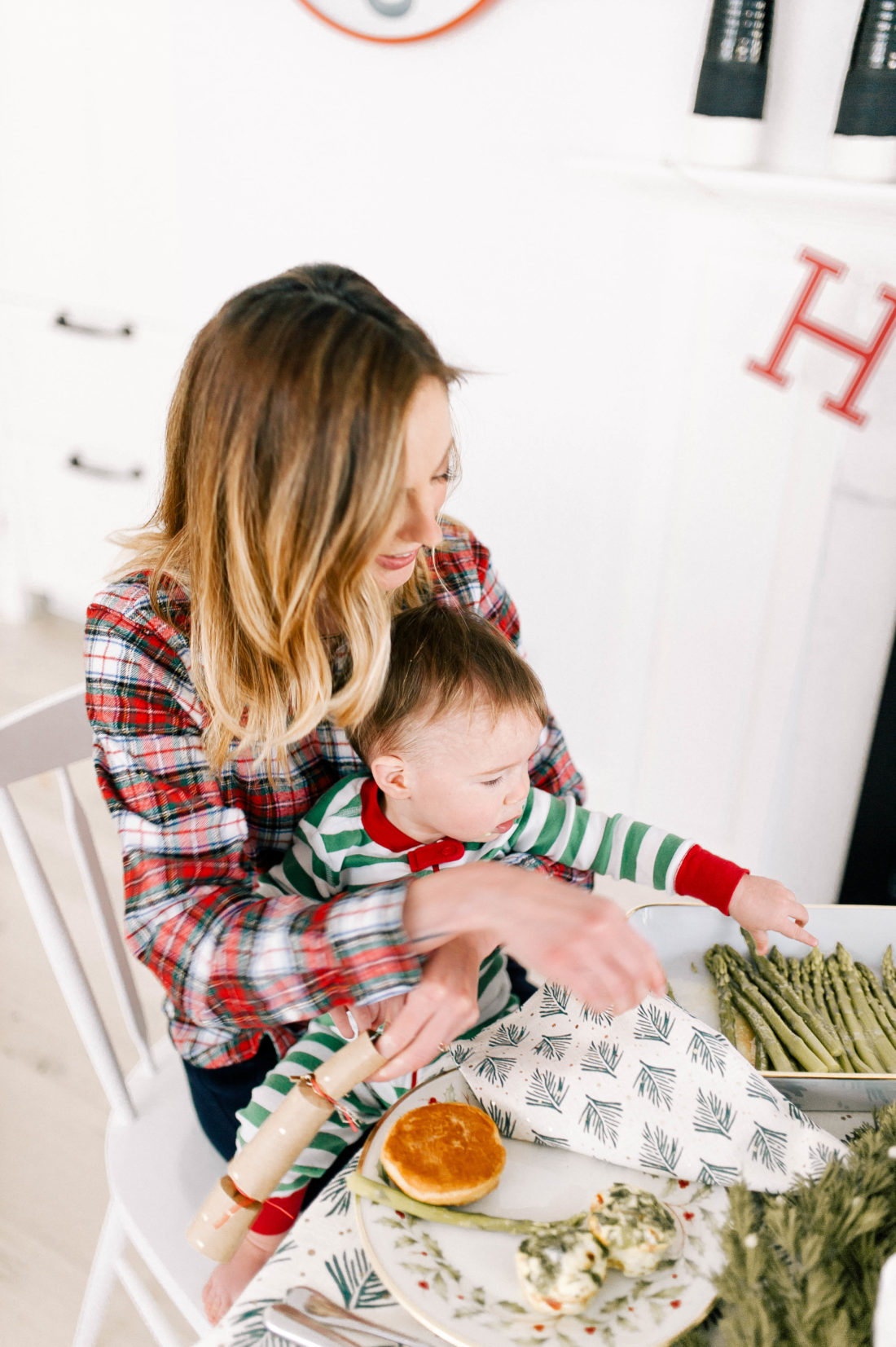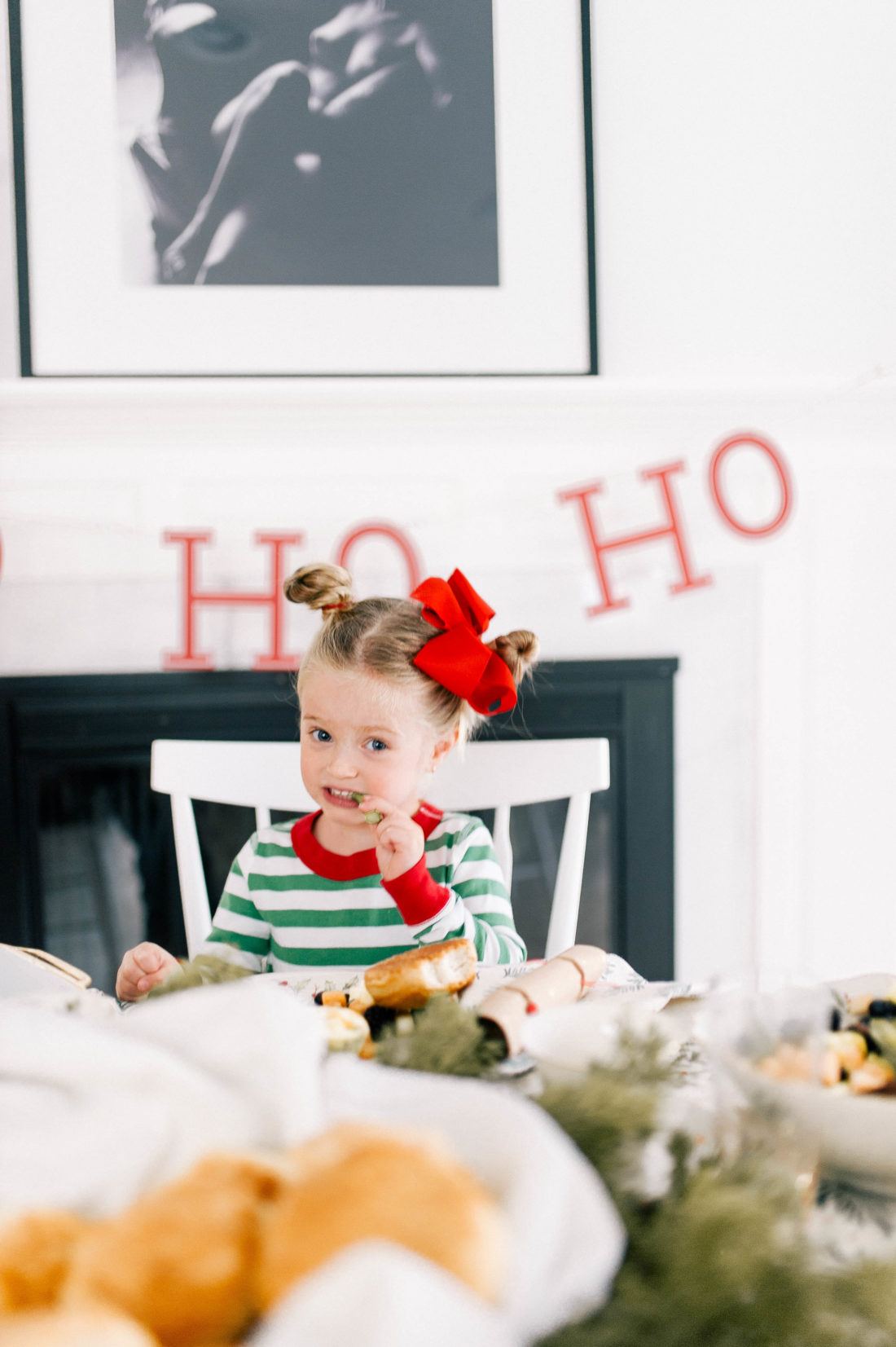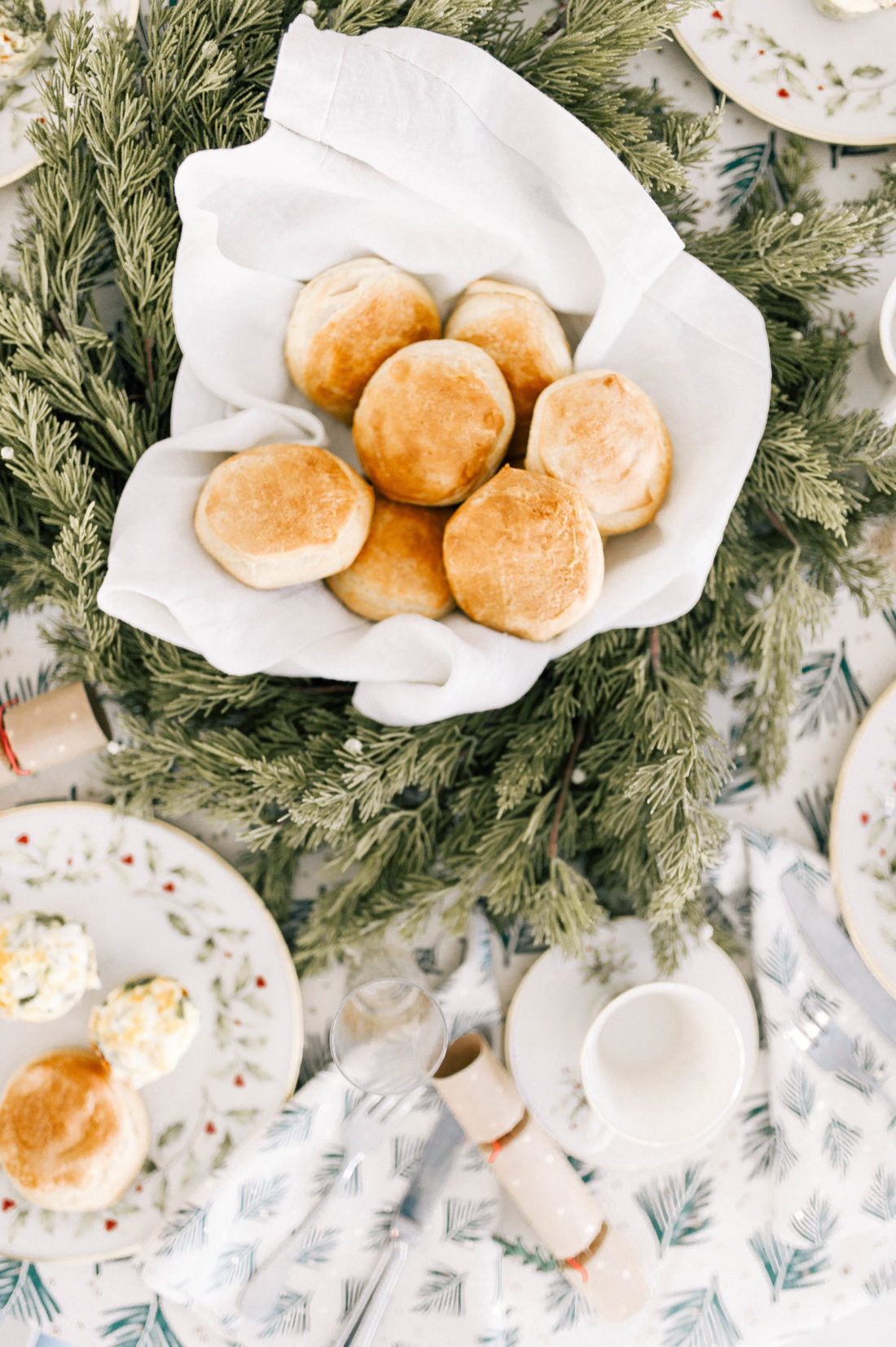 On the menu…
Freshly baked buttermilk biscuits
Eva's Mini Christmas Frittatas
Marlowe's Favorite Asparagus with lemon-mustard vinaigrette
Chris-mint Fruit Salad
Coffee, Tea, Mimosas & More!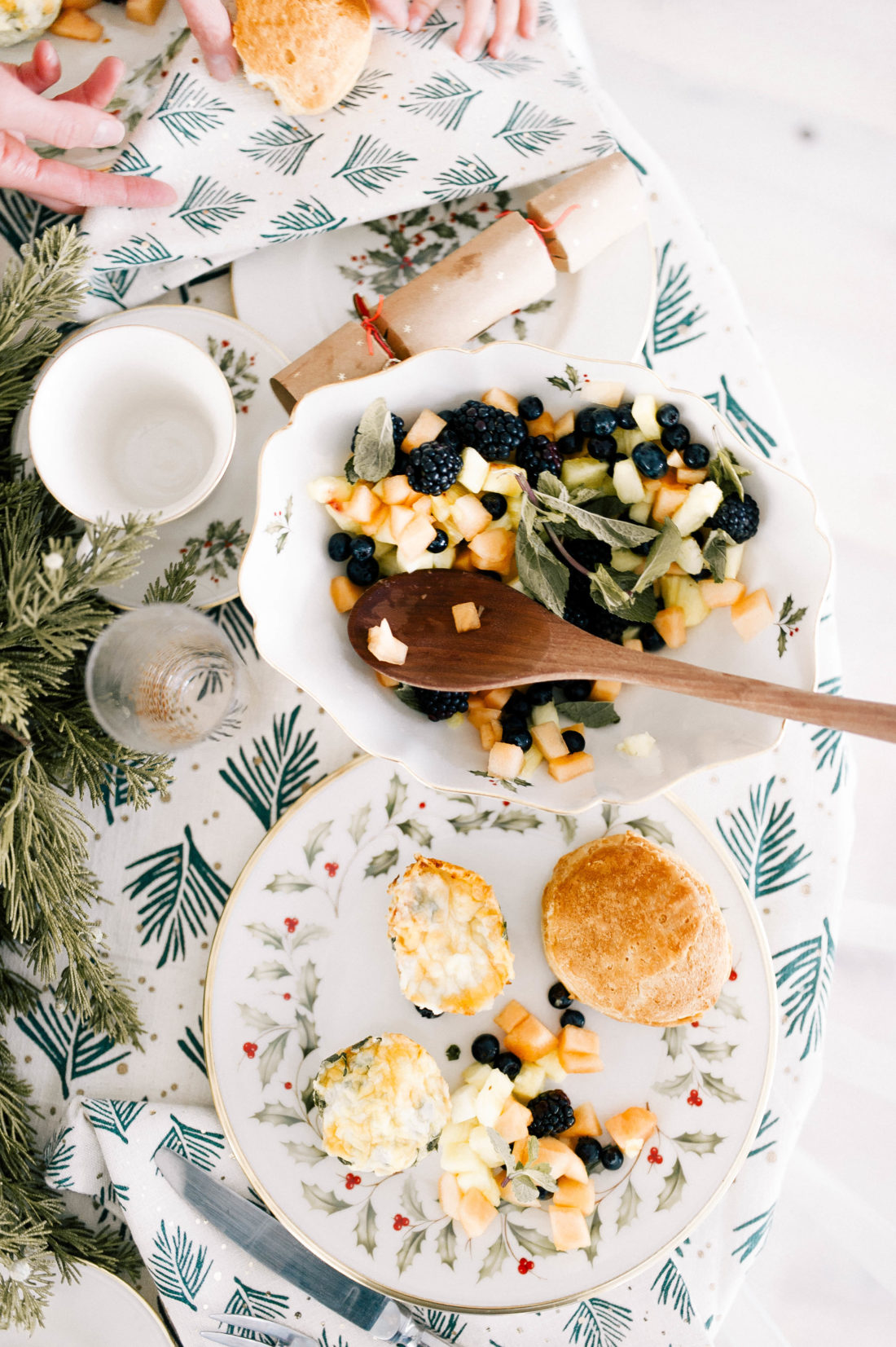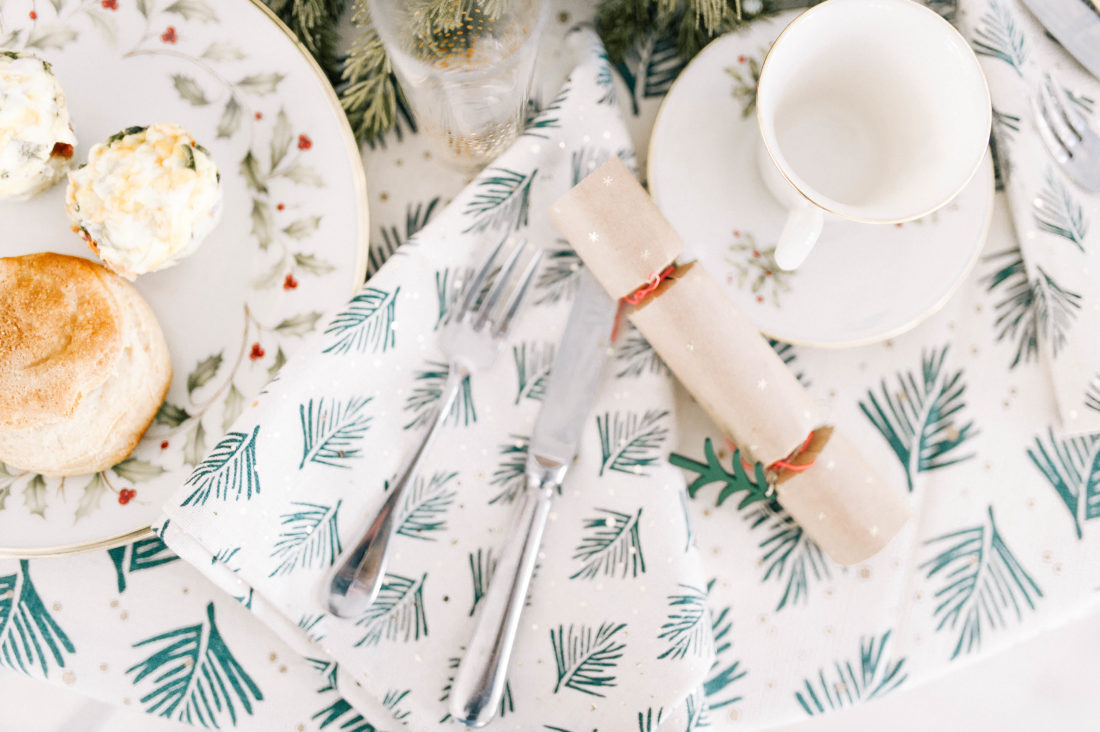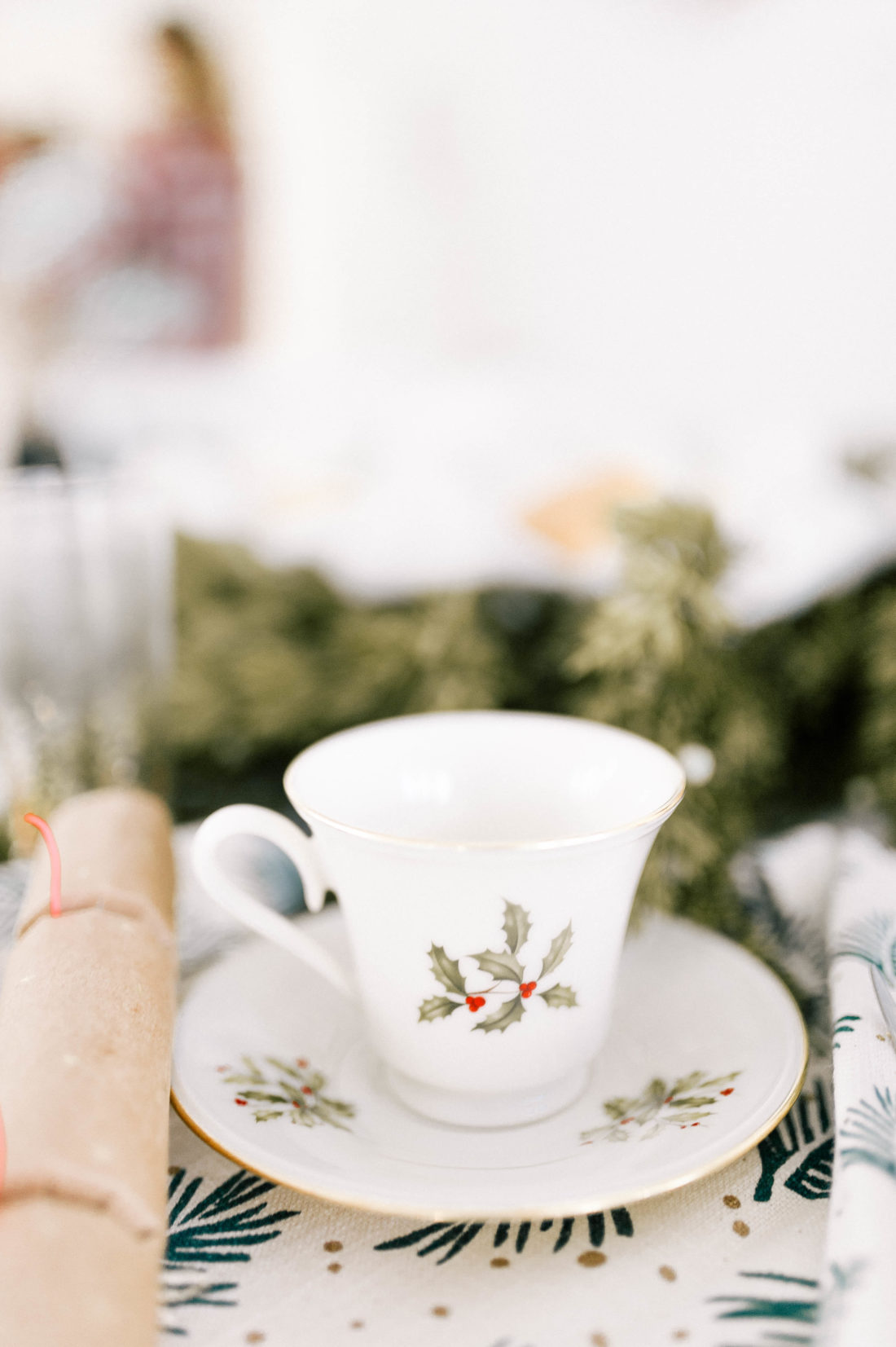 Eva's Mini Christmas Frittatas
Makes approximately 16 Frittatas
1 muffin tin baking tray
1 dozen eggs
2 large handfuls of fresh spinach leaves, torn
1 small tomatoes, diced
1/2 onion, diced
4 cloves garlic, diced
1 package of bacon, cooked and chopped
1 1/2 cups shredded cheese of your choice (I use cheddar)
Nonstick cooking spray
1 Tablespoon Extra Virgin Olive Oil
Salt and Pepper to taste
Preheat the oven to 375 degrees. Begin by sauteeing the onion and garlic in the olive oil until the onion is translucent.  Set aside.  Now beat the eggs together in a large mixing bowl, adding salt and pepper to taste.  Spray each muffin mold with nonstick cooking spray, and fill each mold halfway with the beaten eggs.  Going down the line, sprinkle pinch of the follow items in to each mold: onion/garlic mixture, chopped bacon, tomatoes, spinach leaves.  Take a spoon and gently mix the ingredients in the molds until combined.  Now go around to each mold and sprinkle about 1 Tablespoon of cheese on the top of the egg mixture.  Bake for approximately 20 minutes, or until the frittatas are firm but not browned.  Serve immediately!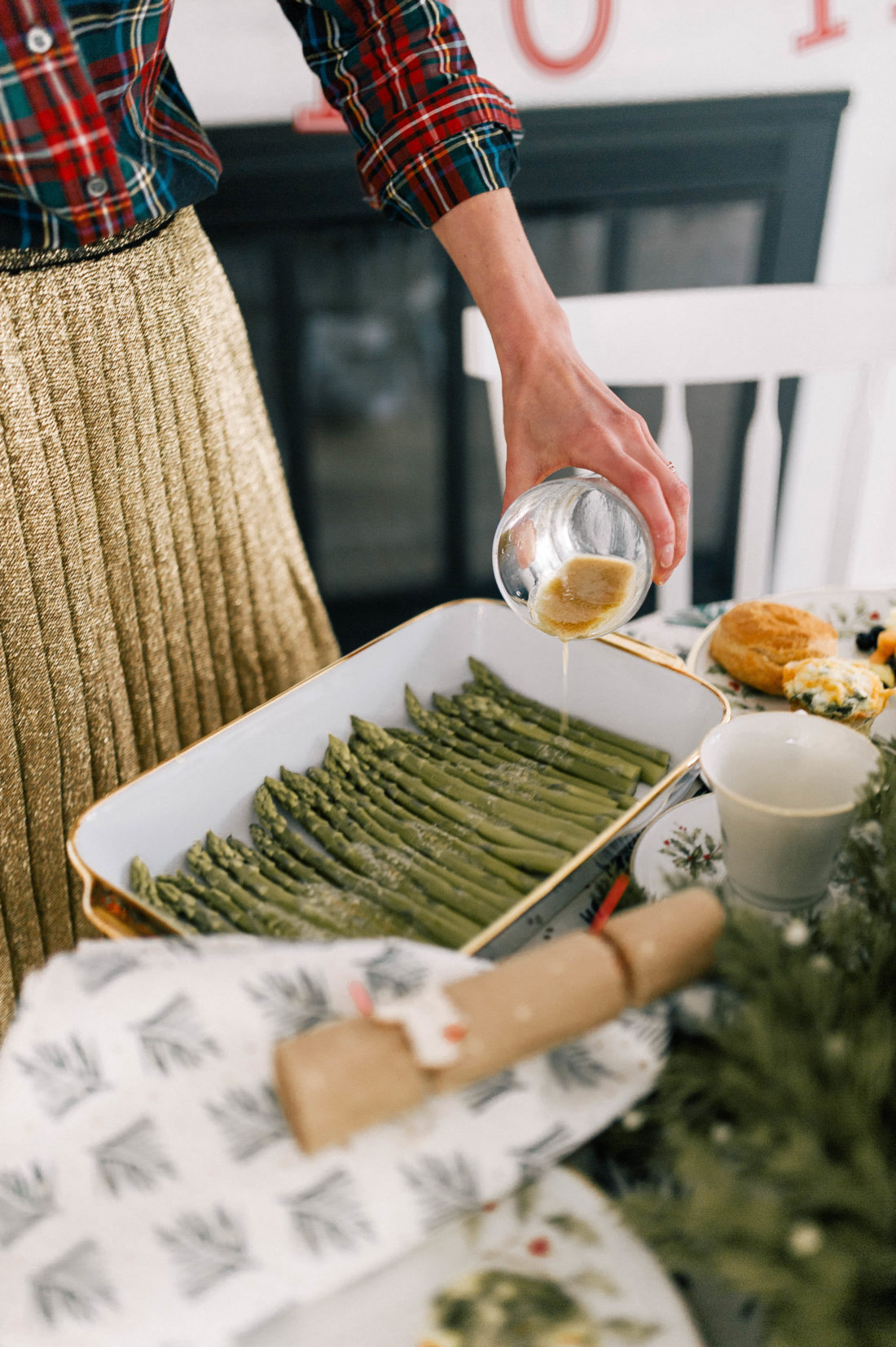 Marlowe's Favorite Asparagus with lemony vinaigrette
Serves 2-4
1 bunch asparagus, trimmed
3 Tablespoons Extra Virgin Olive oil
1 Lemon
1 Teaspoon Honey
1 Tablespoon Dijon Mustard
Begin by bringing a large pot of salted water to a rolling boil.  Drop the asparagus in the water, and prepare an ice bath (fill a large bowl with water and two cups of ice).  Set ice bath aside.  Now prepare the vinaigrette. Add the olive oil to a glass, zest the lemon in to the glass, then slice it and add the juice.  Add the honey and mustard, and whisk together briskly.  Add salt and pepper to taste. Test the asparagus– when ready they should be bright green, and firm to the touch– but you should be able to pierce each spear easily with a fork.  Approximately 5 minutes.  When the asparagus are cooked, remove them from the water with tongs and put them immediately in to the ice bath to stop them from cooking.  Remove after 5 minutes and pat dry.  Arrange on a serving platter and top with vinaigrette.  Enjoy!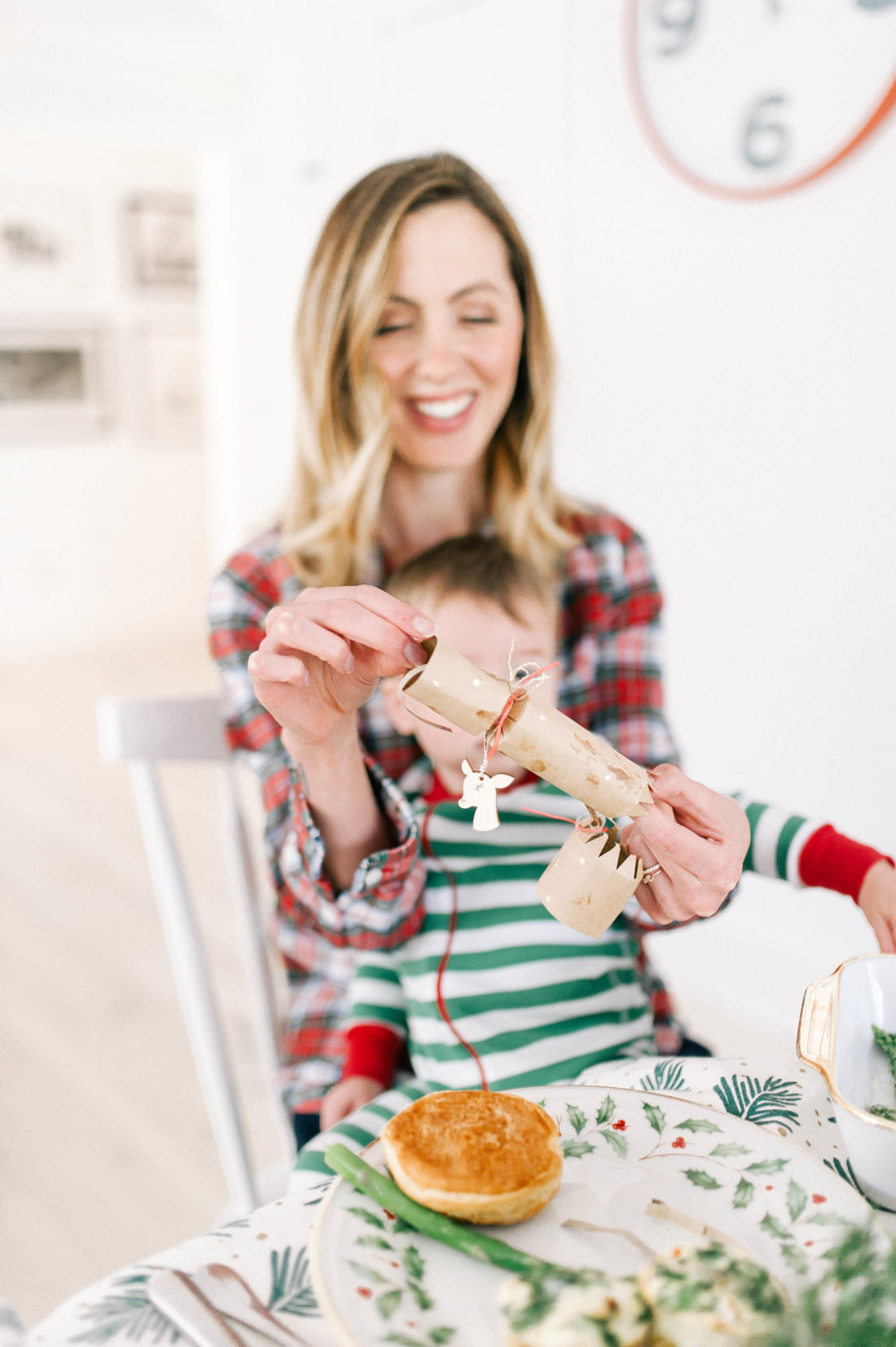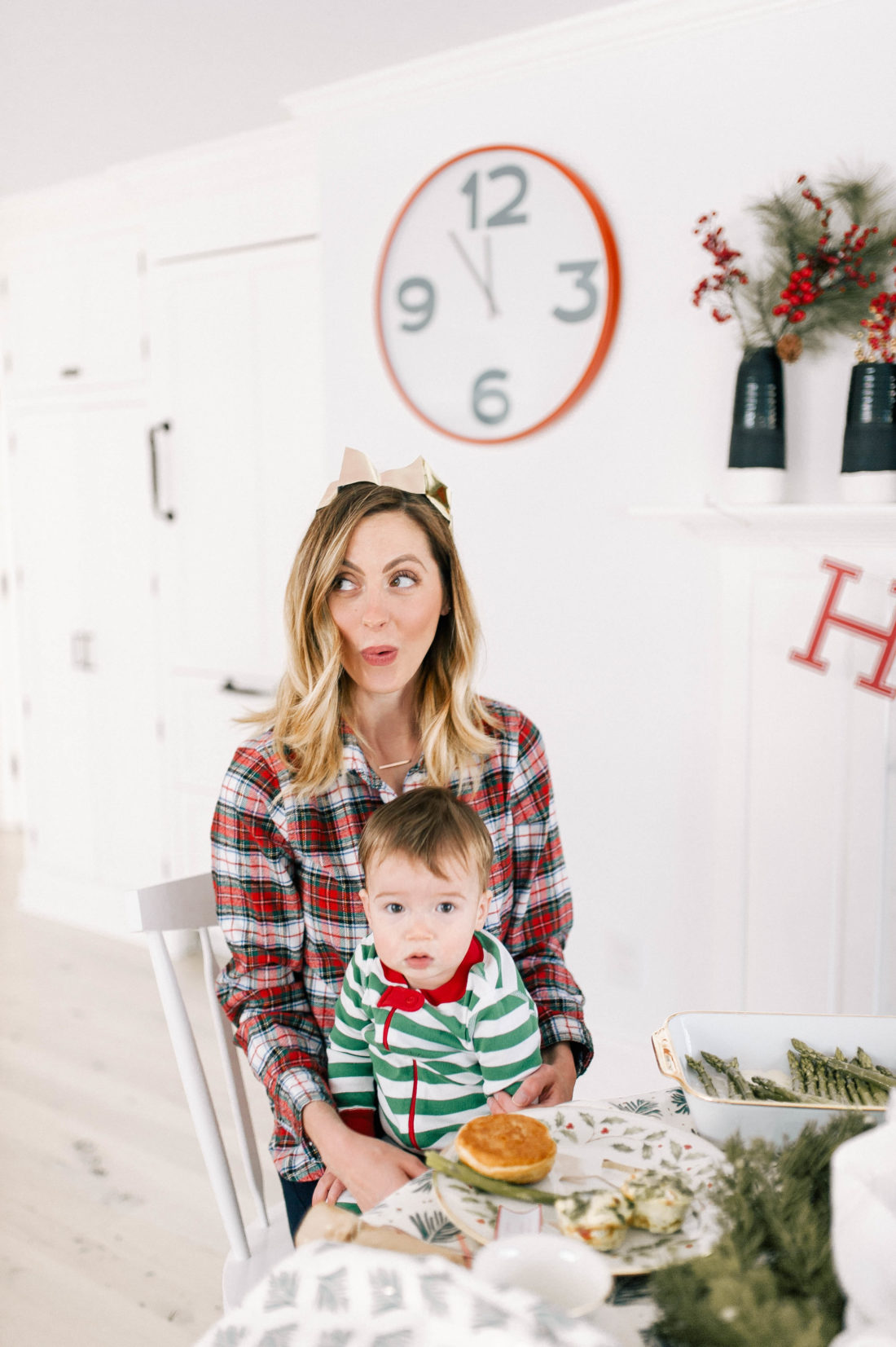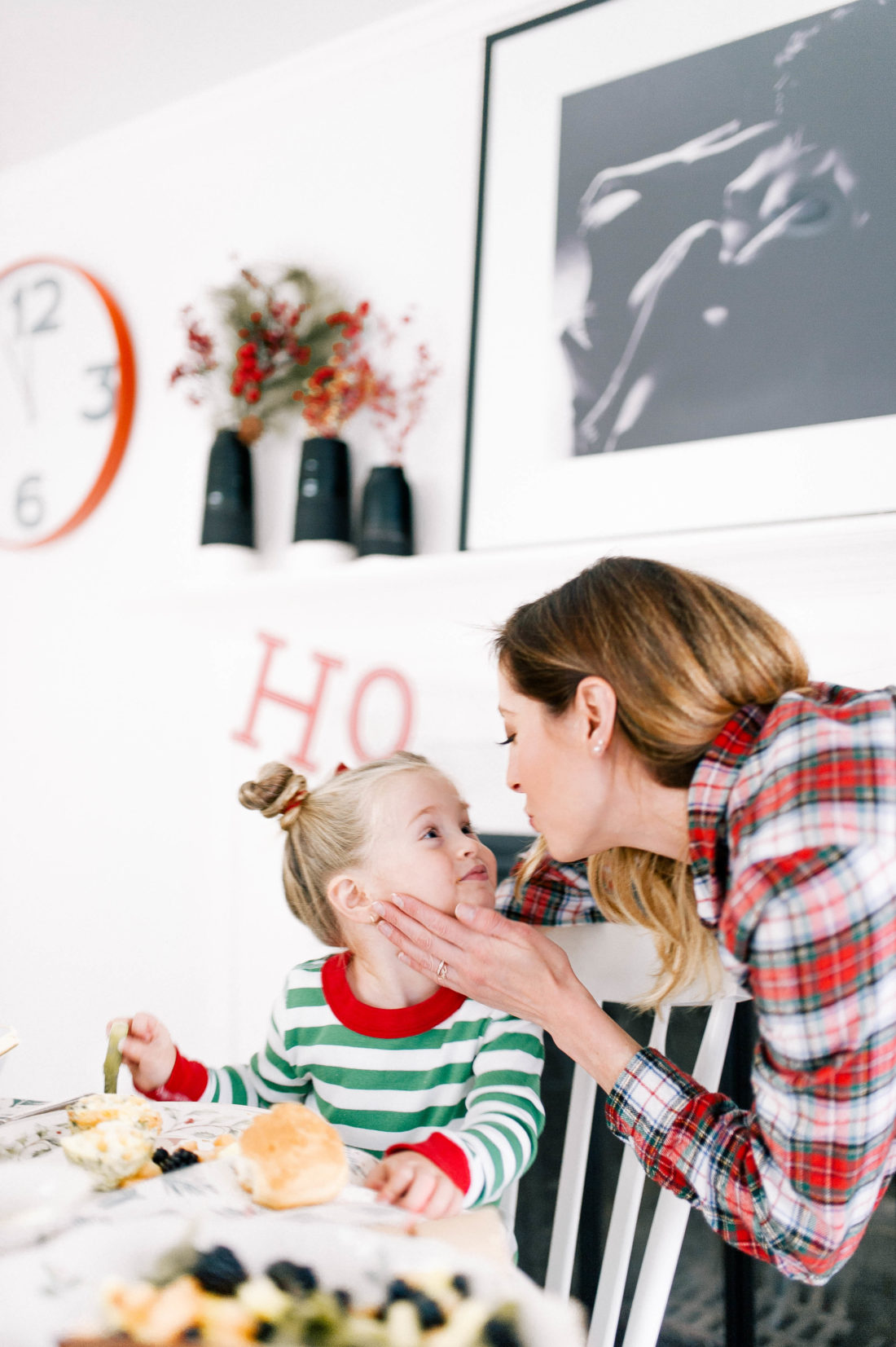 I have a long tradition of enjoying festive Christmas crackers during the Holiday season– my Mom always used to buy them for holiday meals when I was a kid– and I couldn't resist getting them for our Christmas brunch this year! I cracked one open early…and turns out I was a bit more excited about them than my kids.  I tried to get Lowie to wear the paper crown from the cracker, and she gave me a little side eye and replied "Mom…I'm not really that in to this…" LOL.  Okay! Well, I guess some Christmas traditions are more for the parents than the children! Noted! I love starting this new brunch tradition with my family and can't wait for Christmas day! Wishing you and yours a beautiful holiday filled with so much joy and love.  Be well!
xoxo
EAM
Shop the look…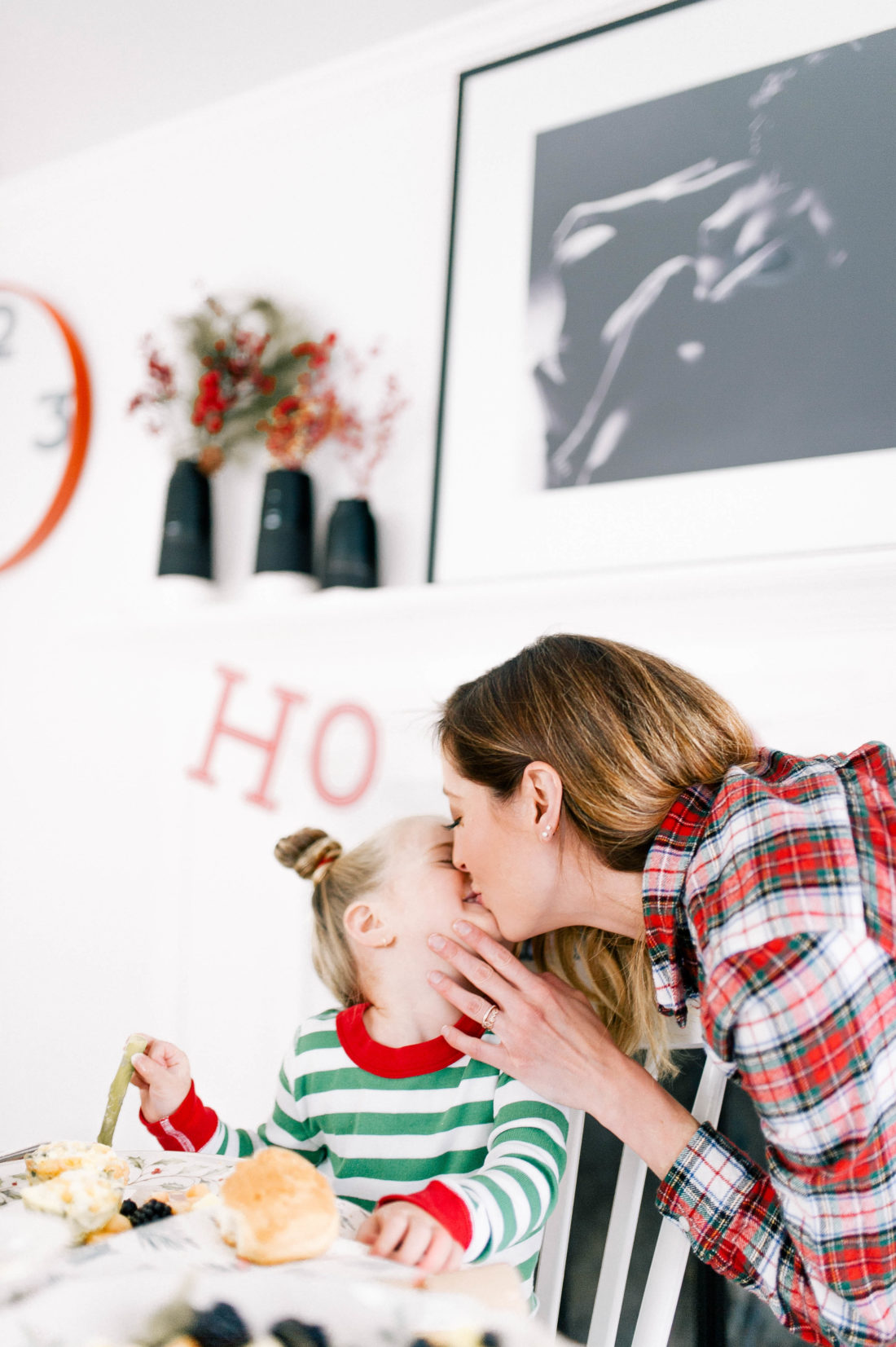 Photographs by Carter Fish