The following content may contain affiliate links. When you click and shop the links, we receive a commission.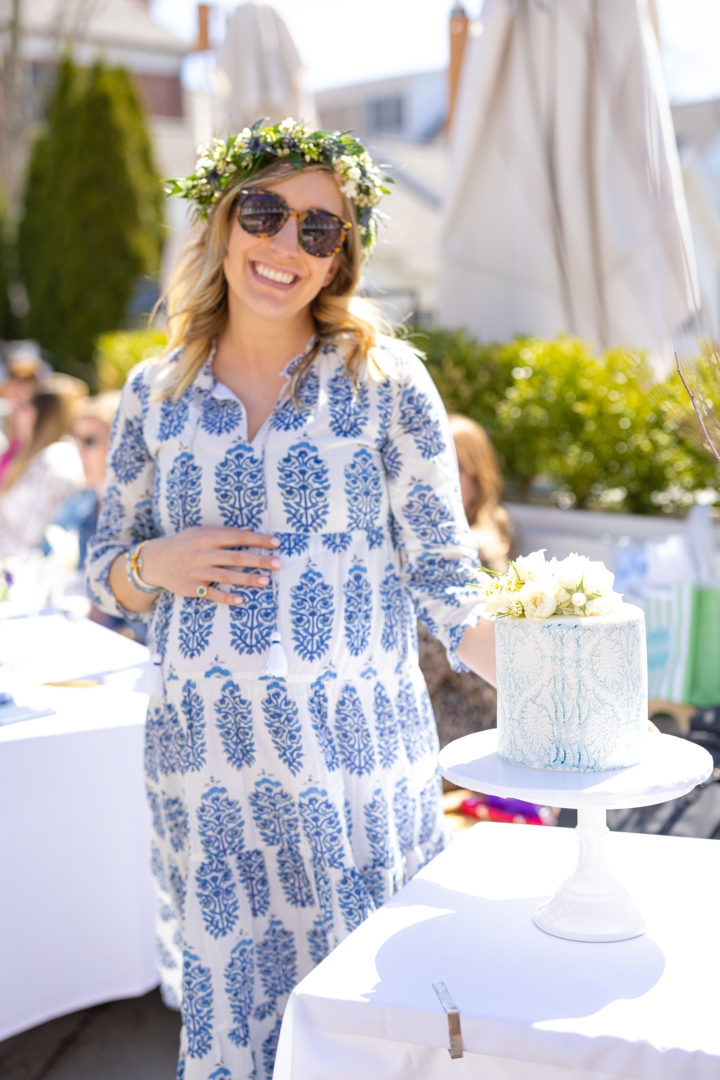 It's not every day that your Bestie is about to give birth to her second baby, and that after being a #GirlMom for three and a half years, she is about to have a little baby BOY!!! And when your bestie is a fellow influencer and pretty much the best human Julia Dzafic (aka @lemonstripes) then you know you have to join forces with some of her other Besties and blow it out on a fun and stylish Baby Sprinkle!! Ok, that alone was a mouthful. LOL. But can you tell how excited I was to celebrate Julia's little baby boy and gather some ladies to brunch and laugh in the April Sunshine?! It had been forever since any of us had done anything, or gathered for that matter, and so we knew that we had to plan a micro event that was safely outdoors, without sacrificing on style. For the perfect backdrop, we chose Artisan Restaurant at the Hotel Delamar in Southport! 
First of all, I've always loved the Delamar Hotel. When Kyle was bicoastal and we lived in LA full time, he would stay at the Delamar in Greenwich while he was in Connecticut working, and the hotel has always felt like a home away from home. It's stylish, ultra-clean and well-run, and everyone there is just lovely to be around. I highly recommend it! The location in Southport is so special because the area has much more of a quaint small-town vibe that is reminiscent of a bygone era. The hotel is also surrounded by the most gorgeous colonial-style townhouses that look like something out of a movie, and bring such an elegant vibe. Once inside the hotel, the building opens out onto a gorgeous courtyard lined with trees and more colonial architecture—It truly feels like a little getaway oasis in the middle of it all! This is the type of energy that sets the scene for the super special environment at Artisan, the restaurant at the Delamar.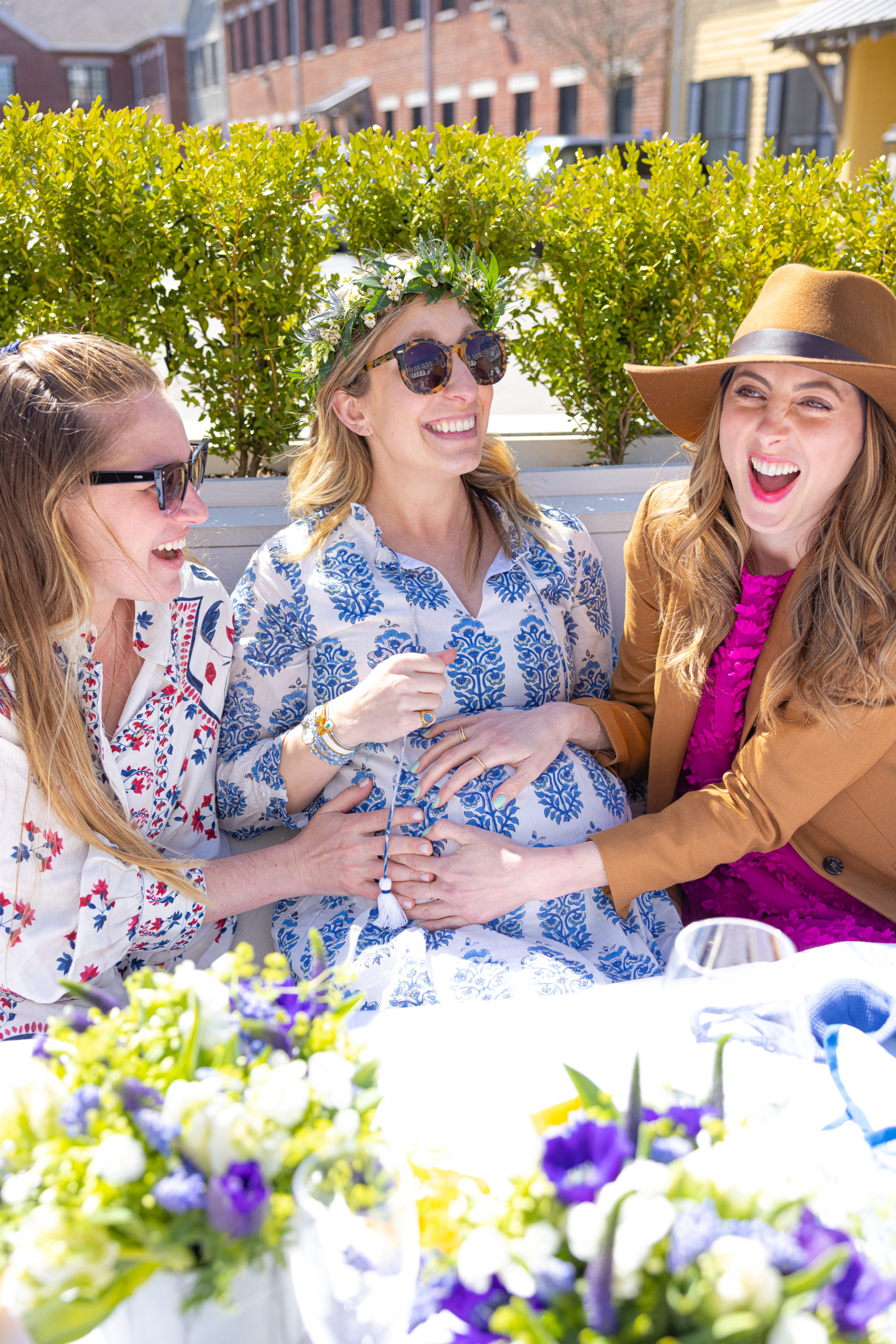 Artisan Restaurant is the conception of Charles Mallory, Rick Wahlstedt, and Frederic Kieffer who have combined their experience and expertise to create a really unique casual and fine dining restaurant. The New England-inspired American cuisine has an emphasis on farm-to-table creativity and ultra local sustainability, with a menu that reflects the seasons and is ALWAYS delicious. I've eaten there many times, and have always had a great meal. The ambiance has something for everyone, too. Inside feels like more of a tavern vibe, and the outdoor space evokes an elegant day in the countryside. It's such a nice combo and worked perfectly for Julia's Sprinkle! I thought the outdoor fire pit was an especially beautiful recent addition to the space, as it creates a gorgeous atmosphere to spend more time outside as the weather warms up. 
We had such a fun group of hostesses (Alex Thompson, Sarah Swanberg, and Julia's sister—Lauren Rawlings!), and we knew right away that the theme had to evoke Julia's longtime love of White and Blue. If you are a reader of Julia's blog, you know that blue and white pattern—and especially block prints—make Julia's heart go pitter-pat. And with a baby boy on the way, what could be more perfect? We wanted to tie in her love of lemons, too. For a theme that felt fresh, spring-forward, and just right for the Mama to be. Napkins were designed for the occasion, with a scalloped edge and an Indian block print. Each place setting had an Essie Polish with Julia's favorite color, and each guest took home a beautiful chocolate heart with baby boy's initials—made by Little Lotta Love Chocolaterie. The flowers were one of my favorite touches from the shower—a gorgeous and slightly wild mix of anemones, thistle, parrot tulips, and grape hyacinth. 
My other favorite thing was the FOOD! And obviously, there needs to be delicious food at a baby shower! LOL. I thought the brunch menu was just perfect, and every option was just delicious. I started with a super refreshing green salad made with local greens. Then, I ordered the chicken and waffles and I devoured it. I can't wait to go back and order it again, actually. It's something I probably wouldn't make at home myself, so it felt extra fun to order out! I had a few bites of a superfood salad with grilled salmon, too, and it was so yummy! Little freshly-made baskets of pastries rounded out the meal. To drink we enjoyed wine, pink champagne, and Bloody Mary's. 
Confections by Crystal made a gorgeous cake, inspired by the block print napkins, and with fresh flowers as a topper. The cake was Meyer lemon flavor with a vanilla filling—and as delicious as it was beautiful!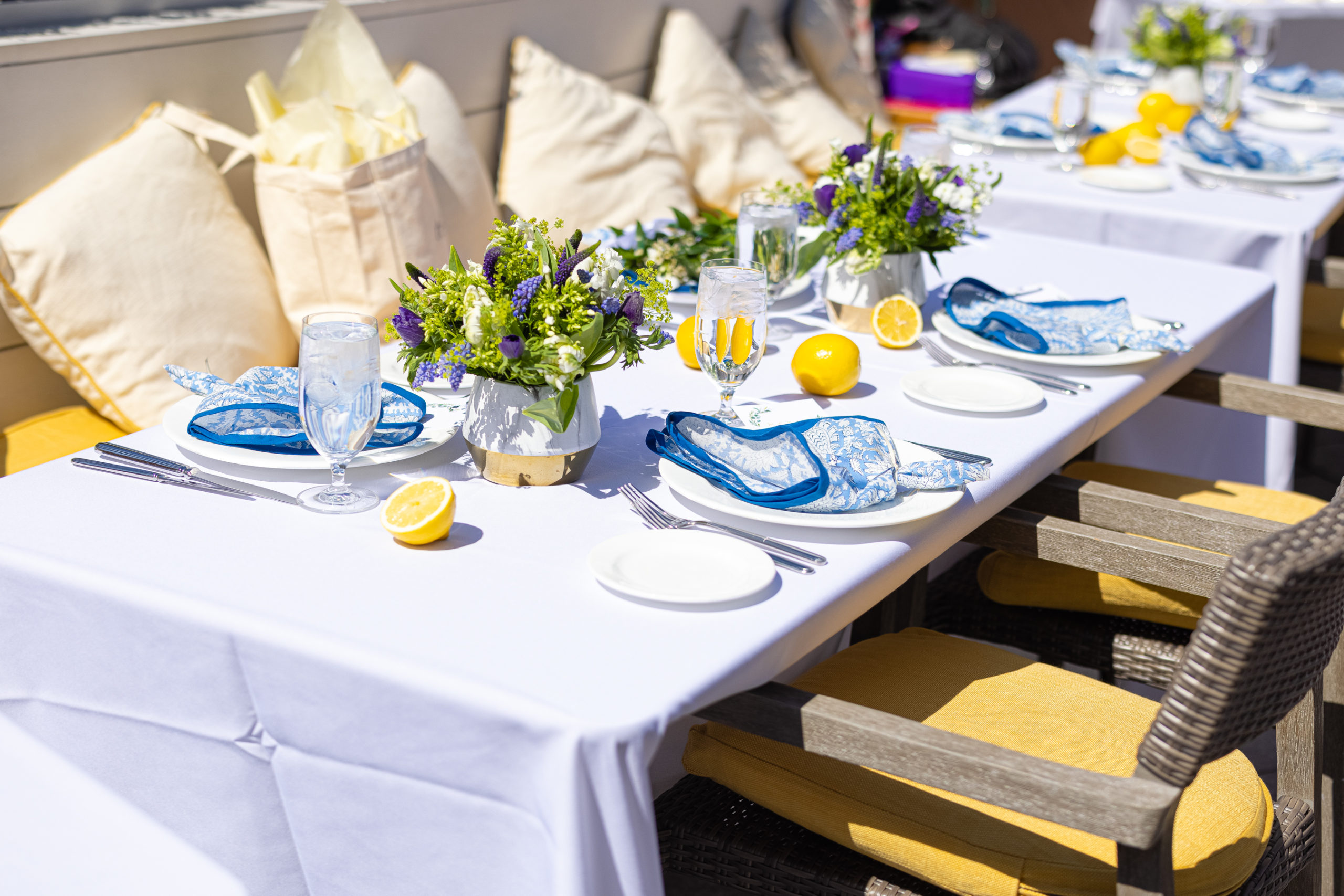 It felt so nice to sit and chat with other women, while celebrating such a special Mama. She's SO close to giving birth that it felt a lot like a last hurrah, too. These times are so strange and isolating—and it feels like the status quo can just shift in an instant. It was really important to all of us to make Julia feel grounded in all of our love and friendship as she heads into a big change and milestone for her family! 
Because this is Julia's second baby—and she already has all the gear that she needs, we decided to give her a gift from all of us that was especially for HER and something she'd never buy herself. We joined together and ordered her the most beautiful monogrammed Louis Vuitton wallet, in the colors of the shower. She loved it, and we are so happy that she'll think back to her gaggle of girlfriends whenever she uses it. 
Next up, Baby Boy Dzafic!!!!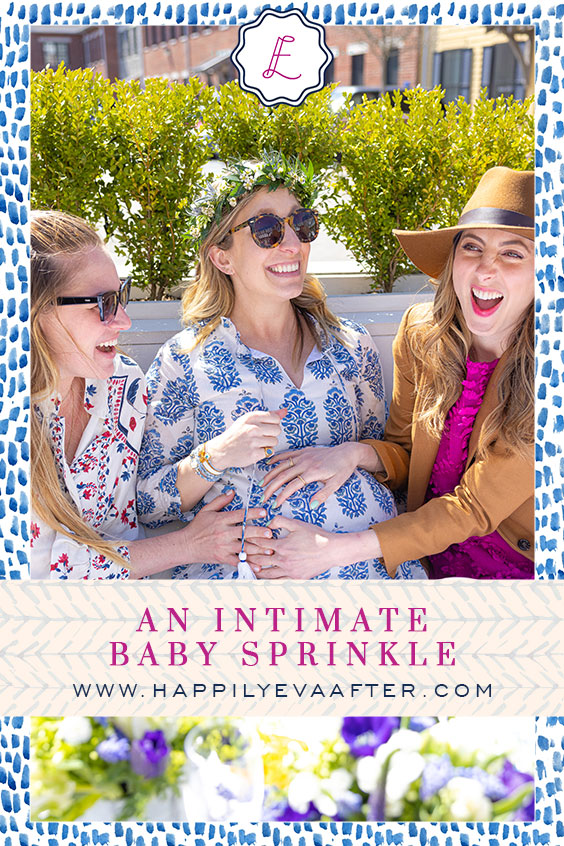 Photographs by Julia Dags | Happily Eva After, Inc. © 2021 All Rights Reserved