The following content may contain affiliate links. When you click and shop the links, we receive a commission.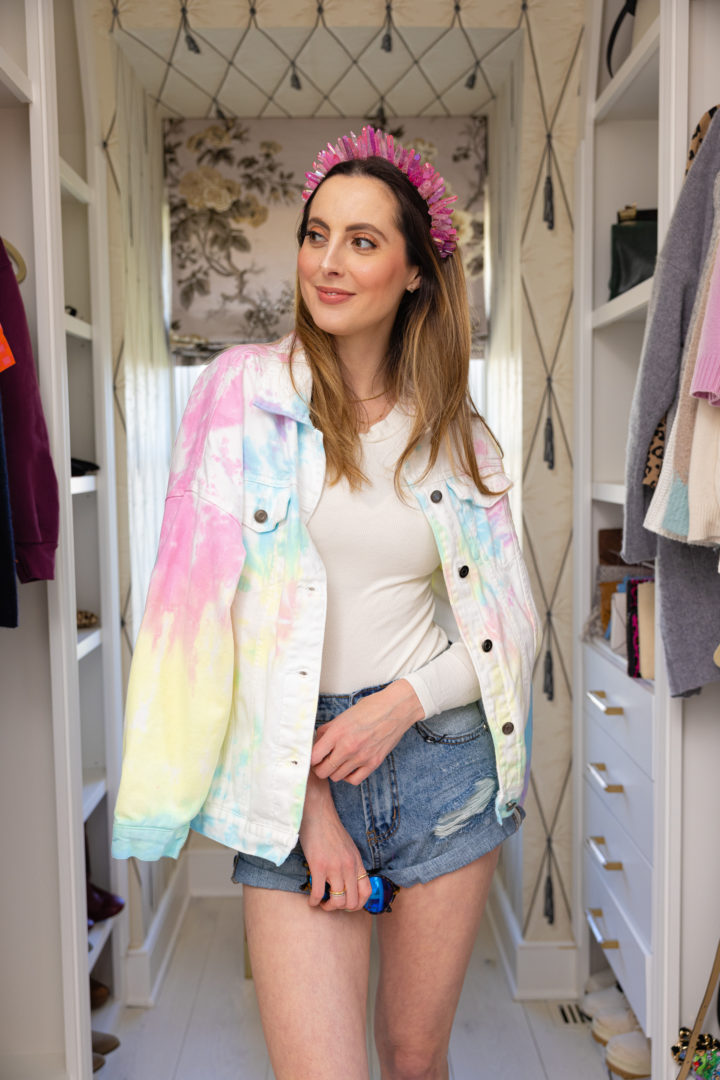 I have a love/hate relationship with denim shorts. They're either SO good or SO bad, and not all are created equal. But, denim shorts in the summer months can be such a lifesaver style-wise! When it's too hot to wear anything but shorts or a dress, denim shorts are my go-to for days when I want to be fashionable and functional. It's hard to chase after the kids in a dress, but in a pair of denim shorts, I can be ready for an adventurous day ahead, and never worry about whether my dress will blow up from a sea breeze. I also think denim shorts can be extremely versatile when it comes to styling. I've been known to dress them up for a cute dinner date on the town, or dressed down with a T-shirt for the most casual of afternoons. 
Today, I thought I would show you my favorite 4 pairs of denim shorts I've found for Spring, and how I style them! I got a black denim pair, an off-white denim pair, a distressed denim pair, and a pair with novelty stitching that gives them a really cute retro vibe. Let me know which look is your favorite! I included a close-up photo and a back view of each pair of shorts, so you can really get a sense of them. 
Look 1…
I love these black denim shorts! First of all, they are THE best fit. The denim is thick but still shapes to the body, and the length is just right. Not too long and not too short. The waistband reminds me of a vintage jean. They're also under $100!
I paired them with the most gorgeous washable silk top from Quince that you also NEED. The all-black (with black sunnies by Quay, natch) makes this look all chic and no slob in my opinion, which is always the line you are walking with denim shorts. 
Look 2…
These shorts are on the pricier side but they are so chic and look incredible in person. The off-white color in itself is that perfect bone that most brands don't get right–and when you put them on, they're the perfect "midi length". This is THE best set of denim shorts to dress up, in my opinion. The raw hem keeps them looking fresh and not too prim. 
I paired them with a beautiful, lacy BASH top in white, a pointed ecru flat by Rothy's and a neutral gingham headband. finished off the look with a pretty floral clutch. It's old Tory Burch but here is a similar style!
Look 3…
The chevron stitching on the front of these awesome shorts gives them such a cool retro vibe! The fit is a bit more high-waisted, which really accentuates curves. Since the leg flares out the tiniest bit, they create a really flattering silhouette!
I paired them with a really cute 7FAM tie-waist, collared button-down to reinforce the retro vibe, a fun sneaker by Tory Burch, and a baseball hat by Dudley Stephens! A neutral cross-body bag with a hint of sparkle gives the look a little bit of fashion flair. I'd totally wear this look to Marlowe's soccer game!
Look 4…
These distressed shorts are the most casual out of all four pairs, but the most fun, too! They're on the shorter size, and I size up one size when I ordered them so that they hang off of my hips in a cool way and come off more easygoing and lived-in. I love the wash of these shorts, too! They're that perfect in-between blue color that can read either lighter or darker depending on what you style them with. 
I paired them with Nike sneakers, shades by Madewell, a comfy ribbed tee from Summersalt, a tie-dye jacket from Worthy Threads, and my most favorite crystal crown by Moon Debutante! Good Vibes Only in this fun LEWK!
Photographs by Julia Dags | Happily Eva After, Inc. © 2021 All Rights Reserved