The following content may contain affiliate links. When you click and shop the links, we receive a commission.
This blog post was originally published on March 1st, 2019.
It's that time of year, folks! Where weather keeps most of us indoors for what seems like months.  In fact, we are due for a full weekend of snow in my neck of the woods.  With two little kids, days indoors (or with limited outside time) can feel endless and Marlowe and Maj definitely get stir crazy! I'm always look for, and testing, fun indoor activities– and today I thought I would share some of my favorites.  The best part is that they mostly involve materials you probably already have at home.  Please add to the list in the Comments section if you want to share any other fun indoor activities for kids I might not know!
Shaving Cream Party
This is probably my kids' favorite indoor activity. They think it's SO fun and crazy, and it contains them for a while. Just spray some shaving cream on the walls of the shower, close the door and let them play in it! We draw letters, numbers, pictures, and just squish it around. It's not that hard to clean afterwards, either!
The Balloon Float
This game is really simple, but Marlowe LOVES it. It could be frustrating for kids under 3 or 4 though. Blow up a balloon with your breath, and the object of the game is for the child not to let it touch the ground. They have to keep tapping it up in to the air, and run after it to make sure it doesn't get away!
The Floor Is Lava
This one is kind of self-explanatory. LOL. When I did a couple episodes of New Girl a few years ago, I remember some of my favorite episodes to watch were when the group of friends played the "Floor Is Lava" game. It was so hilarious watching adults take it so seriously! It inspired me to try it with the kids and they both love it! We lay out some pillows around the living room and kitchen, and basically if you touch the floor, you touch lava. Extra points for drama. LOL.
Vision Boarding
Marlowe has had to work a bit recently on her fine motor skills, and one of the suggestions her teachers had was to do more activities with toddler scissors since they work the important hand and finger muscles. I love the idea of vision boards, and I thought it would be fun to do one with her! We also get so many kids product catalogs. I give her a mix of kid magazines and adult ones, and she can pick out pictures she wants to add to her vision for the year. Then she cuts them out the best she can, and we stick it on her board. It's VERY hilarious to see what they choose, by the way!
Snow Cream
Have a snow day? Make snow cream! I've used this recipe before– and we thought it was a really fun and yummy activity.  You can also use food dye and a sprinkle of sugar to make "snow cones"!
Spoon Races
I love this game because anyone and everyone can play, and it really keeps my kids occupied for a while. Plus you can change whatever is in the spoon depending on the difficulty level desired and the ages of the kids! I like to use pom poms, but for older kids you can totally use hardboiled eggs! Make a starting line at one end of the room or hallway, and when the buzzer sounds, the first to make it to the finish line on the other side of the room without dropping their pom pom wins! If a player lets their pom pom fall, they have to go back to the starting line and begin again!
Swimming Pool
Need to burn off some energy? Put your kids in their bathing suits for a little novelty, and fill up that bathtub! I make them wear sunglasses and sunscreen and we really go all out with fun party music too. Use goggles if you have them!
Stuffed Animal Hospital
Pick somebody to be the vet (we alternate between Marlowe and Myself), and then one by one bring every single stuffed animal to get checked out and diagnosed. We once spent two very enjoyable and hilarious hours playing this game, and it's still a family favorite. Just make sure every animal goes back in the toy chest "to take a rest" after its turn!
Painter's Tape Speedway
This activity is so awesome! Just take painter's tape (which is so easy to peel back off) and tape off roads, garages, parks, and even airports on the floor. Then take all your vehicles and play on your new speedways! Major adores this game, and it's amazing how it makes them rediscover cars or trucks they had cast aside.
Salt Dough
Whip up a batch of Salt dough with the kids– it's so kid friendly to make! Then you can build different creations and bake them so they last! You can even make some ornaments to hang from a string of ribbon in the kitchen window, or a door knob ornament for each child's room. Paint them after baking, too! To make: Combine 2 cups all purpose flour and 1 cup salt. Slowly add 1 cup of water little by little, while mixing, until it turns in to a play doh type consistency. Knead the dough on a hard surface for several minutes, adding more water if it's too dry or more flour if it's too sticky. Get to crafting! When you're ready to preserve the shapes, just bake in a 200 degree oven until hardened. Make sure not to over bake!
I would love to hear some of your indoor activity bad-weather-savers! Just share in the comments below.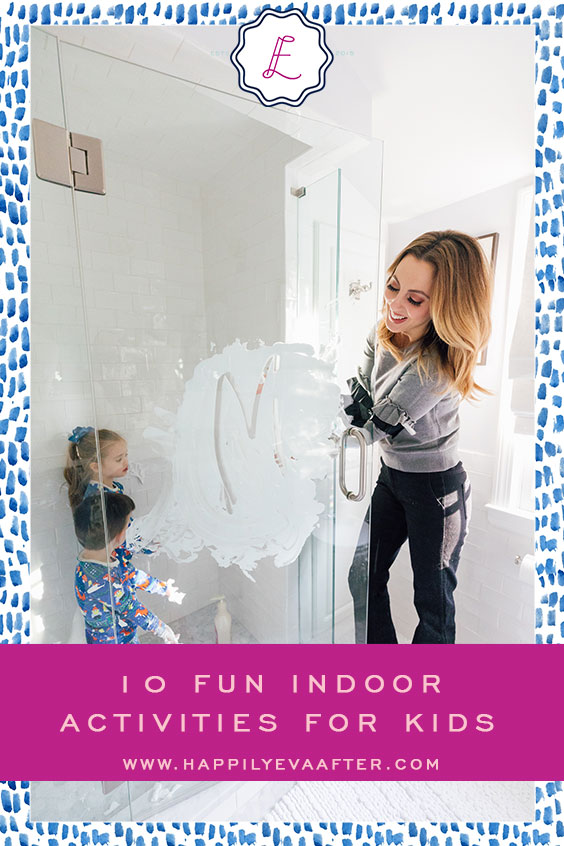 ---