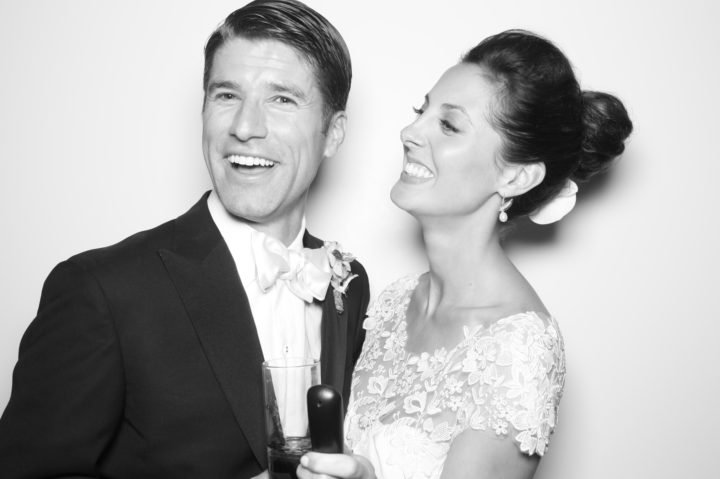 As somebody who loves fashion, I was thrilled to shop for a wedding dress! To be honest, I had been reading wedding magazines from the first month Kyle and I were dating.  I wanted something elegant, timeless, and that truly made me feel like ME.  But I also wanted a major fashion moment, like most brides! LOL. Wedding fashion is so fun, and today I wanted to share an intimate look at the fashion from our Charleston wedding.  Our wedding was black tie, but I wanted to juxtapose a very elegant feeling with a relaxed attitude.  It think the fashion of the day reflected that! Read on for my selects of what I would try on if I got engaged today, as well as my picks for the groom!  I also included some gorgeous wedding guest fashion for under $200!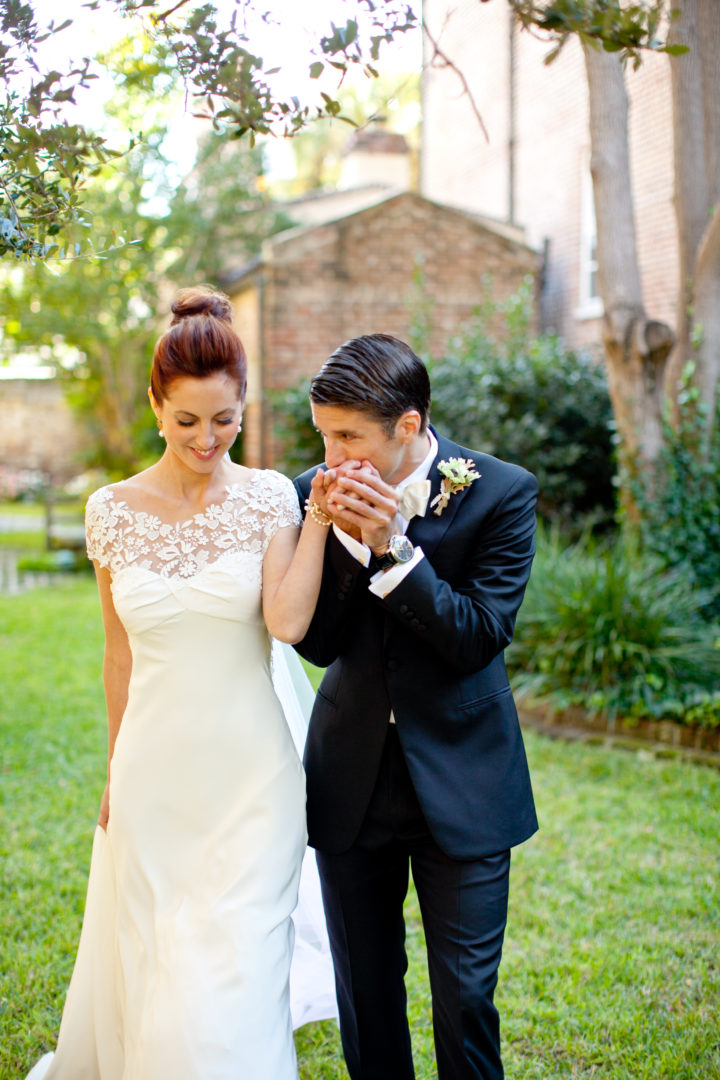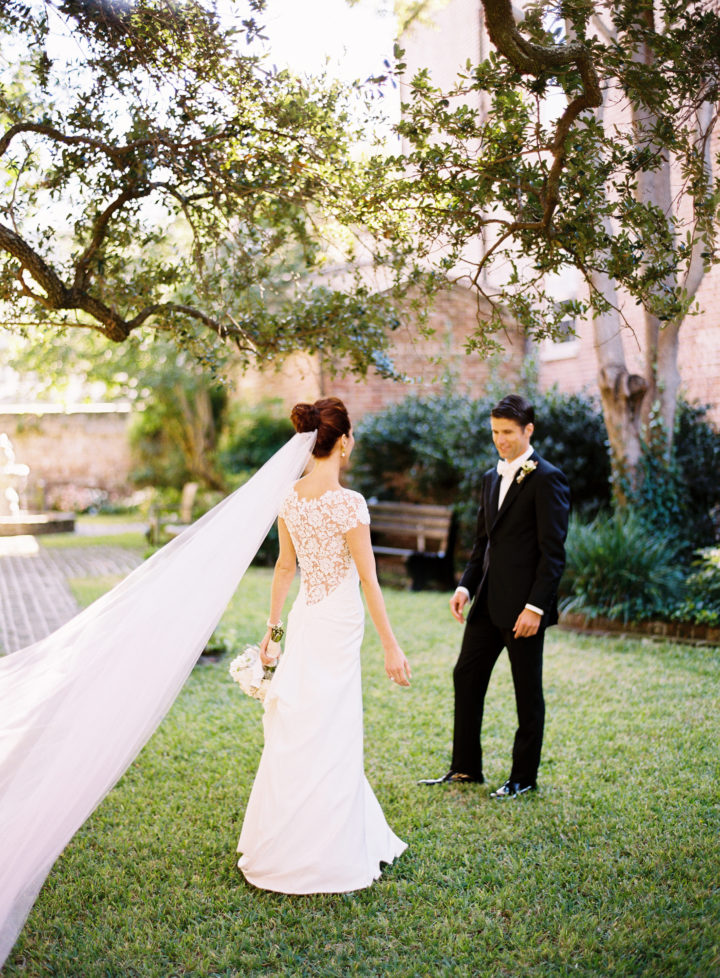 As soon as Kyle and I got engaged, I started doing tons of research online– and I ultimately tried on so many truly stunning gowns.   But I could never have known that the journey to choosing my wedding dress would ultimately teach me SO much about myself!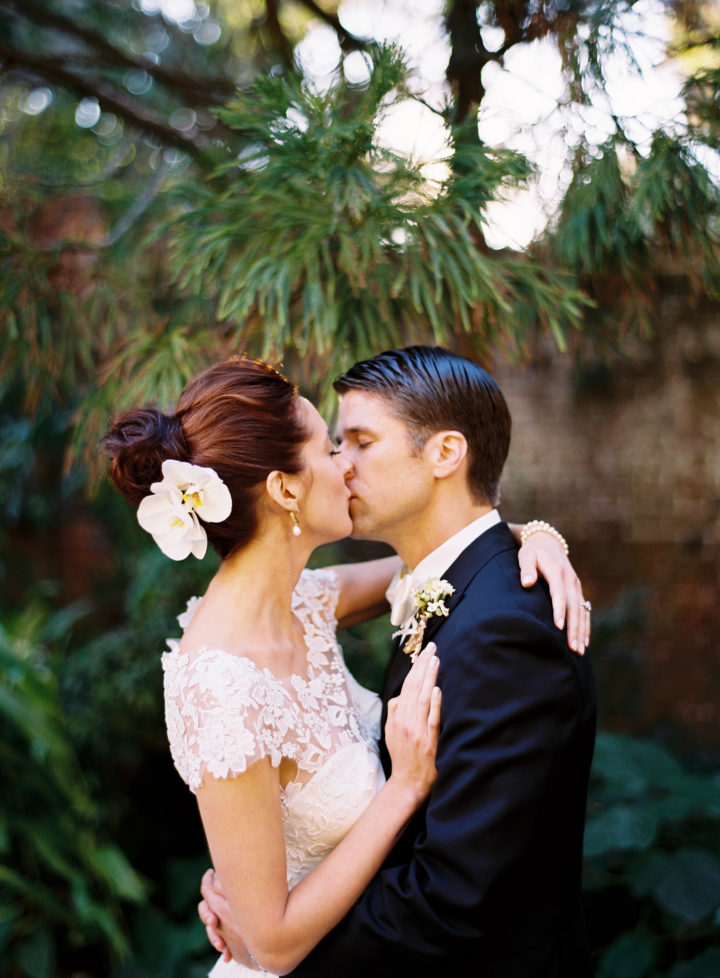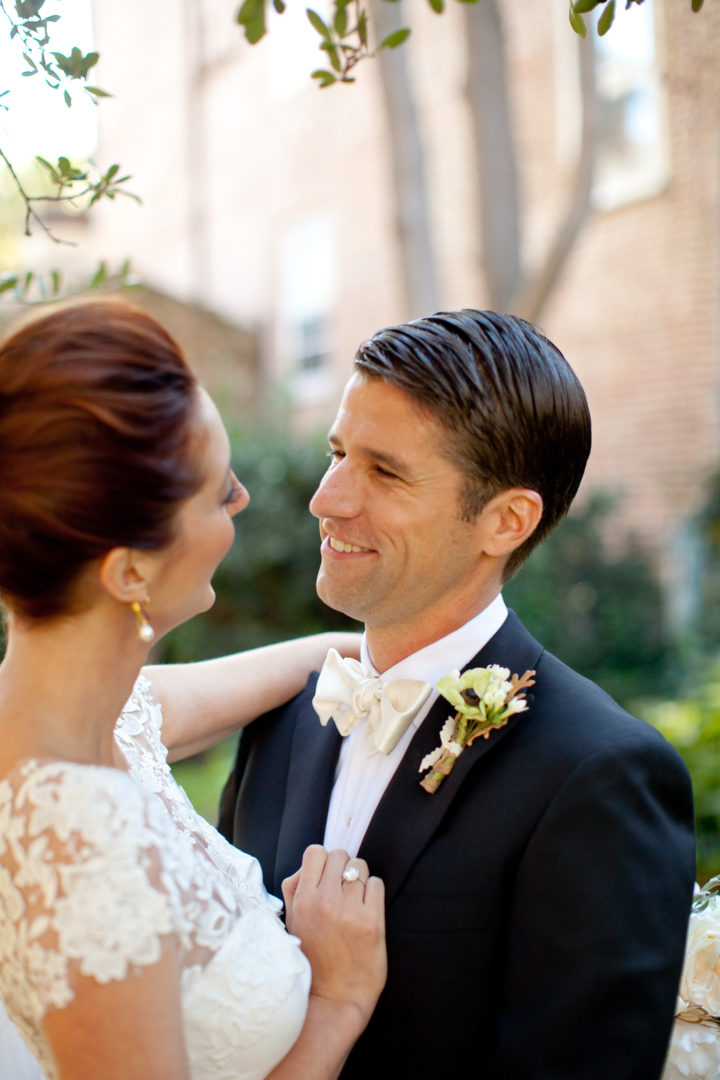 I kept hearing brides saying again and again that if they could have any dress they wanted, they would choose a Lela Rose. I was intrigued.  I went online, and the first dress I saw of hers was called "The Woods".  It had beautiful, large-scale geometric floral lace covering the entire back, with a relaxed flowy fit and a gently off-the-shoulder shape.  It immediately made me feel emotional as I looked at it, and that was on a computer screen! I kept looking at tons more dresses, but that one stayed in the back of my mind.  I had an NYC trip planned to try on dresses with my bridal party and my Mom, and I scheduled an appointment at Lela Rose to try on the dress that I just couldn't get off my mind.  When I slipped it on, it immediately felt like something I would have already had in my closet– in the best way possible.  I felt exactly like myself, only fancier.  I immediately could envision my wedding day and walking down the aisle in that dress to marry the man of my dreams…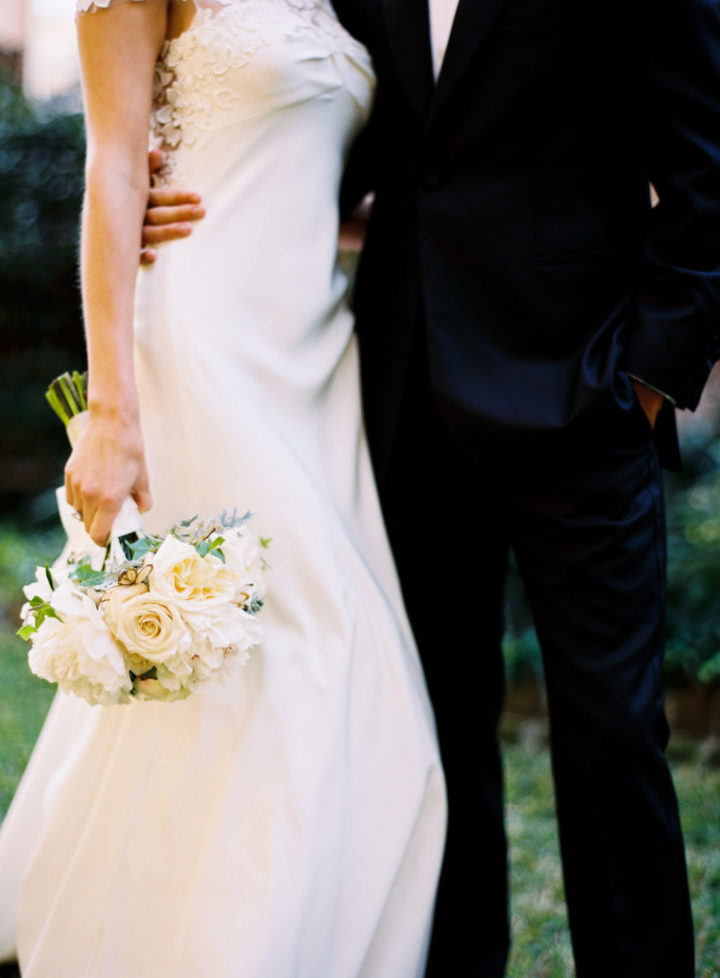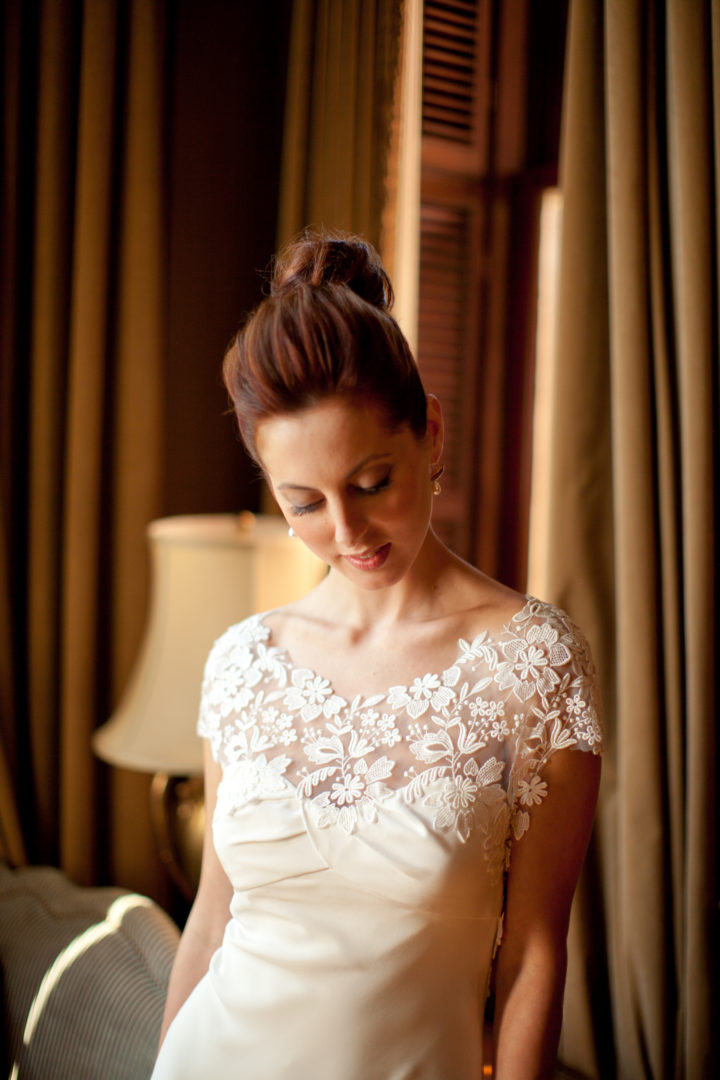 Then I walked out of the dressing room to show everyone– and the whole room pretty much shrugged.  They said I looked pretty but they weren't Wowed.  I felt like crying.  "But I would take it in a bit, make it fit to my body a little more.  After alterations it'll be perfect I think." They all agreed that it was a beautiful dress but they just didn't think it was The One.  I had imagined that moment that we've all seen in the movies– when the bride walks out in THE DRESS and the whole room starts crying, especially her.  It didn't happen, and if it didn't happen, then I guess that the dress wasn't for me.  We left Lela Rose and went to another appointment at a big fancy department store.  They brought in champagne, and tons of gorgeous veils, and picked out a handful of dresses to try.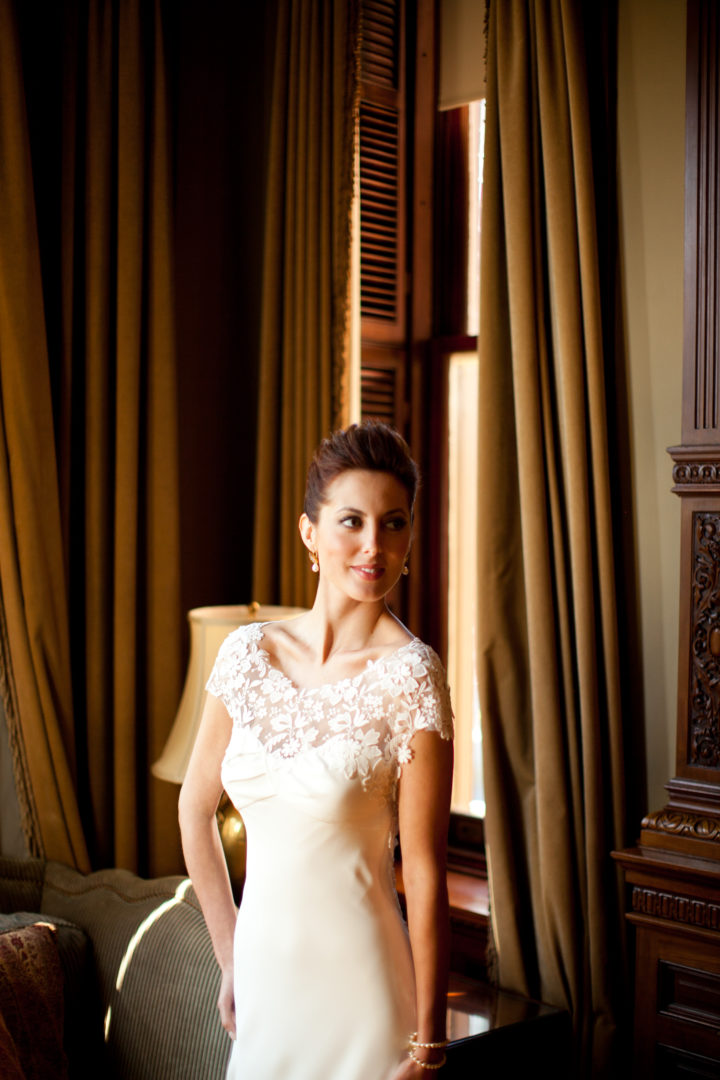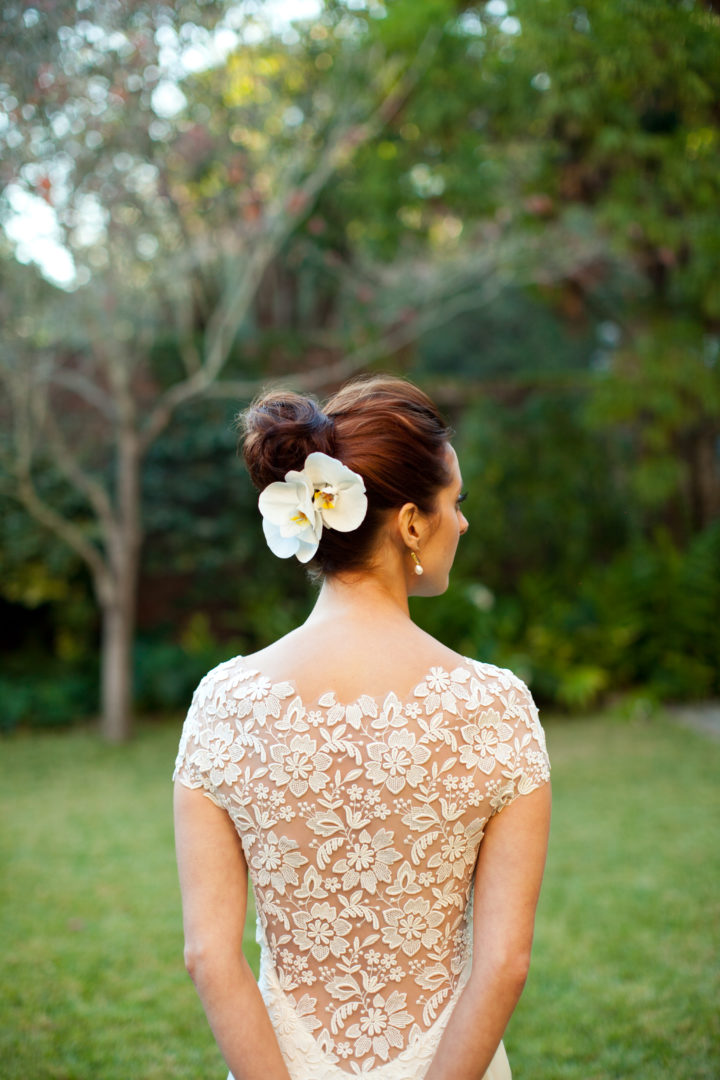 The last one was a beautiful, bright white, very classic and architectural strapless by a BIG name designer.  It was fitted in the bodice, and then went in to a full skirt.  It was very "classic" and very southern.  And gorgeous.  I tried it on, affixed a veil to my bun, and walked out of the dressing room.  All my friends gasped.  My Mom started crying.  The moment was there, it was happening…but I just felt numb.  Everyone was saying how perfect it was, how beautiful I looked– but as I looked at myself in the mirror I felt like a different person.  A bride, for sure, but not me.  I didn't own any strapless dresses at all– it felt so strange to choose one for my wedding day. But on paper, it did fit the bill.  The silhouette was beautiful and grand, and I did agree that it would be such a perfect dress for my big, black tie, southern wedding.  And I figured with the right accessories and jewelry I could really make it my own.  I decided to come in the next day to fit it, and get the process started.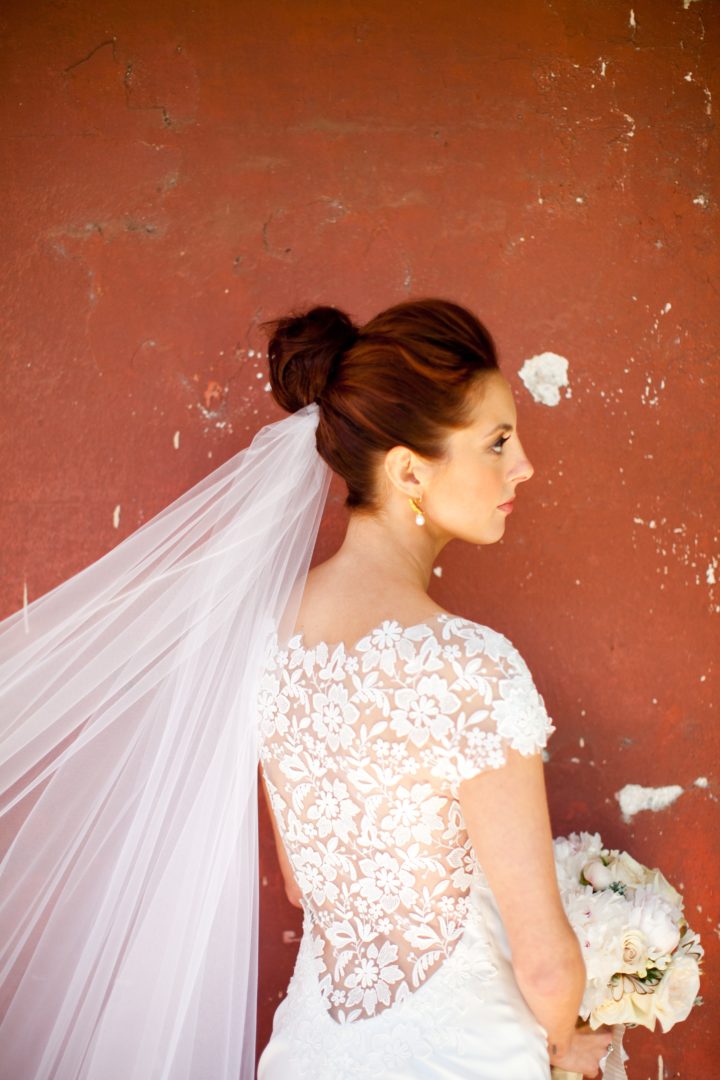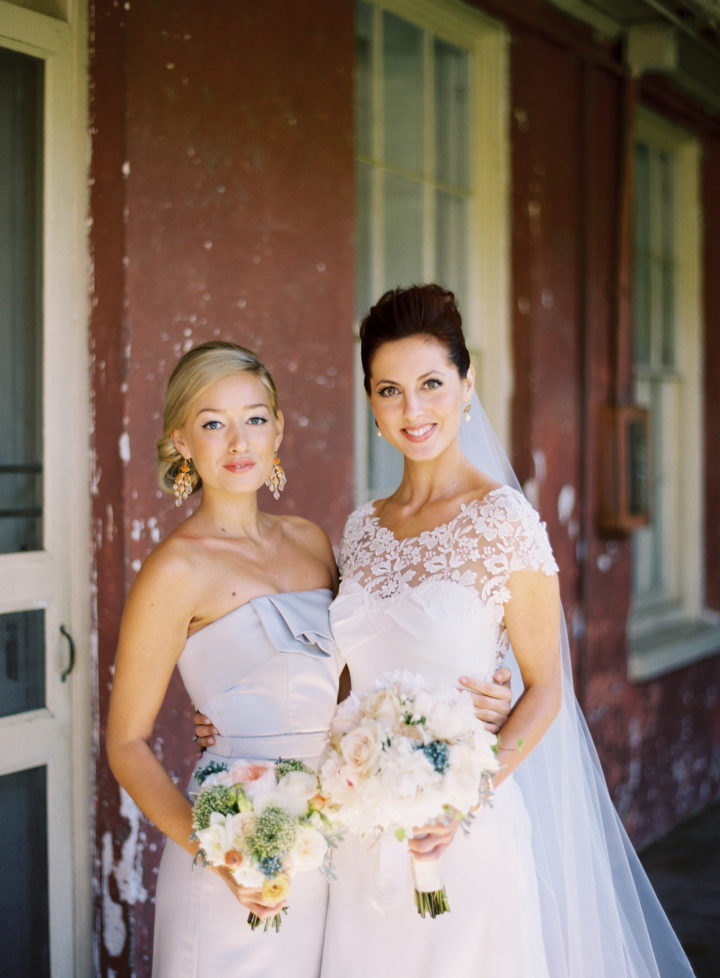 When I got home to my hotel room, I sat on my bed in a daze.  Suddenly, I felt bit, hot tears falling in to my lap.  I didn't feel how a person was supposed to feel after they found the dress they were going to get married in, that's for sure.  I just felt confused.  I had planned on meeting a few of my friends at the appointment the next day to fit my new wedding dress.  I was supposed to call the department store and leave my credit card for the deposit.  Instead, I emailed the ladies at Lela Rose, and asked if I could come in one more time– alone.  When I went in the next morning and slipped that gorgeous dress back one, with the lace that reminded me so much of the garden where we planned to get married, I just knew it was "the one".  I started tearing up in the dressing room– and I had that amazing bridal moment for myself, the only person who really needed to have it.  Afterwards, I texted my friends and Mom: "I decided to go with the Lela Rose.  I know it's not all of your favorite one, but I'm in love with it, and I know on my wedding day you guys are going to love it too."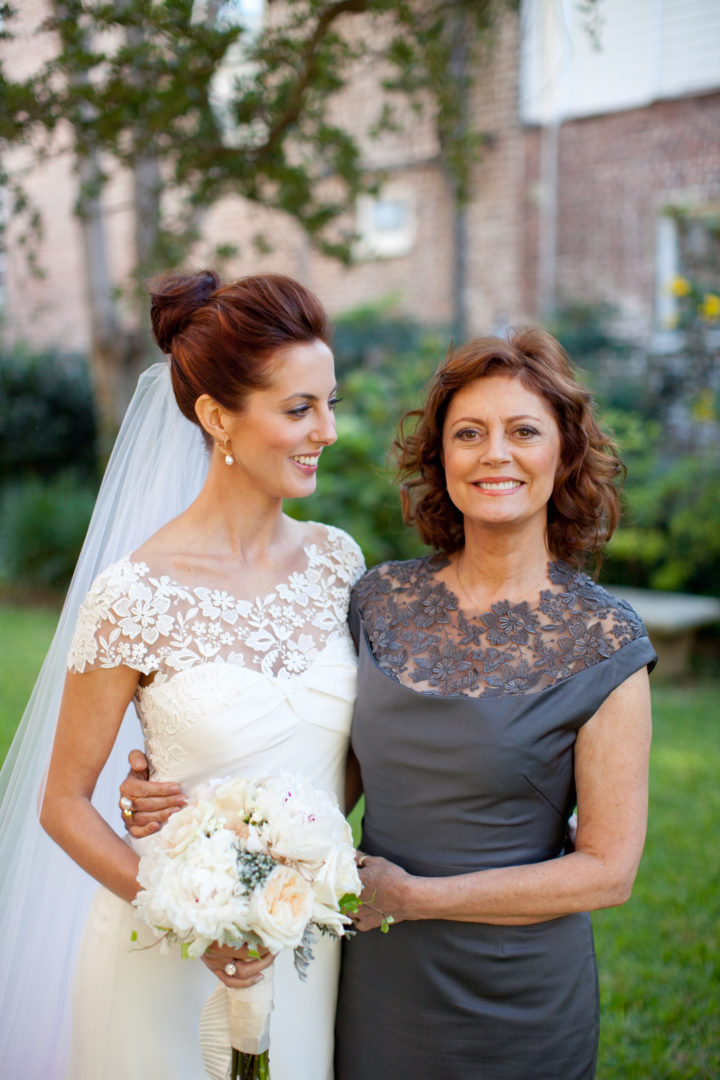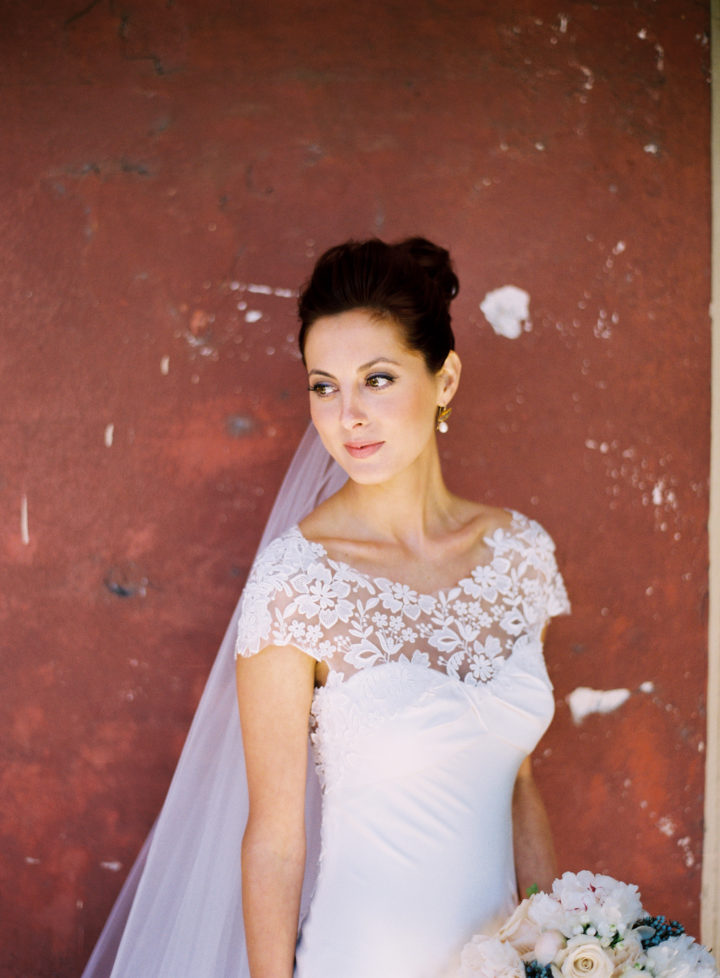 Little did I know then that trusting my instincts and my choices was going to be a life and marriage lesson for the books!  I still think about that decision as one of my proudest moments.  I've since gotten MUCH better about trusting my voice, but at the time– at 25 years old– I still hadn't perfected it, and that one simple move was a huge deal for me.  I think it set the tone for me personally during the lead up to my wedding, and when I was in my wedding dress, I felt like the best and truest version of myself.  Kyle LOVED it, and when I came out of the dressing room on my wedding day, I could tell that my friends and family knew I had made the right choice.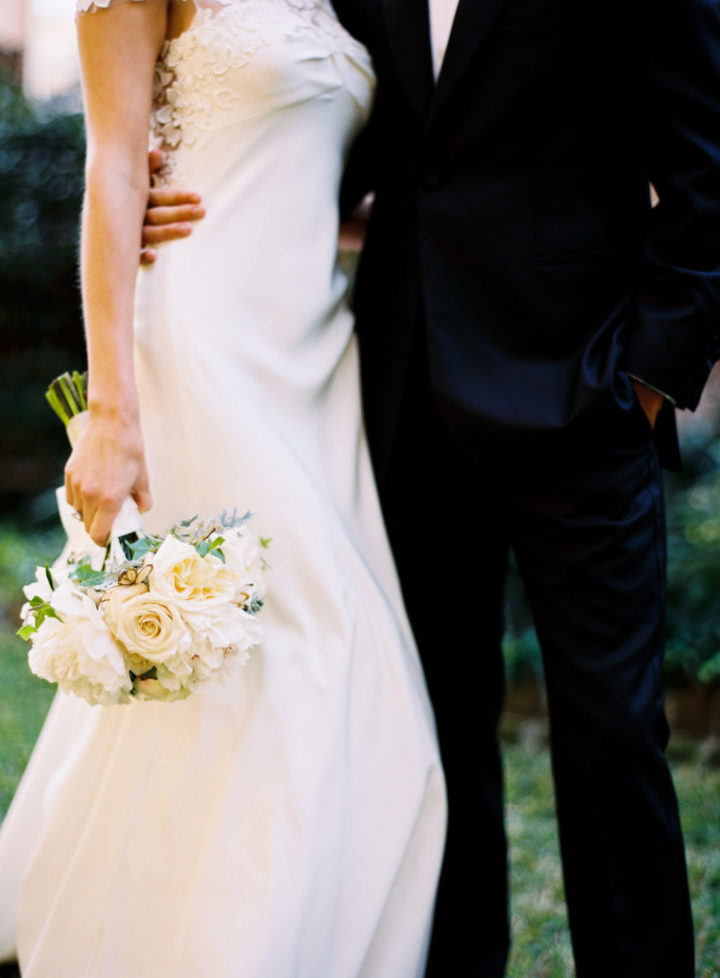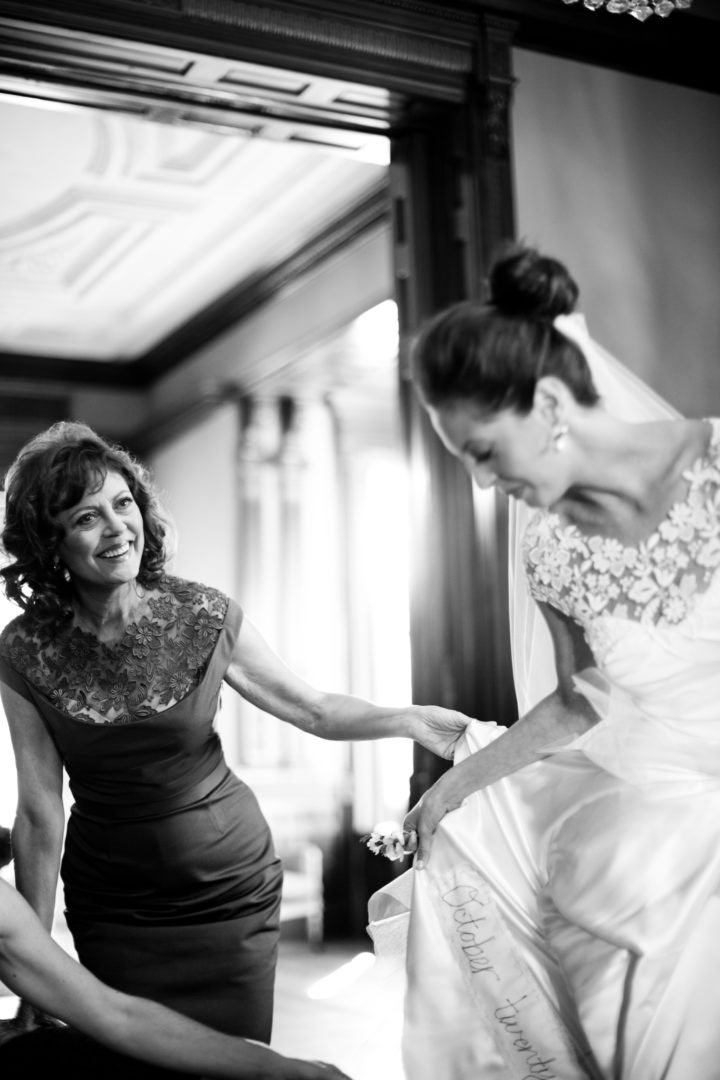 I still keep my wedding dress hanging in our guest bedroom in plastic.  I like to look at it sometimes, because I still LOVE it that much to this day! Ha! The other day, Marlowe and I were talking about weddings, and I told her that I kept my wedding dress in case she wanted to wear it when she got married! Her response: "No thank you, Mom.  When I get married I want to pick out my own dress."  LOL. Touché!
A quick note about groom style: it is just as important for a man to look classic and stylish on his wedding day as it is for the bride! An impeccable suit never goes out of style, and tailoring is key! Make sure your man goes in for fitting just like you do! I loved Kyle's elegant Brioni tux, with a silk ivory bowtie.  He looked adorable.  I wish we still had it, but unfortunately it got trashed in the moving truck during our cross country move (Kyle lost a whole wardrobe box because the company had a leak in their van) Eeeek! I hope to replace it one day with another as an anniversary gift.  Maybe for ten years married!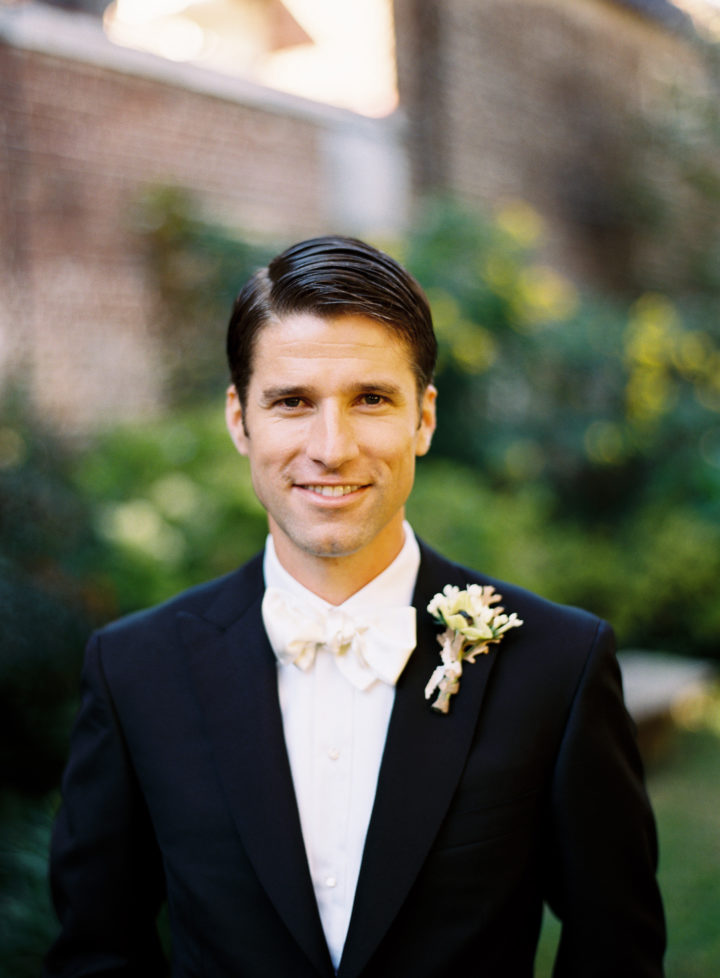 It is wedding season, after all, and if you have a full social calendar look no further! There are so many gorgeous dresses out there right now for under $200, and lots that are very versatile and can be restyled differently for extra wear! Here are my picks for what to wear as a wedding guest…
I want to know how you knew YOUR wedding dress was "The One"! Please share in the comments below!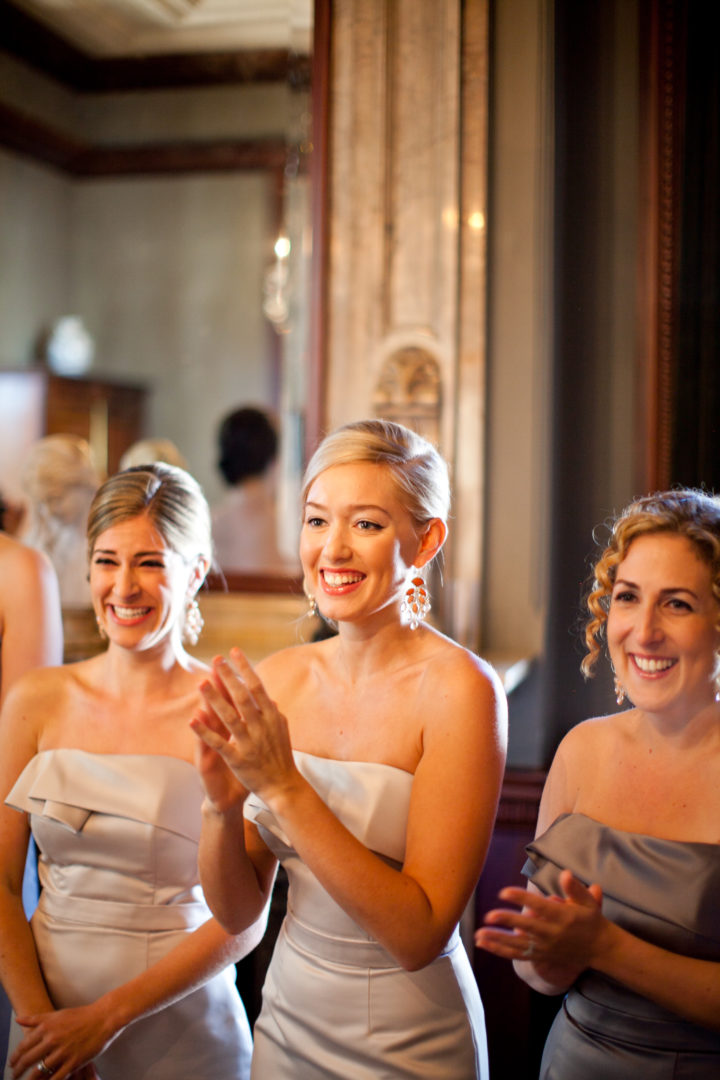 Photographs by Tec Petaja.