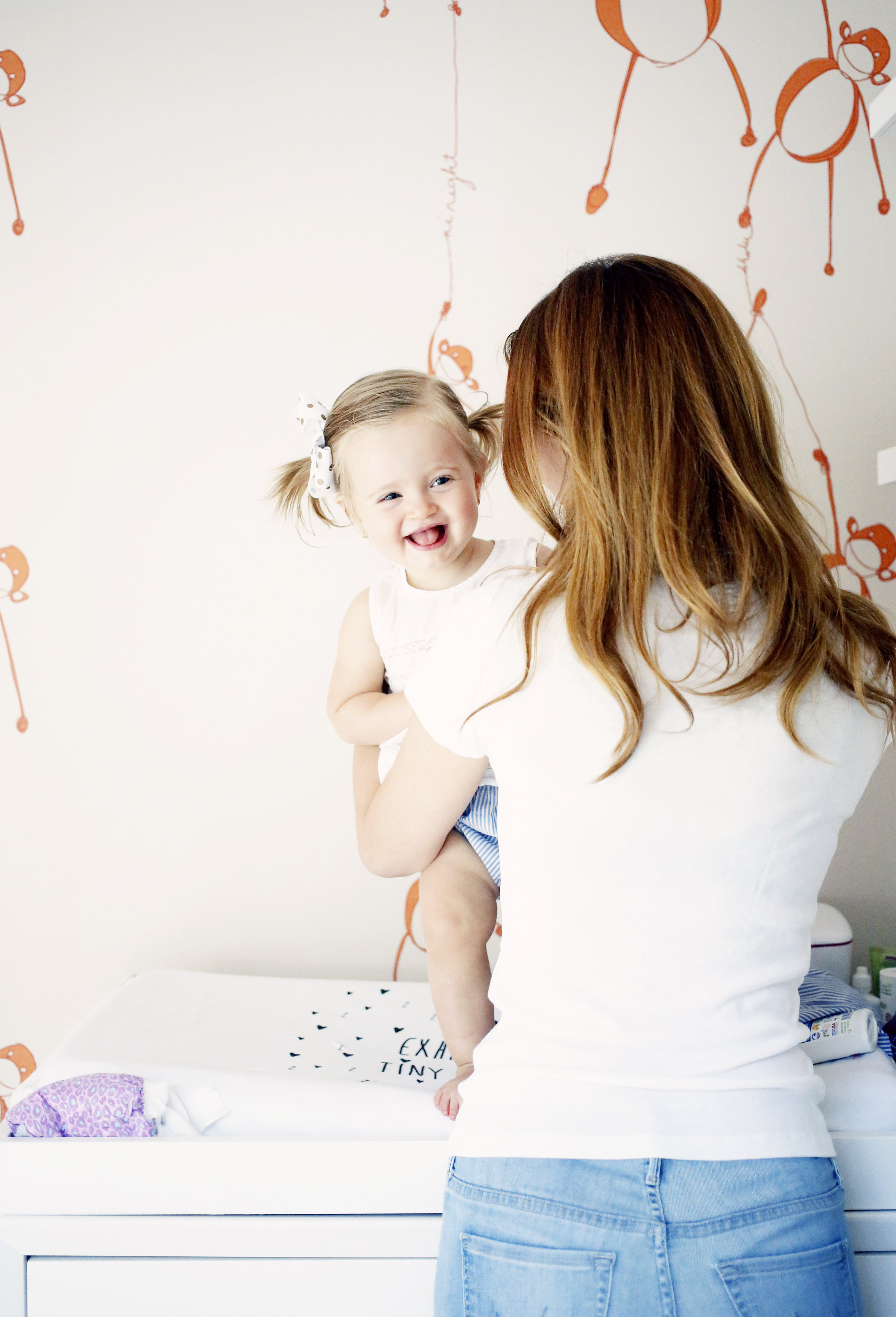 Have you ever heard the expression "When it rains it pours"?  Well I'd love to add to it, "…and it soaks through your super absorbent diapers, through your child's pajamas, sleep sack, and sheets, and all the way to the Motherloving mattress".  Too much? Ladies and Gentlemen, at 14 months old we had a Bedwetter…who was sleeping in a DIAPER.  Huh?? You more experienced Moms out there are probably laughing over your lattés right now– like this Poor Fool, why didn't she know all the STUFF?! BAHAHAH!! Well now I know the stuff, so let me share it.
Of course we had been using the same old diapers all year, upping the sizes as Marlowe grew, and we never had any problems.  The occasional leak or blowout of course, but nothing major.  Then suddenly, about a month ago, Marlowe started wetting the bed every single night.  The poor thing's diaper would leak completely and soak her from the neck of her PJ's all the way to the ankles– not to mention all of her sheets, Loveys, sleep sacks etc.  It would wake her up super early (of course), but even worse was the discomfort of being soaking in cold pee.  It absolutely broke my heart to go in there and see her so uncomfortable. Also, having to change out all the linens in her entire crib every single morning wasn't…ideal.   I tried everything.  But going up a size in diapers, any and every brand of "overnight" diapers, or even reducing her night time bottle by a couple ounces couldn't make a dent in our little Bedwetter's night time experience.
I was feeling so anxious every night before bed, wondering if my sweet baby girl would wake up in a yellow flood at 5am.  So I called in the troops!! As I've mentioned on here before, Kyle and I were lucky enough to have an amazing woman named Pam (of Dream Team Doulas) as a night nurse for the very beginning of our Parenting journey.  She has been a postpartum Doula for countless families, and has four children herself.  Let's just say she has that thing called "Experience".  We've stayed in touch, and I emergency-texted her my predicament.  She assured me that this (12-16 months) is the exact age when many children begin to wet through their diapers at night, and that it is totally normal.  I had never even heard of this toddler "stage", or any of these tips, so I resolved to share them here with you! These are Pam's three tips for Leaky Toddler Diaper Troubleshooting:
Diaper Liners:  These look kind of like Maxi Pads and are a soft insert that go inside a diaper to add absorbency.
The Best "Night Time" Diaper brands are: Pampers, Huggies, and Seventh Generation.  Try your child's size, or going up a size, in one of these before investing further.
Doubling Up On Diapers:  This one sounds nuts but really works.  Try putting a diaper in your child's size on first, then put one a size up over it.  Try using a "Night Time" Diaper as the exterior diaper for an extra dryness boost.
I ordered the diaper liners right away, and in the meantime, doubled Marlowe's diaper at night.  I used her regular daytime Honest Company diaper underneath a Huggies Overnight diaper.  It was bulky…but it WORKED!! When the liners arrived, I tried one of those inside an Overnight diaper, and that worked also! I was so thrilled to have options.  We went with the liners inside the Huggies because it was less bulky– and I am happy to report that Marlowe's diaper hasn't leaked since.
Now that the leaky diaper problem is solved, I just can't WAIT to know what kind of new Toddler problem is just around the corner…stay tuned! 😉
xoxo
EAM