The following content may contain affiliate links. When you click and shop the links, we receive a commission.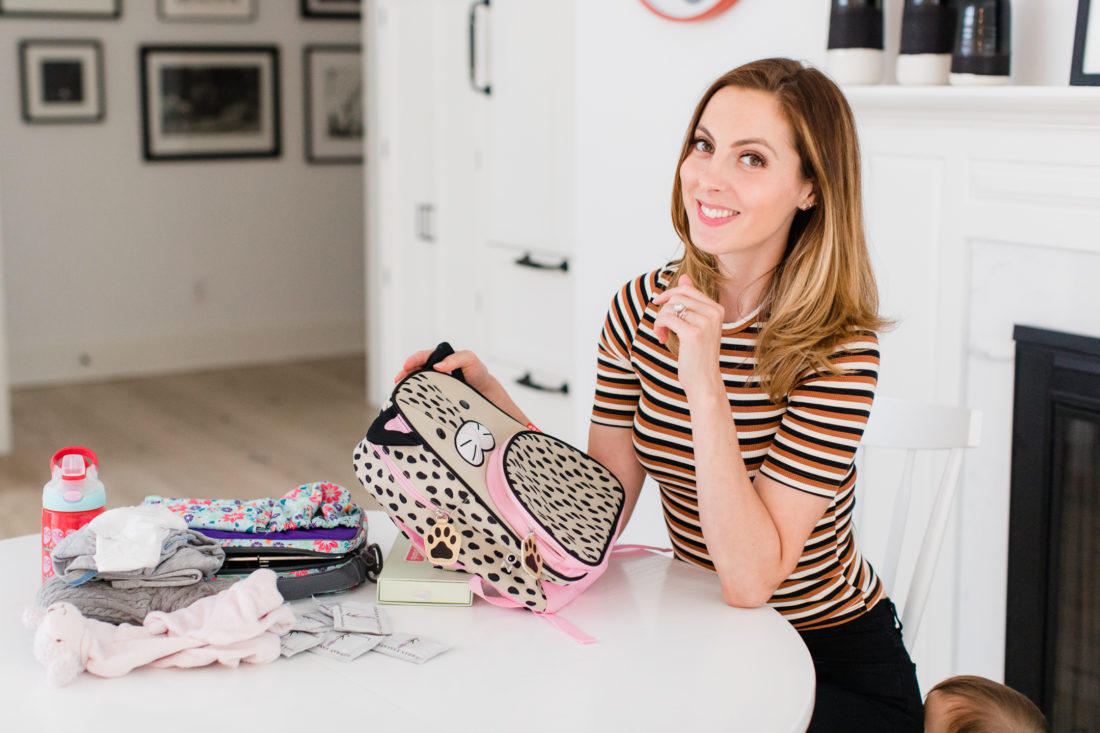 Marlowe is Back To School next week! Actually, she is starting a brand new school next week (a preschool 3's class), and so we have been doing a bit extra work to get her prepared for the year ahead.  We're really excited about her new school because it's much closer to our home than her daycare used to be– and is known for being one of the schools in the area with a big focus on family socialization.  We are hoping she'll make some lifelong friendships with kids who live in the neighborhood– and if I'm being honest I could use a few Mama Friends as well!  Lots of my friends with older kids have told me that they met some of their best mom friends when their kids were in Preschool, so I'm hoping that is true for me as well.  I can't wait to start building up a community like I had back in Los Angeles before we moved.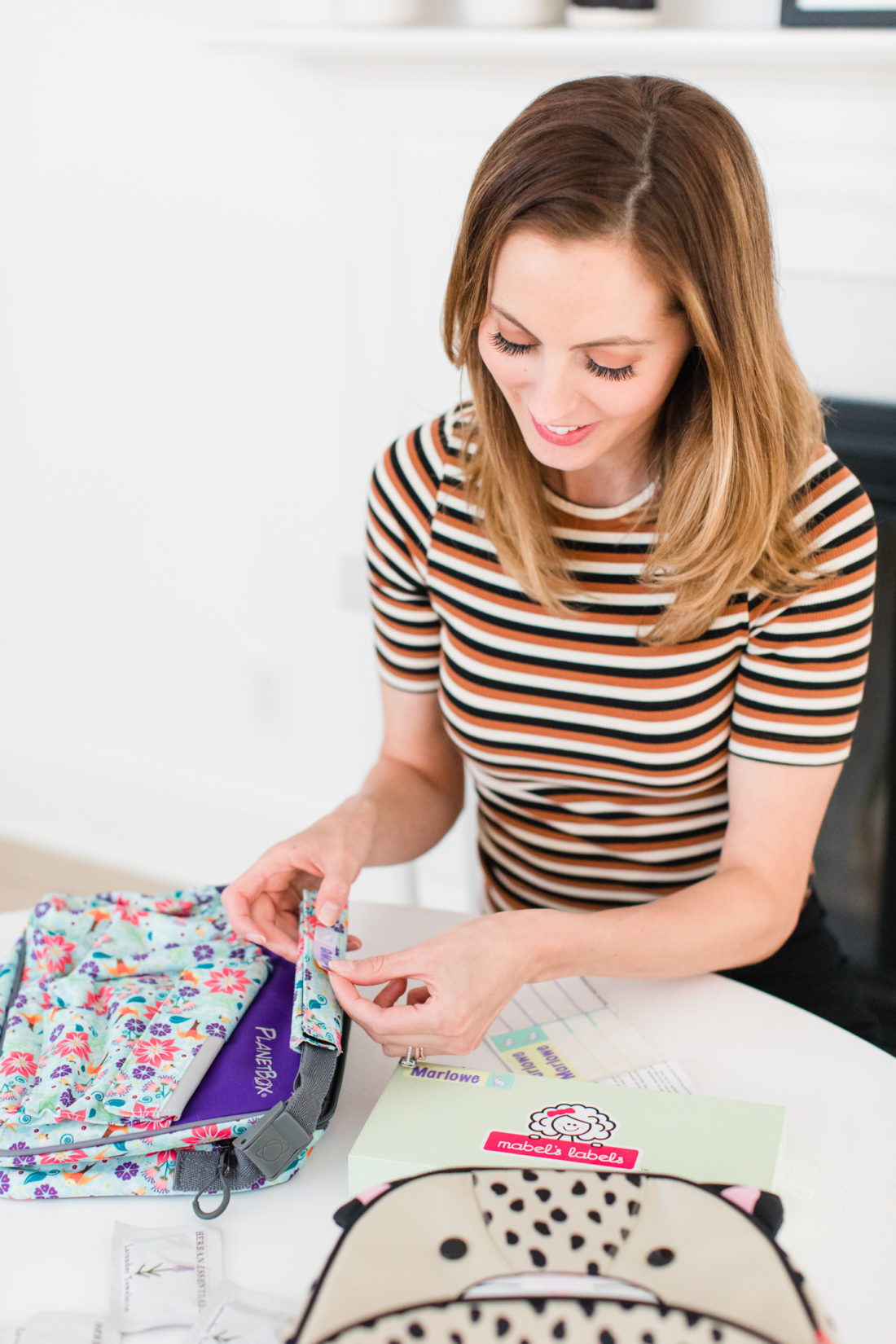 I know a lot of kids have been back in school for the past few weeks now, but in Connecticut we are just getting started so I thought I would share some of my essentials for making sure we start off the school year right: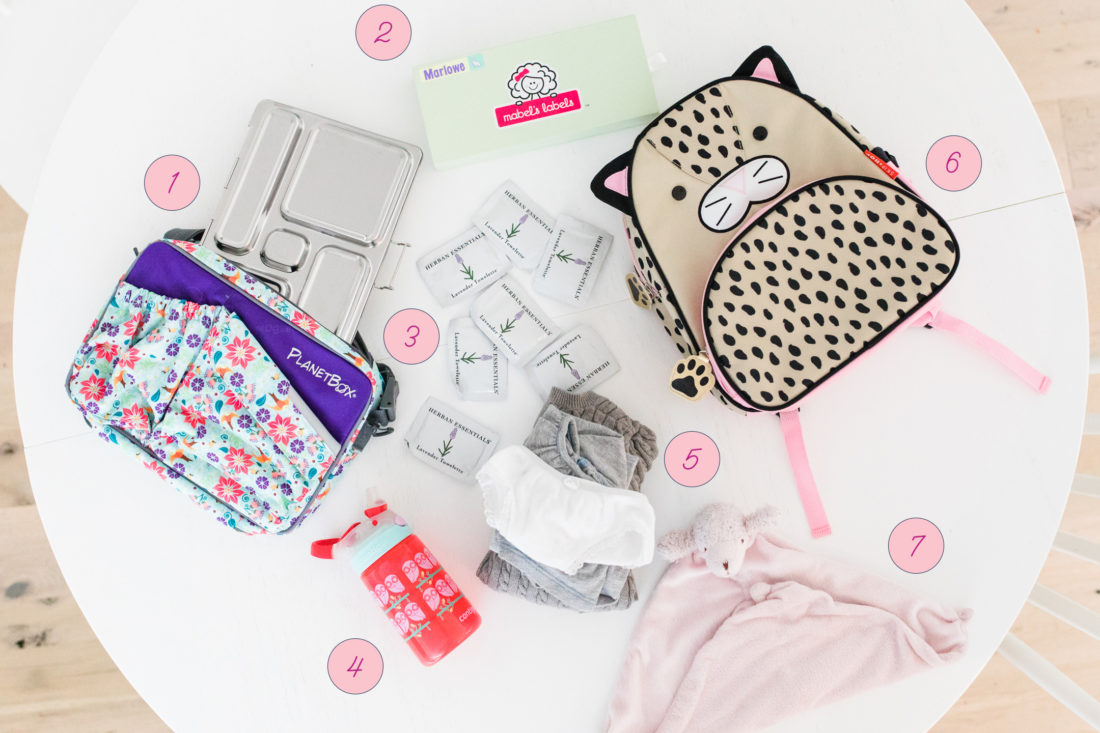 I really love these lunchboxes.  I guess it's more of a bento-box type situation.  They're so well made, simple, eco-friendly, and free of plastics.  The case is so cute and comes with a little fork and spoon and there are magnets to decorate the container….What's not to like?! I also love that I can just throw the metal container in the dishwasher clean.  The individual portions of the container inspire me when I'm packing her lunch– which is one of my least favorite things to do EVER.  Whatever works, right?!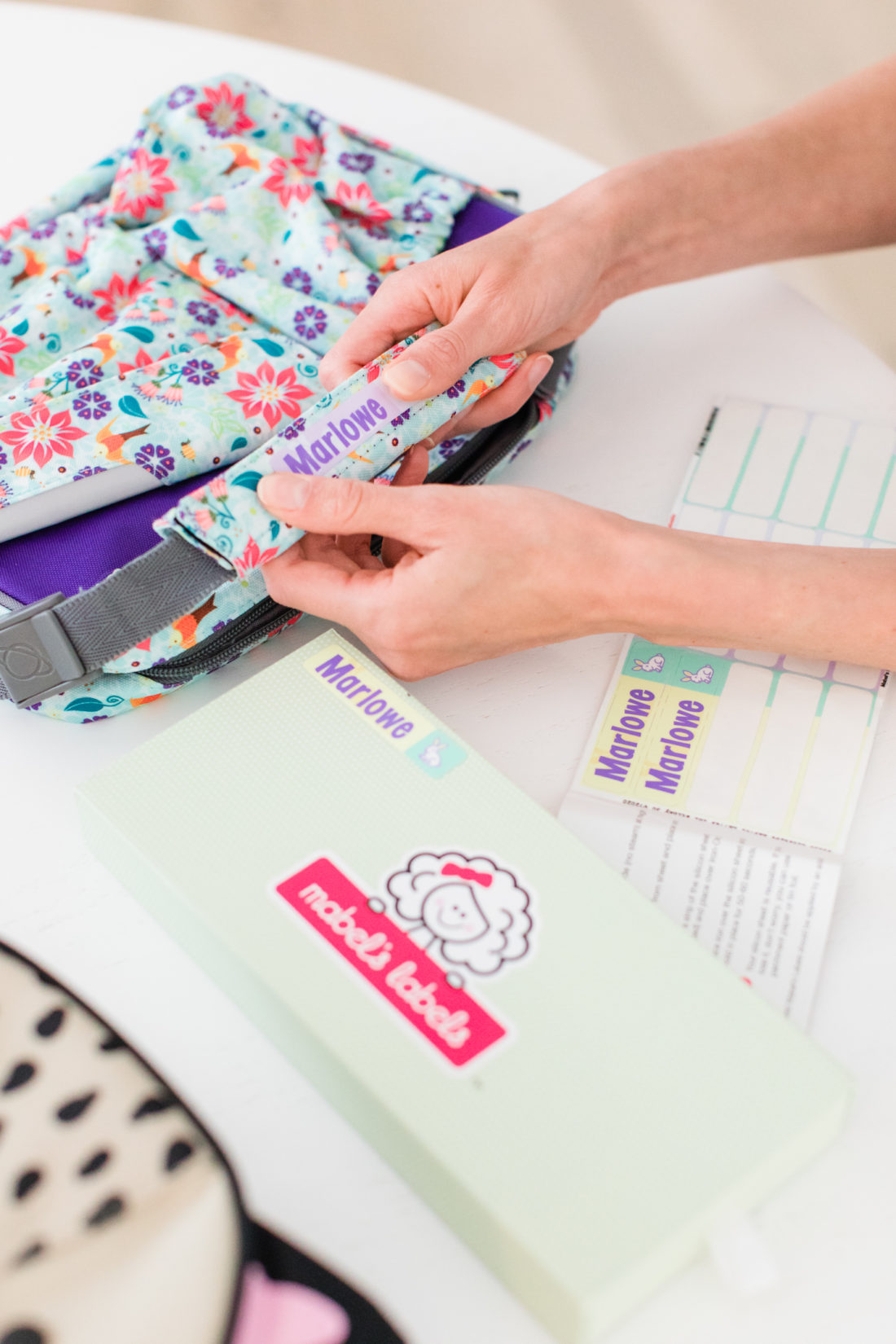 I've been using these labels since Marlowe was a tiny baby and I really love them.  I use them for both kids now!  I buy the sets that come with varying size labels as well as a couple of dog-tag type labels for backpacks or other items.
Everyone knows that Back-To-School means back to germs.  Whenever I pick Lowie up (this is a trick I did with daycare also, by the way) I always make sure I have some of these wipes with me to clean her hands before we get in the car.  I like knowing that she is totally fine to suck her thumb or eat a snack without spreading germs from the classroom.  I also love using these wipes to wipe down the table when we are eating out, or wiping off the grocery cart when we shop together. They're all natural, and are powered by essential oils alone so I know they are safe for my babies.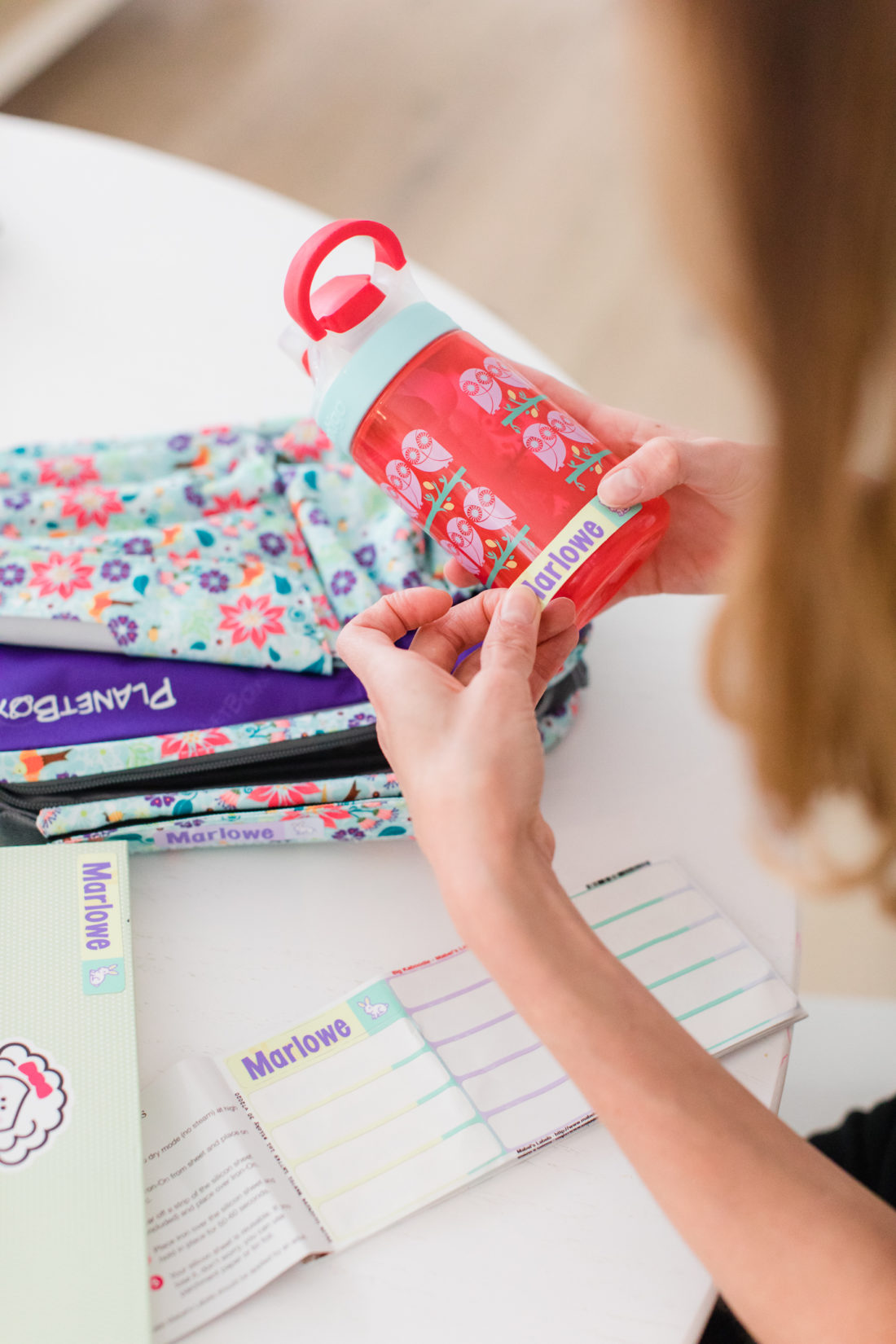 These bottles are leak proof– I LOVE them.  Marlowe sleeps with one every night in her bed so she can get access to a sip of water as needed.  I keep one with fresh ice water in her backpack when she goes to school so she knows that whatever is going on she can always reach in there and grab a drink of water if she's thirsty.  She also downs about half of it in the car on the ride home! I've dragged these things all over the place and they've held up so well.
5.  Change Of Clothes
Marlowe is actually required to have a seasonal change of clothes in her cubby during the school year, but I make sure that I pick out some really cozy ones.  In case she has an accident at school, I want to make sure that the clothes that are there waiting for her are really comfortable.  I pack every item in the color grey because it goes with everything!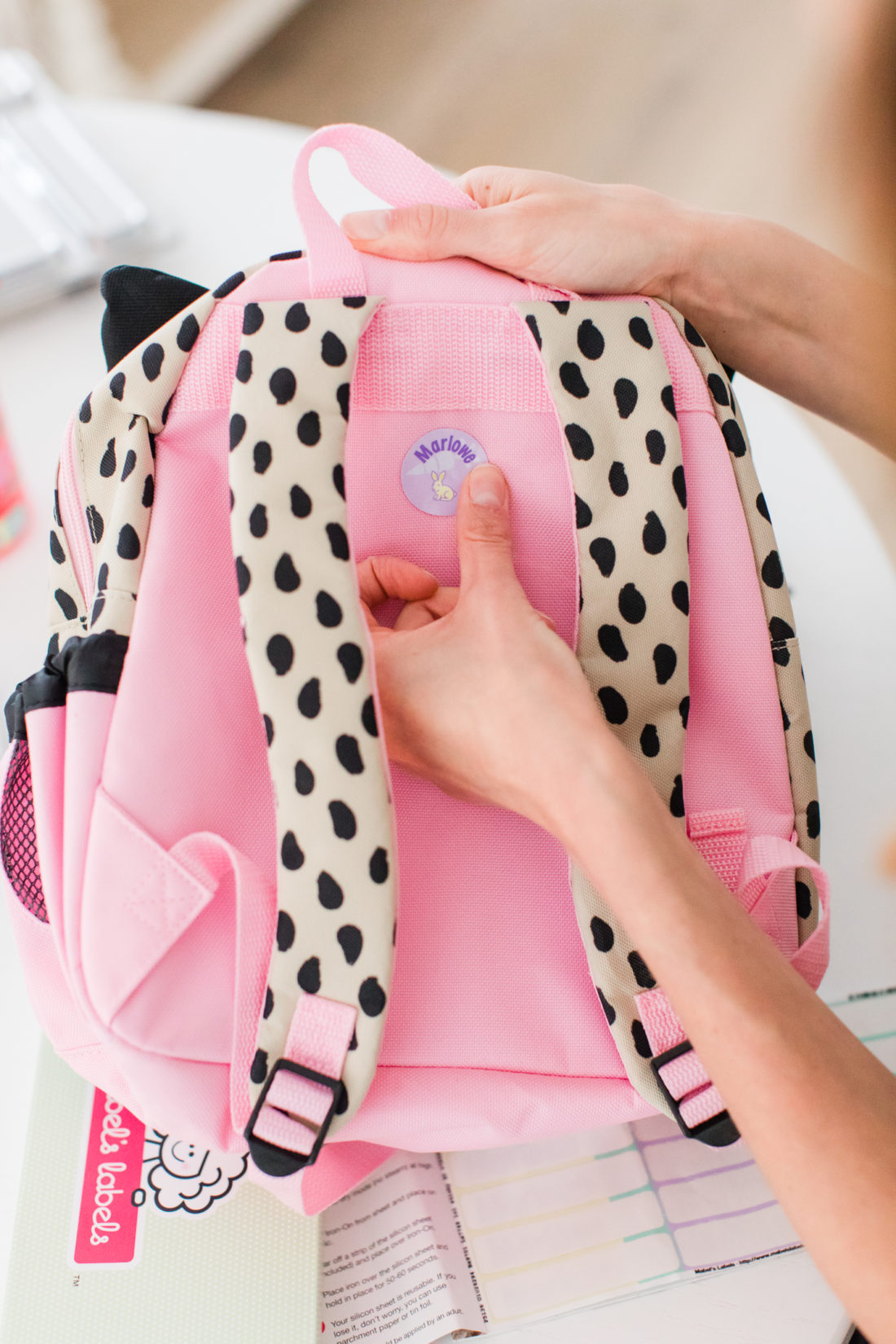 Marlowe has been loving this Skip Hop Kitty Backpack and it's just the right size for her for this year at school (when she starts Kindergarten and has to actually carry items in it besides art projects and paperwork we will need to upsize I'm sure! Ha!) She had a monkey version of this backpack at Daycare last year so she's really excited to have a new animal this time!
Marlowe's Lovey's are her EVERYTHING.  She has about seven different ones, but they are all pink Angel Dears– and fairly interchangeable.  Horsey is her ultimate fave, and Doggy is the one who normally goes out in to the world on adventures– like Preschool! She will have this cute pink Doggy Lovey stashed in her backpack in case she gets hurt or is having a challenging moment at school.  With her, even knowing it's there, and she has access to it if she needs, makes her so much more confident during the day.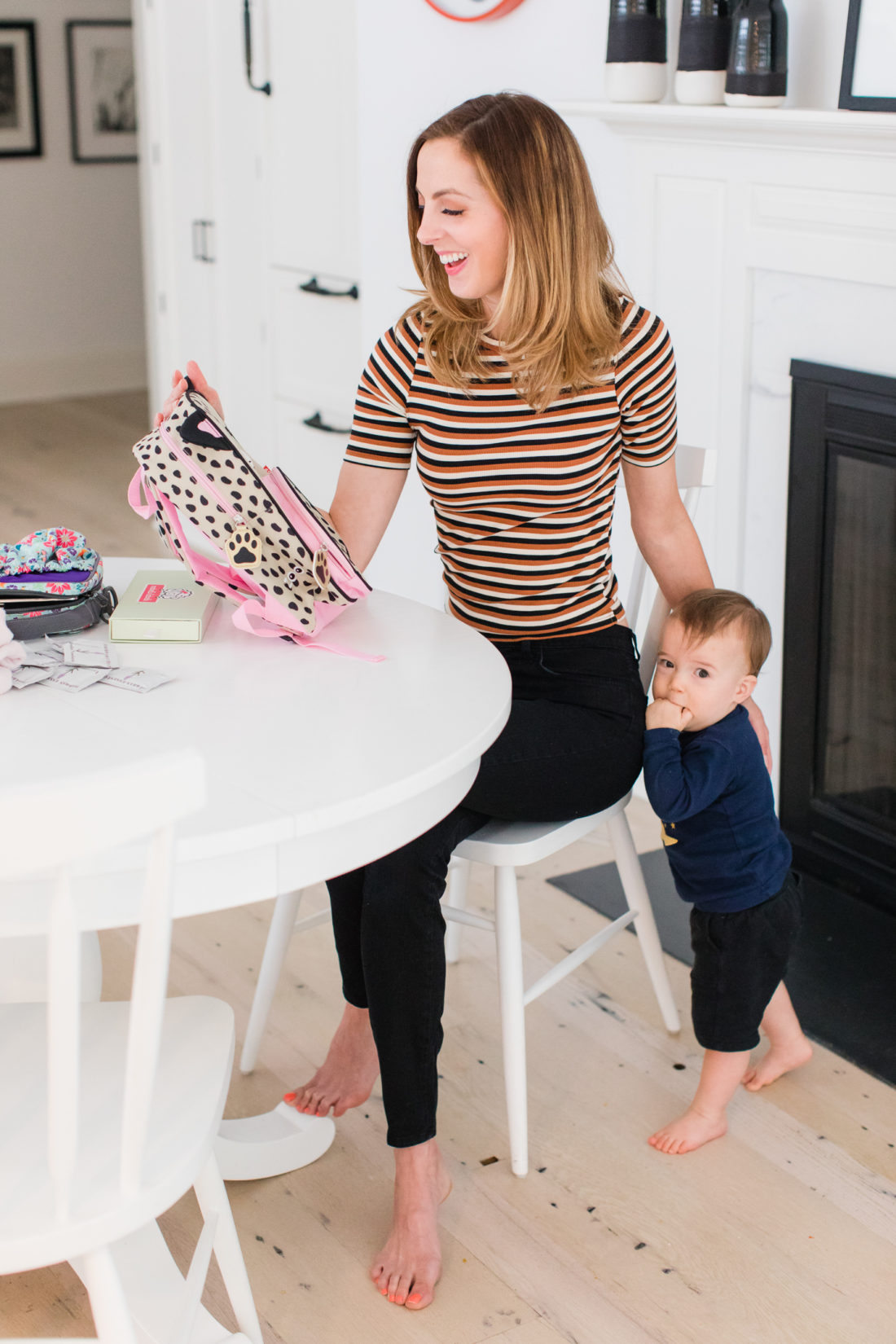 Whenever there is a big change in our house, no matter how exciting or positive it seems to me, I make sure that I'm on high-alert for small signs that Marlowe might be feeling a bit more emotional than might first appear.  While she seems really excited– she did camp at her new school and LOVED the playground– she's shown a few signs of feeling a bit nervous about the upcoming change.  For example, she's started to ask me a lot of questions about her old teachers from her daycare and if they will be at the new school.  She knows they won't be (we've been over it many times) but I think she is a little anxious about getting to know new people and new teachers.
My biggest thing about this is that I never make promises I can't keep.  She was saying to me the other day "But we can go see those old teachers, right Mom? We can go to spend the day with them at the old school." The easy thing to do would have been to just say "Sure!" and drop it.  But my kid remembers EVERYTHING, and I don't want to be known by her as somebody who says things I don't mean.  Instead I told her, "Marlowe I can tell you miss them, and I know they miss you so much too.  You guys were great friends! We might run in to them some time around town and that would be great, but we are going to make friends with your new teachers and you're going to love them so much too! If you want, we can send the old school a holiday card and write a special note on there to tell them you're thinking about them, Ok?" She loved that idea, and I think she felt better to know that I understood how nervous she was feeling.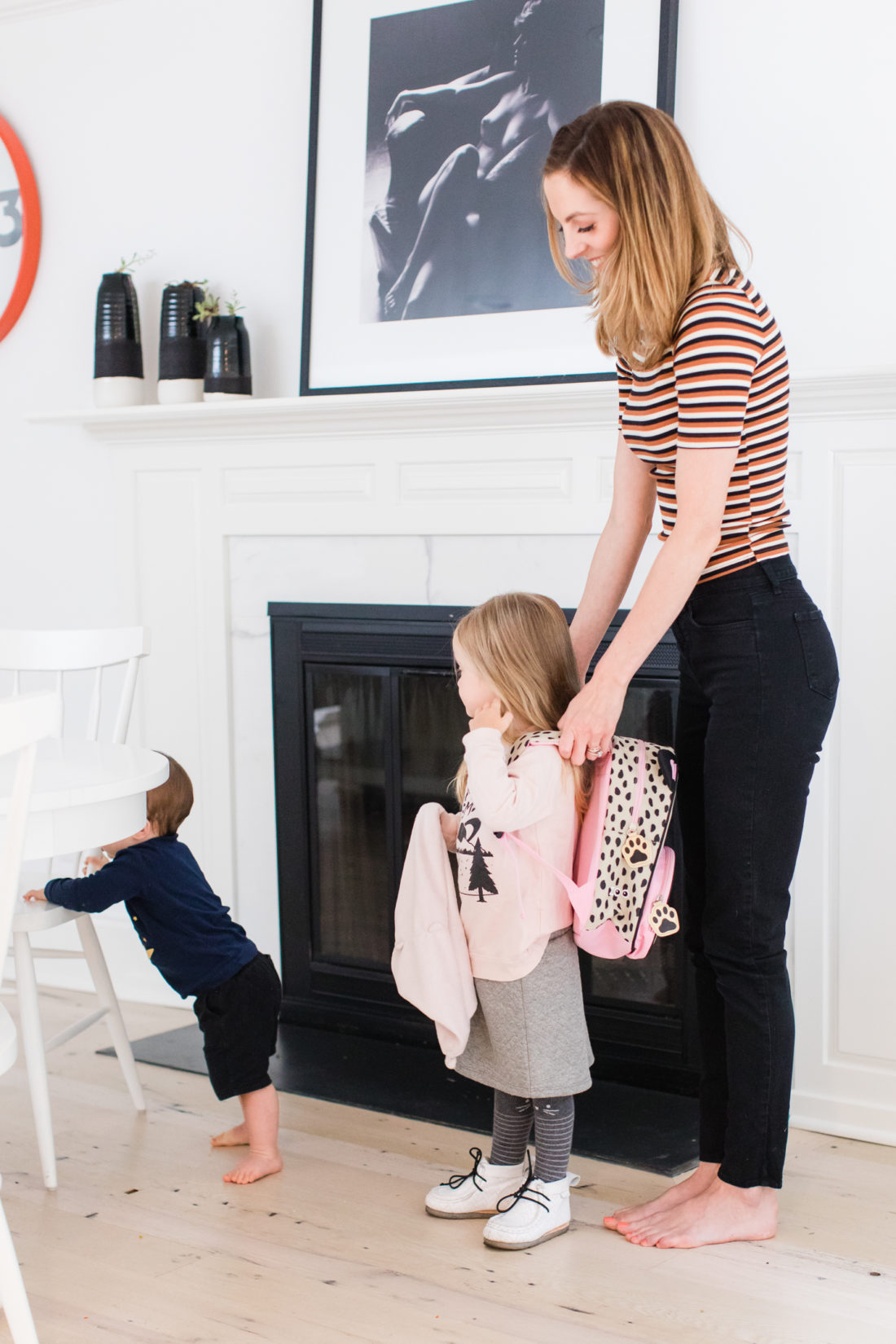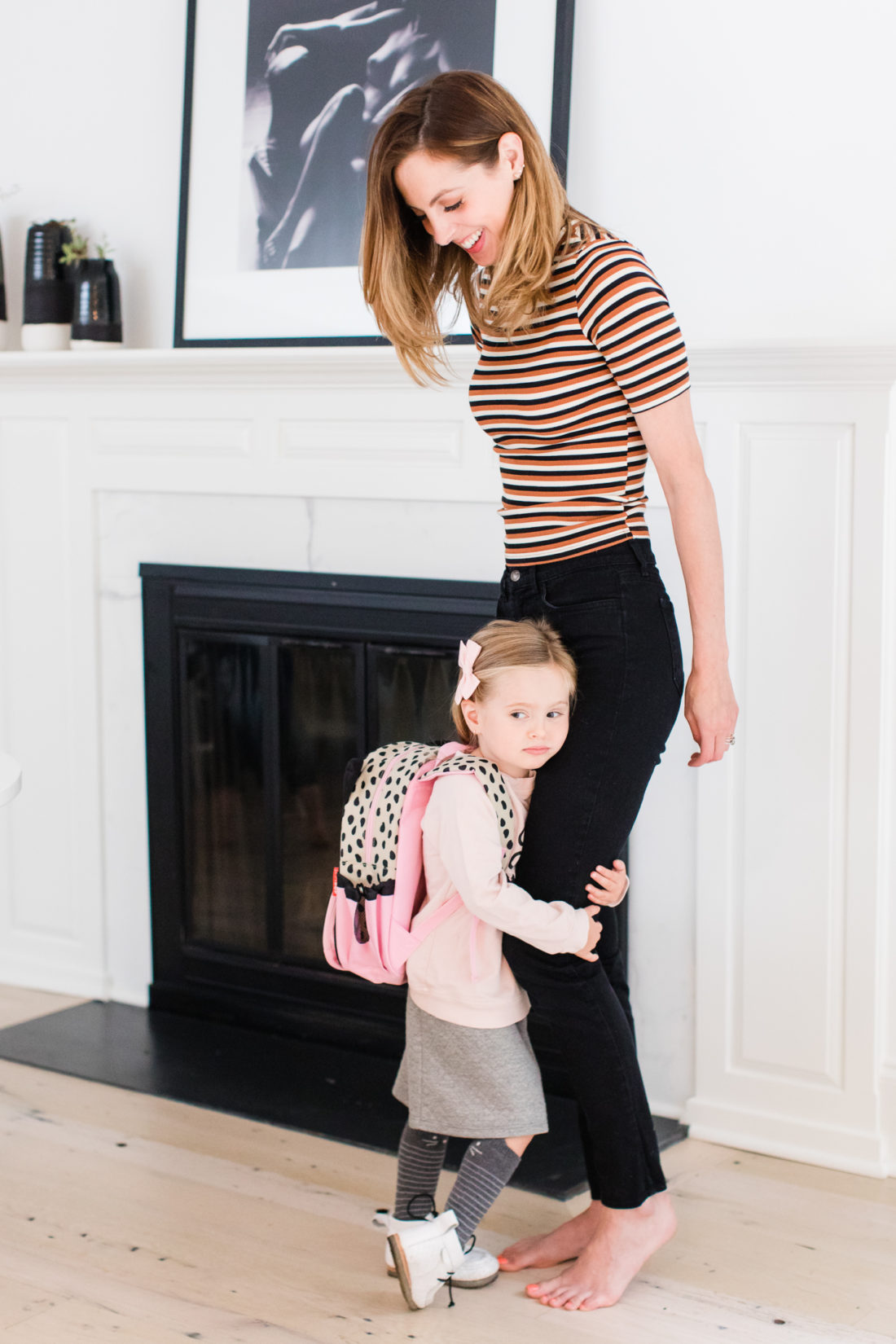 Another anxiety sign has been a recent nervousness at bedtime about the dark.  Marlowe NEVER cared about the dark before, ever– but the past week or so she's asked me to leave the light on every single night, or crack the door, etc.  I definitely don't want to cater to these requests– and then deal with leaving the light on forever at bedtime.  Especially since I can tell that it's a temporary anxiety linked to the unknown of school starting. Instead what I do is remind her how safe she is in her room, show her all the stuffed animal friends in her bed that keep her company, and then tell her I will check on her extra while she falls asleep.  I tell her that if she's good and listens to the rules at bedtime that her special prize will be a sleepover with Me in her room the night before school starts! Well this made her so pumped I could hardly believe it! Ha!  Now every night she reminds me that the night before her first day of school she and I are going to sleep in her bed together and have a sleepover.  I like that she has something that makes her feel safe and happy linked to school in her mind.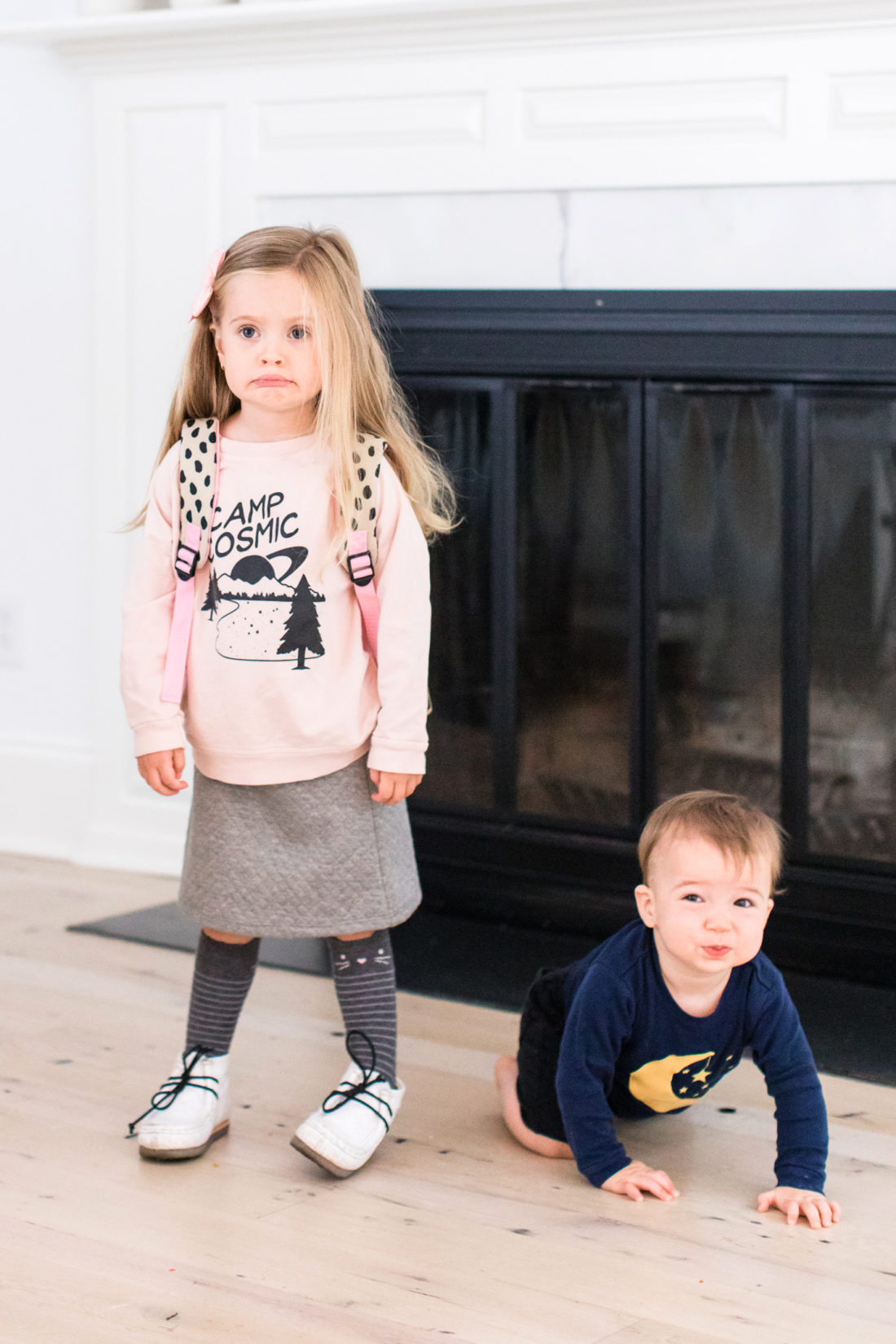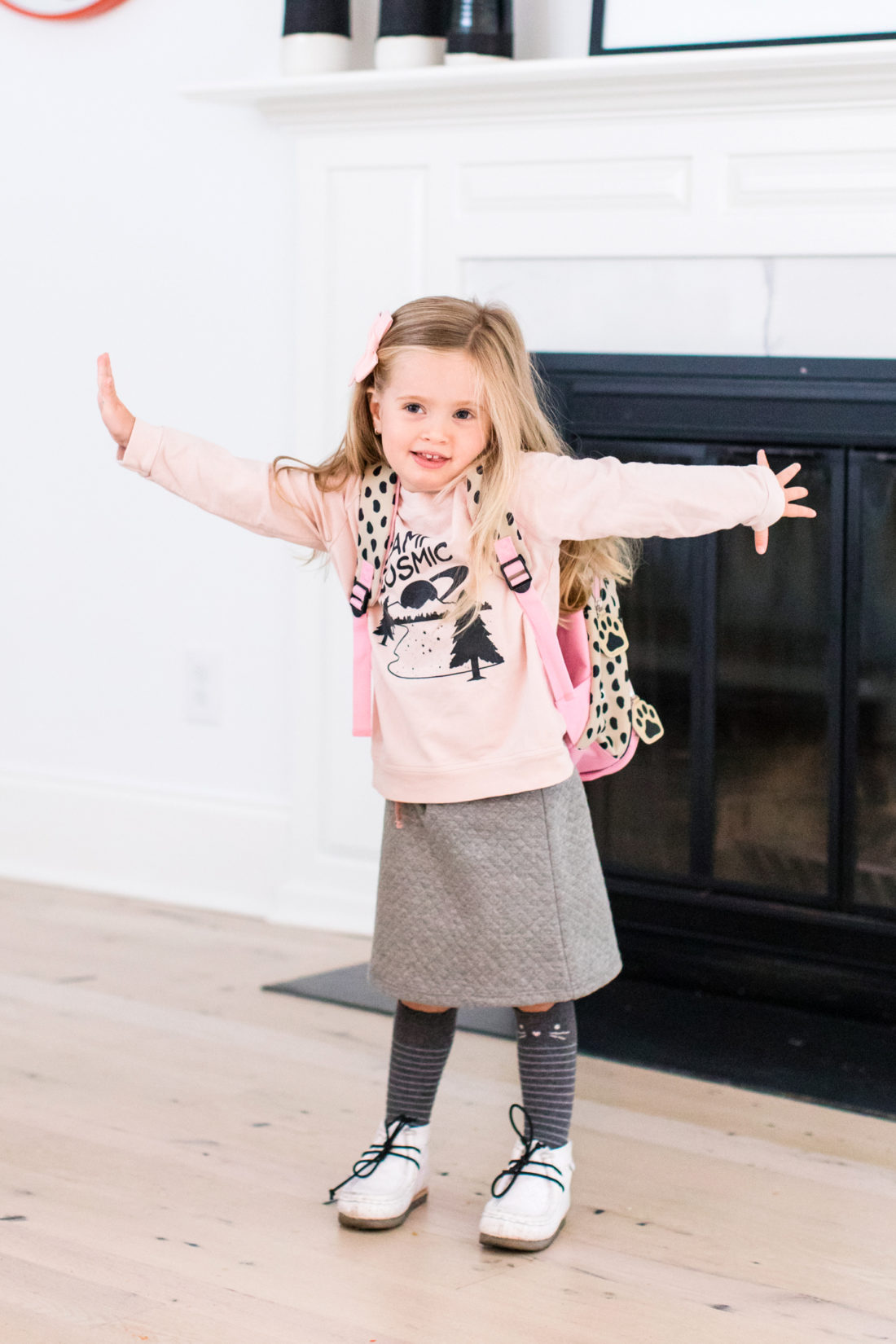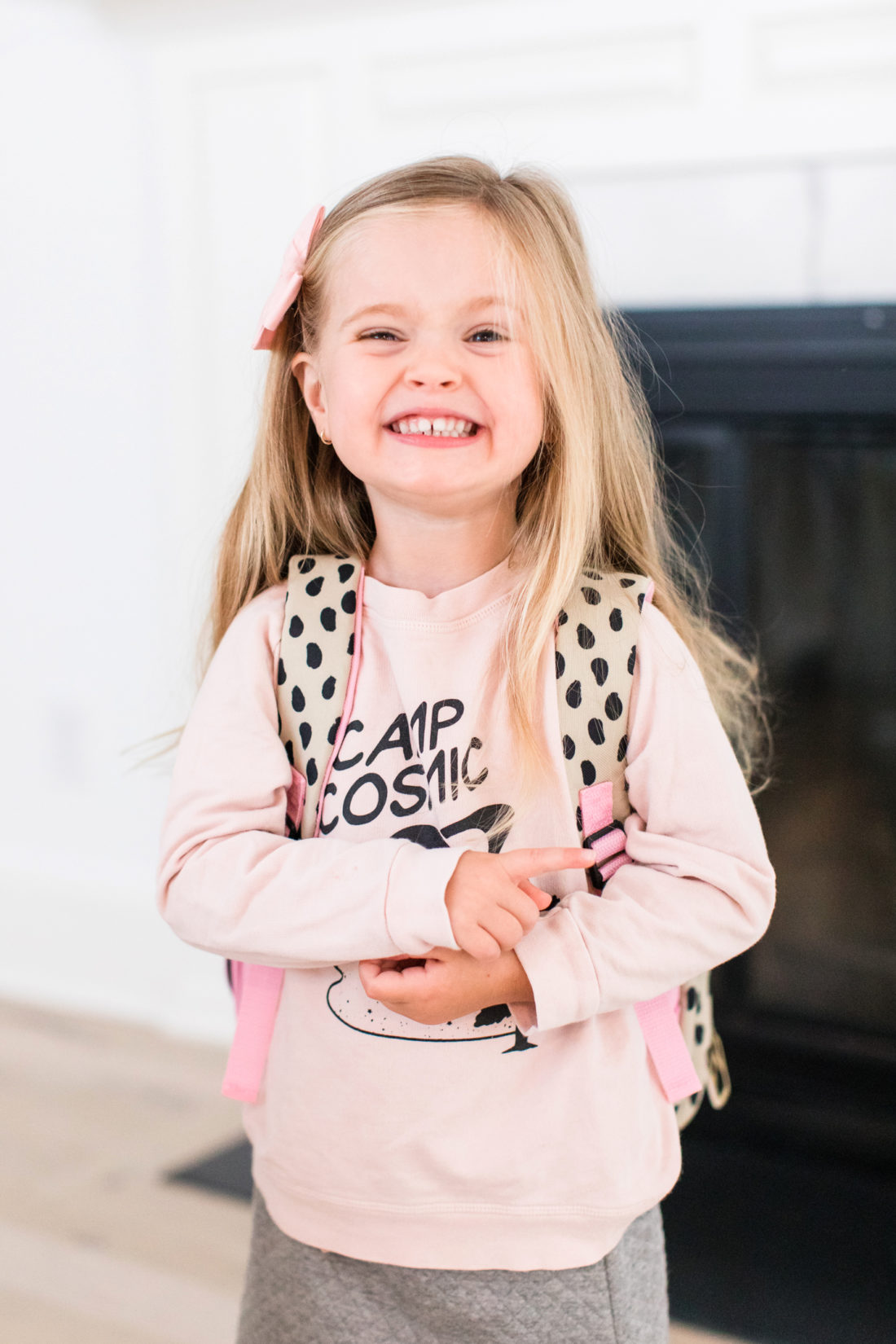 I can't imagine how nervous a little kid must get for a new place with new people.  Whenever I used to start a new job or new year in College even I would get anxious about it– and I was an adult! I hope that by listening to Marlowe's worries and standing strong for her without adding fuel to the fire, that this will be a great way for both of us to learn how to get her past the bigger milestones that cause anxiety.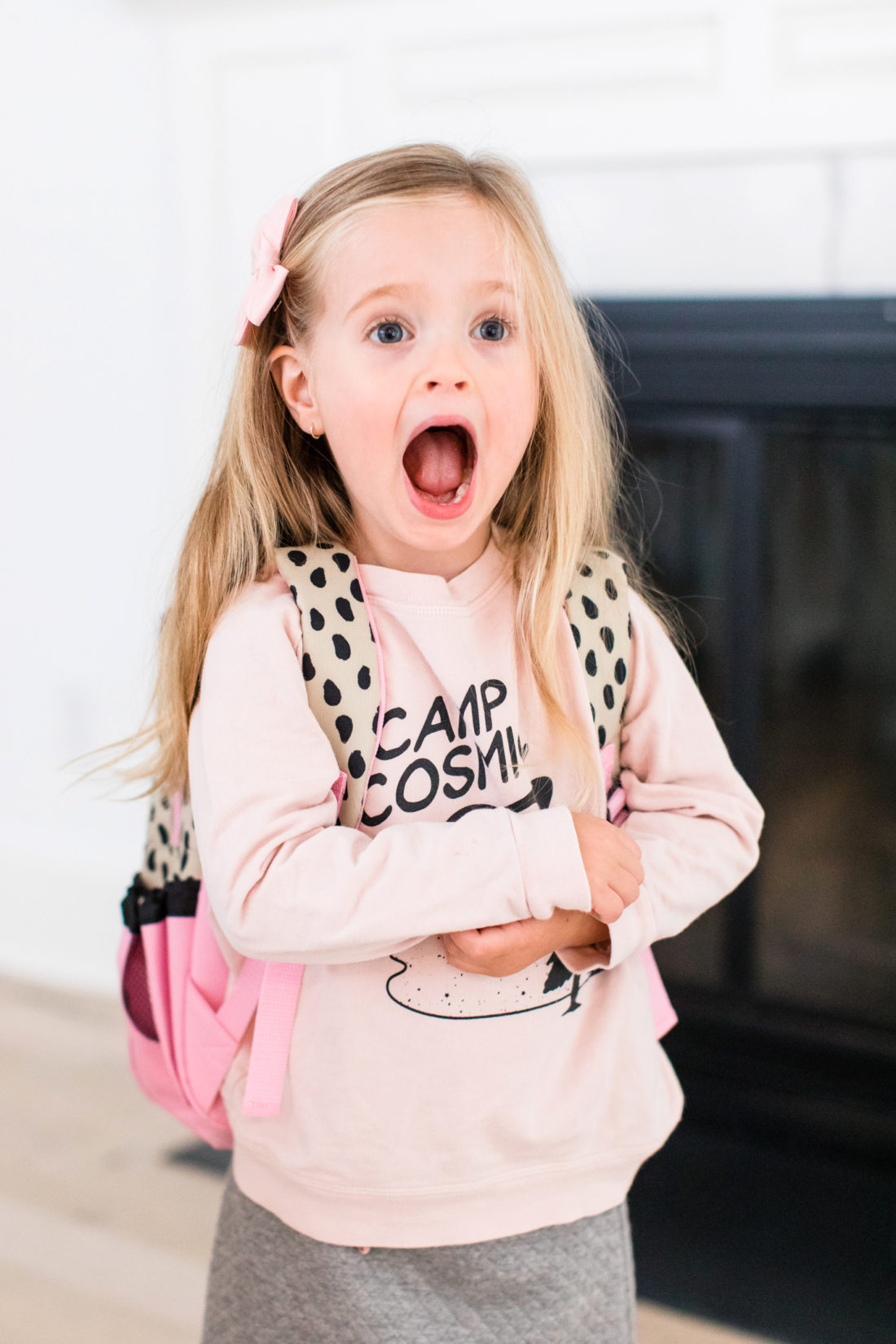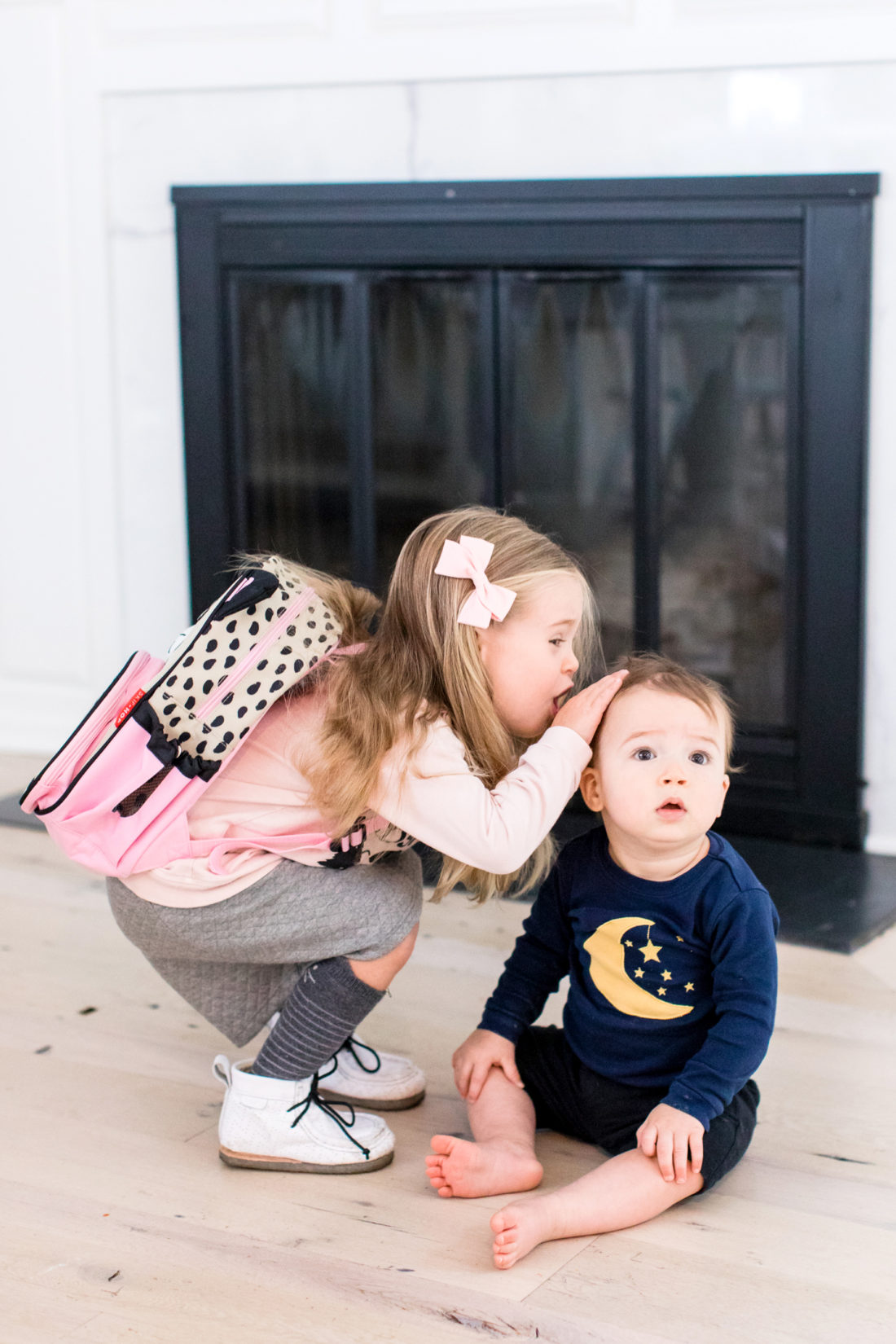 Do you have any Back-To-School must haves, whether physical or emotional?  Please share in the Comments below!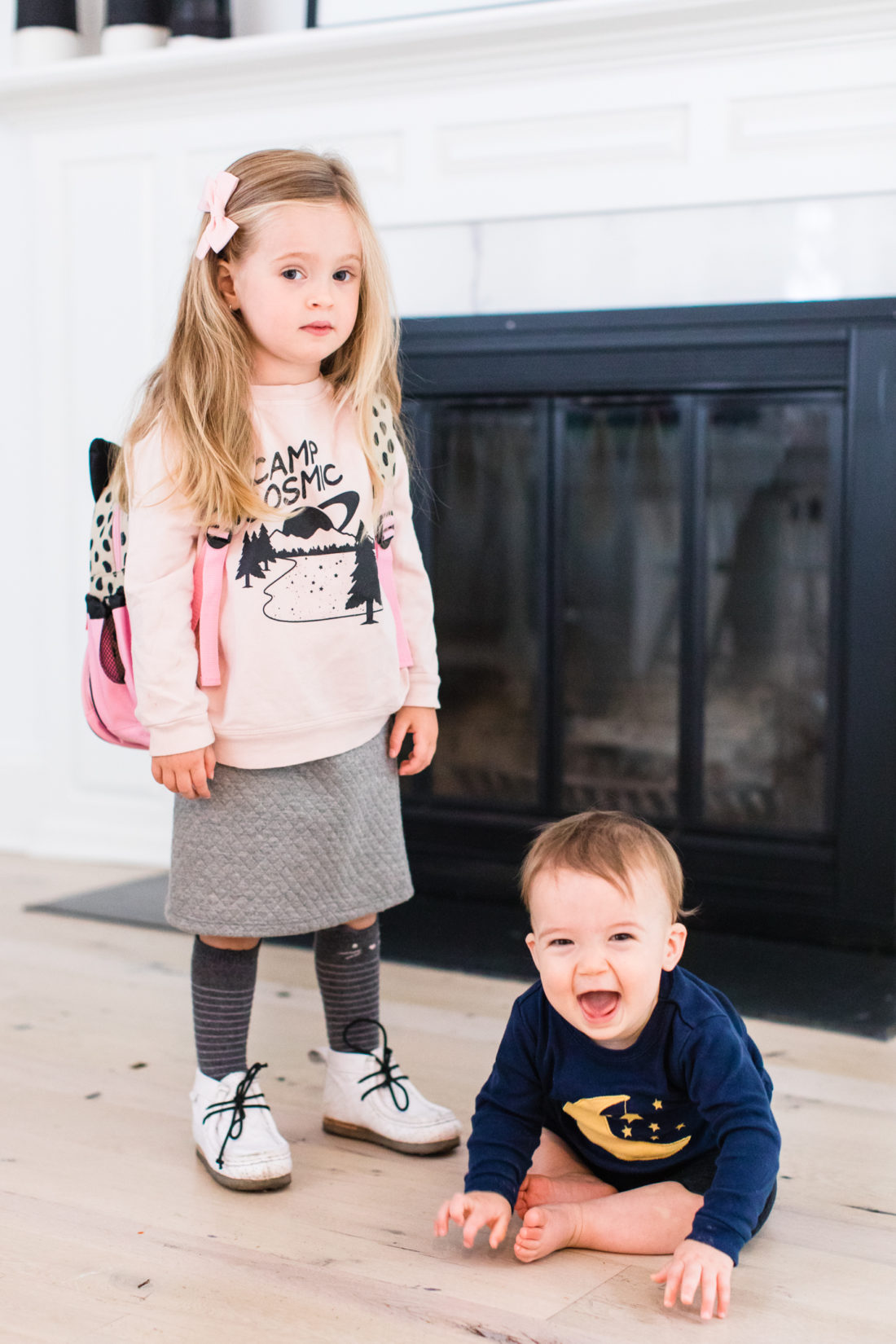 Shop the post…

Photographs by Courtney Ann Photography
Save
Save