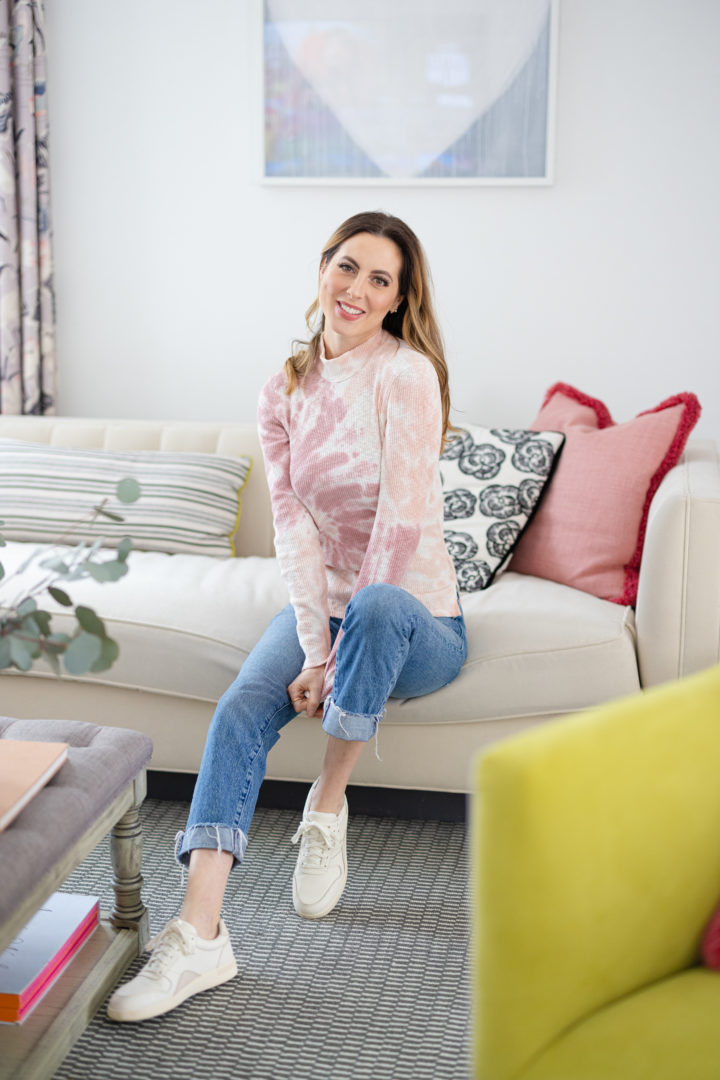 I always have a soft spot in my heart for a great pair of sneakers. I was wearing sneakers with dresses and pretty much any outfit—even back in high school. I had a collection of Converse "weapons" in practically every color. I ended up with about 20 pairs! I ended up giving them away to my brother and his friends when I went away for college and had it in my head that I would now be wearing more "adult shoes" every day and dressing in super bougie, pulled together outfits like Cher Horowitz. Well, I regretted that decision almost immediately. I spent most of my college days in jeans and sneakers. LOL. I still wear a great pair of sneakers at least three times a week! 
These days, with little kids to chase after, I really appreciate a great pair of stylish sneakers. It's so easy to run around after them, and run errands, etc without even thinking about it. I've been LOVING really simple and tonal options for a full outfit, and brighter colors or more fun color-ways for working out.
Today I thought I would share my 2021 Sneakers Edit, as well as ones I'm buying for Spring. Let me know which of these are your faves!
Everlane Court Sneaker
$98
This sneaker is under $100 and SO chic. It comes in a few different color-ways, but I love this off-white and grey version. I pair these with jeans and even dresses!
Veja 3-Lock Logo Sneakers
$130
I've been lusting after these velcro Veja sneakers. My friend has them, and I particularly love how they look either dressed up or down, and how elevated the design is. They come in so many colors, too! This is a must-buy for me this Spring!
PUMA Hedra Fantasy Sneakers
$120
I can't get enough of this ultra-cool chunky sneaker with little slivers of color. I want to wear these with a neon slip dress this summer, and a vintage denim jacket…
Superga Cotu Classic Lace Up Sneakers
$65
 grew up living in Supergas every spring and summer as a kid, and I get them for my kids every spring too! I usually order navy for them, and every few years I get new sets of my favorite colors for me. I always have the white, cream, navy, and red pairs in my closet at all times! These are actually SO inexpensive to buy in Europe, so I usually fill a duffel bag with them for friends and family whenever I visit Italy!
Tory Burch Tory Sneakers
$228
I have these Tory Burch sneaks and LOVE them. They're so comfortable, and I can't get enough of the retro 70's vibes.
Nike Air Force 1 Pixel
$100
You can't go wrong with a classic Air Force 1 sneaker. It's just as cool and classic as it gets! I really love wearing these with denim cutoffs, and a white linen button-down shirt (half-tucked) in the spring. If it's chilly, I layer an oversized "boyfriend blazer" on top! So cool.
adidas Originals Stan Smith
$80
Stan Smiths are a classic for a reason, and a must-have for any sneaker lover. They go with everything!
Nike React Infinity Run Flyknit
$79.99
This Nike Flyknit sneaker is so gorgeous and colorful in the best way! I need them immediately. I have this same style in the white color, and it's so so comfortable for running and working out.
Converse OG Pro Leather
$75
These Converse Weapons were my entrée into sneaker collecting, and I still love them. I love wearing them with a simple mini dress, or with high-waisted denim.
Madewell Kickoff Trainer Sneakers
$110
If you're looking for a statement sneaker to jazz up your wardrobe, look no further than this leopard print style from Madewell! It's so fun, I need!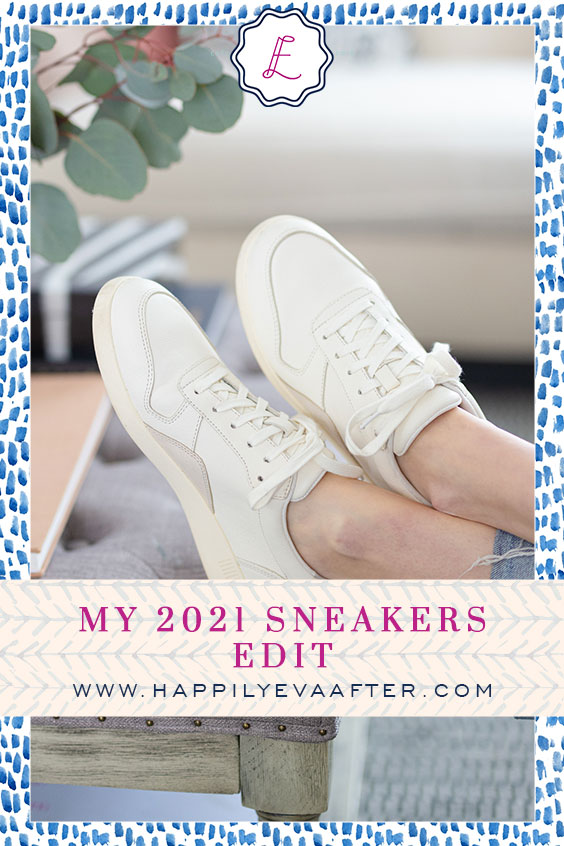 Photographs by Julia Dags | Happily Eva After, Inc. © 2021 All Rights Reserved