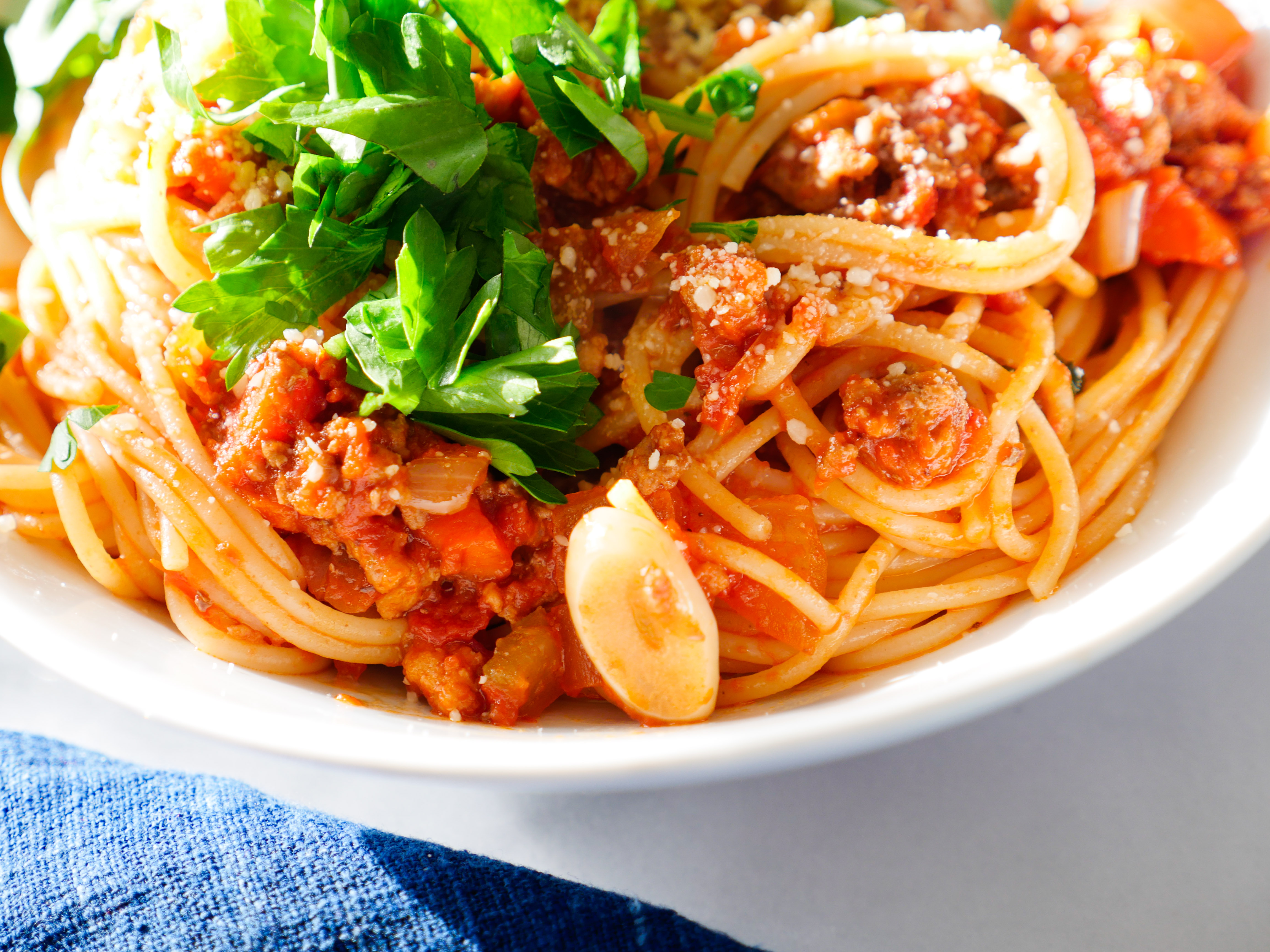 My husband's heartstrings beat first for Family, and second for Spaghetti Bolognese.  If he can find it on a menu, anywhere in the world, Kyle will order Spaghetti Bolognese.  If he were in a sushi restaurant, he could find a way to order Spaghetti Bolognese.  I always find that What-Is-Your-Favorite-Food question so annoying and challenging– I'm like "Well, what day of the week is it? What season? I have so many!" Not Kyle.  His favorite food has probably been the same for the past thirty years. It's one of the things I find endearing about him.  And let me tell ya– when I married this man, I learned how to make an excellent Spaghetti Bolognese!  This is my Wifey Award-winning recipe….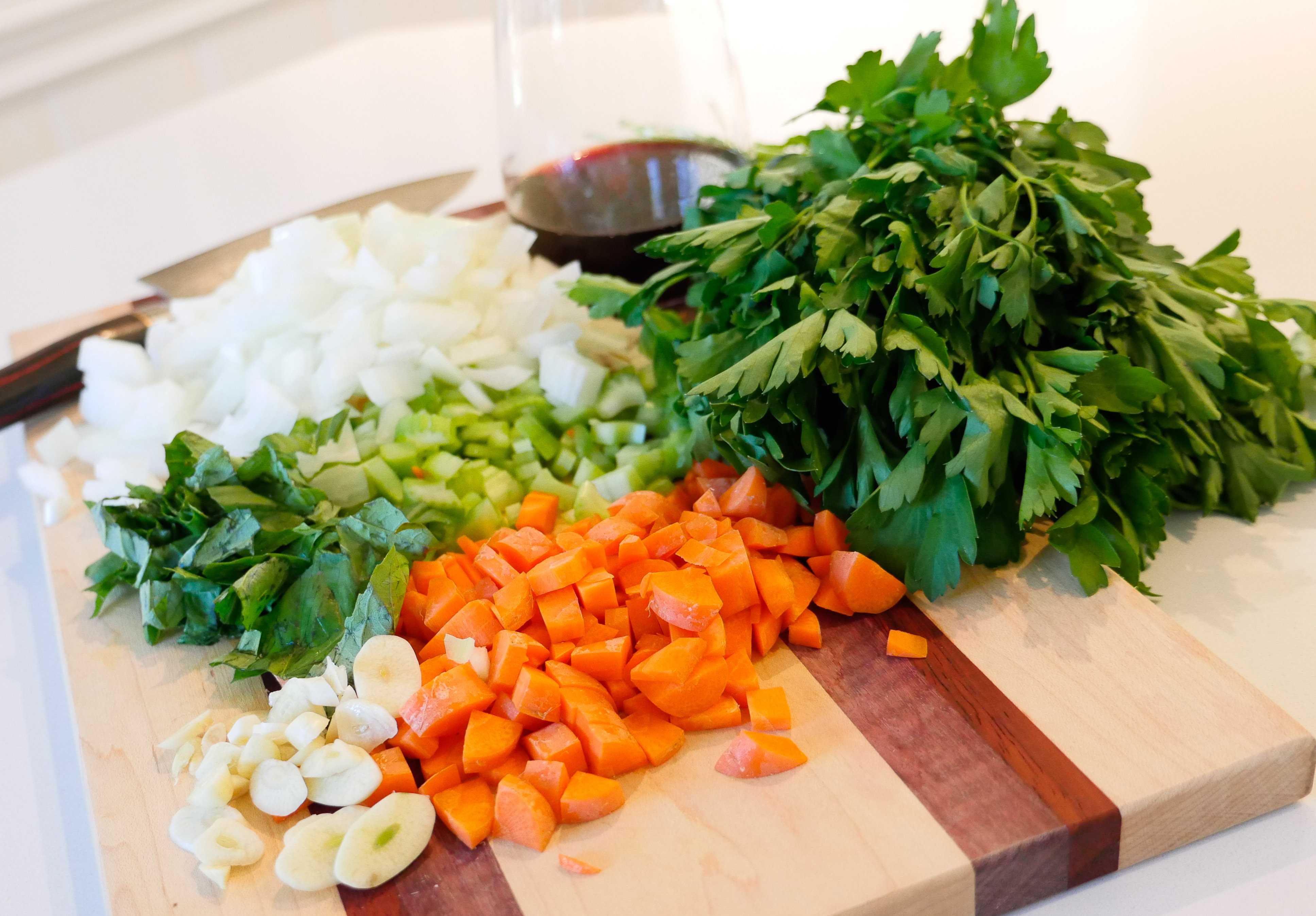 Ingredients.
1/4 cup Extra Virgin Olive Oil
Salt and Ground Pepper
1 lb Spaghetti
3 garlic cloves, sliced thin
1 onion, chopped
2 celery stalks, chopped
2 carrots, chopped
1/2 lb. Ground Beef
1/2 lb. Ground Pork
1/2 cup red wine
1 (28 oz) can Crushed Tomatoes
10 fresh basil leaves, sliced cross wise in to strips
1/2 cup grated Parmesan Cheese, plus more for serving
1/4 cup Flat Leaf Parsley, chopped (for garnish, optional)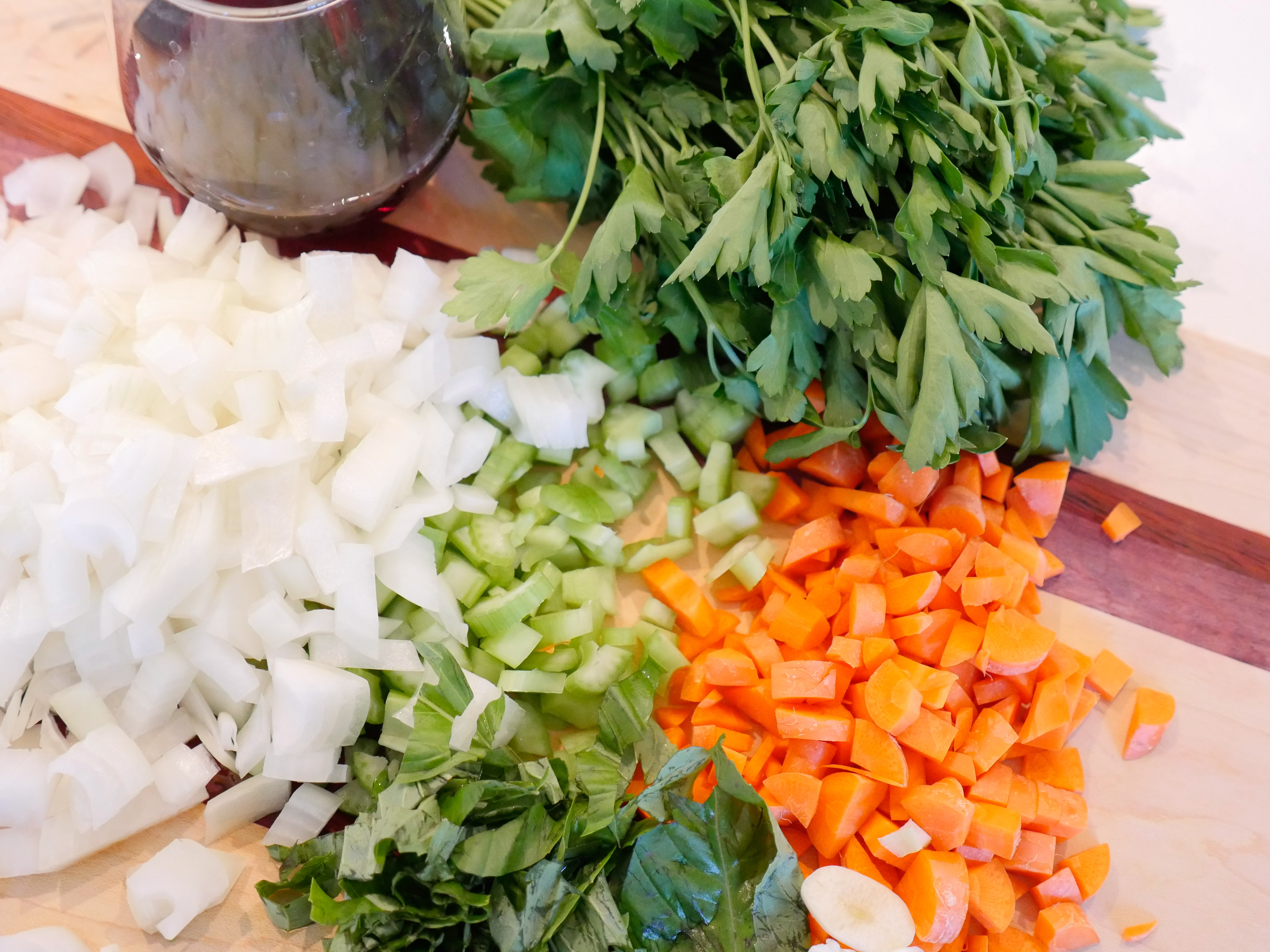 Recipe. (Serves 4-5)
In a large and deep skillet/sauce pan, heat the olive oil over medium-high heat.  Add the beef and pork, and brown well on both sides.  Approximately 5 minutes. Remove the meat with a slotted spoon and set aside on a plate.  Next, add the garlic, onion, carrots, and celery.  Season generously with salt and pepper.  Cook over medium heat (stirring often) until the onions are translucent.  Approximately 6 minutes.  Now, add the wine.  Scrape up all the browned bits in the pan, and turn up the heat to high.  Stir continuously.  When the wine is almost evaporated, add the can of crushed tomatoes to the pan.  Turn the heat down to low, add the meat back in to the pan, and add the sliced basil.  Give it a good stir, and cover with a lid.  Simmer for 30-40 minutes, stirring every so often.
Meanwhile, boil a large pot of water with four tablespoons of salt.  When it comes to a rolling boil, add the spaghetti and cook per package directions. Strain the water, return the pasta to the pot, and add two tablespoons of butter.  Remove the lid on the sauce, add the parmesan cheese, and stir to blend.  Season with salt and pepper to taste.  Pour the sauce over the pasta in the pot, and stir to blend.  Heap a generous amount on to each plate, and top with parsley and extra cheese! Enjoy.