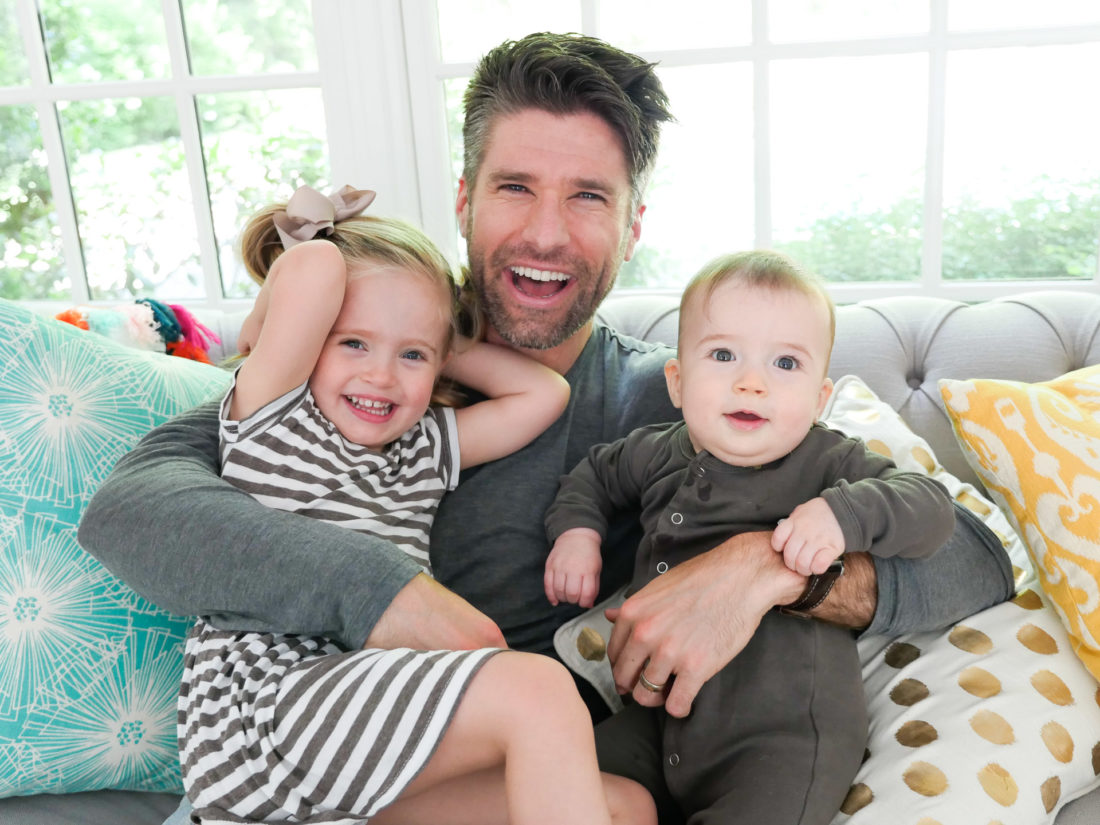 Father's Day is right around the corner! I find guys to be pretty challenging to buy gifts for, and our own in-house Daddy to be even harder. I feel like guys don't usually have gift "wish lists", and are pretty evasive when you ask them what they would like as a gift.  I can't tell you the amount of times (Birthday, Anniversary, Christmas, Father's Day) that I've asked Kyle what gift he thinks he'd like, only to be met with "I dunno!" SNOOZE.  So it is with great pleasure that I present to you today my Father's Day gift guide! I've found some awesome gifts in a variety of price points, and each makes a beautiful way to celebrate the #1 Dad in your life.  I hope this guide helps you check something off your list today!
I love this sporty backpack– it's a great neutral color without being boring, and in my experience Herchel Supply Company product has always been really well made.  This is perfect for loading up on a beach day, or for making travel easier!
This is such an awesome gift.  It can be paired with your iPhone and taken on the road, or even moved from room to room around the house!  I love the idea of bringing this along for a fun beach cookout on Father's Day! Also, guys love speakers.  I have no idea why, but it's totally a Man Thing.
This tie is beautiful and cool– and perfect for Summer! I love it because it can be worn with a suit to work, or dressed up a bit more for a wedding or special event.  I think the colors are just gorgeous and very universally flattering.
This shave set is so chic, and a great price point.  I love the orange handle! It comes with a nourishing shave cream to take along for the ride.
I'm kind of obsessed with these water bottles.  They're stainless steel and so well insulated that they keep cold drinks cold for up to 24 hours, and hot drinks hot for 12! We own a few of these, and I'm constantly giving them as gifts. The matte black color is awesome
This sneaker is the perfect gift because they can be dressed up or down and the light grey color is perfect for Spring! I love a guy in an elegant sneaker, what can I say.
An "experience" gift is perfect for the Dad who has everything! This beer flight holder is so fun– it would be a great idea to include a few cans of different local brews with the gift to get the party started!
This leather chair is so cool– the perfect masculine addition to an office or man cave, or even placed in the corner of a room as an accent chair! The best part is that it can be folded and stored.
Does the Dad in your life have everything already, including lots of watches? Gift him something to keep those babies safe! I love this stackable watch case.  The color is amazing, too.
Spoiler Alert: Daddy Kyle will be receiving this puppy for Father's Day! I totally swooned when I saw this– the perfect cooler to push out by the pool on days we entertain.  I can already imagine it filled with ice cold beers and Rosé.  Cheers to Father's Day!