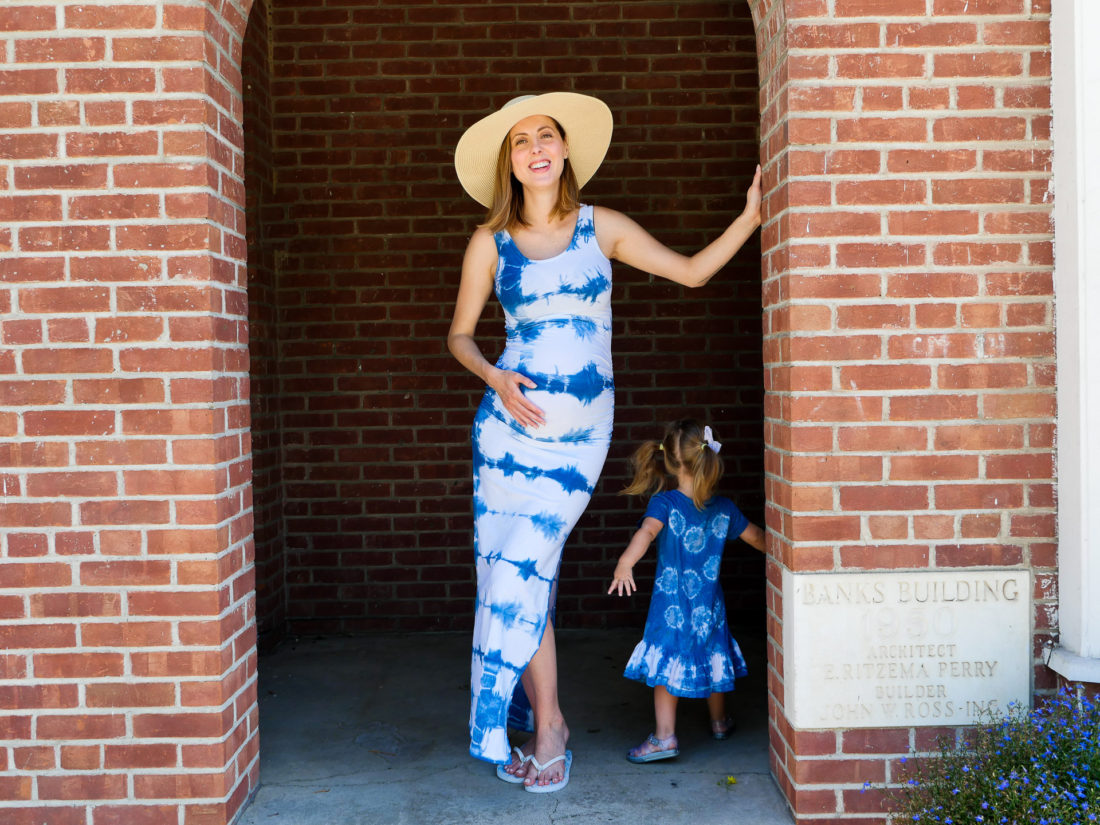 Shibori has my heart.  I've been obsessed with this dye technique for such a long time– on everything from napkins and tablecloths to bed linens and clothing.  I just find it to be the perfect mix of hippie-chic and effortlessly cool.  And the blue and white! Who doesn't love blue and white?! Anyway, I also always figured that making by own Shibori pieces was waaaaay out of my DIY league.  It looks so HARD.  Right? But recently I was in an adorably chic kids' shop and found a to-die-for Shibori dress for Marlowe…and then the price tag nearly made me faint.  Over a hundred bucks for a tiny cotton dress with a cool dye job?! Oh HELL NO! I was determined to make it myself, even just to prove that I could…and of course I had to make one for myself too…because TWINNING.
Turns out this technique really isn't that hard, and you can dye about thirty things in one sitting so you can really "Shibori your heart out."  I love that kind of bang for your buck! Plus, the end result looks so good that it's kind of fool proof.  Today I'm breaking down these DIY Shibori Dresses for you.  I think they're the perfect transitional dress for Fall and can be layered so nicely.  Let me know if you try it out– I'd love to hear about it!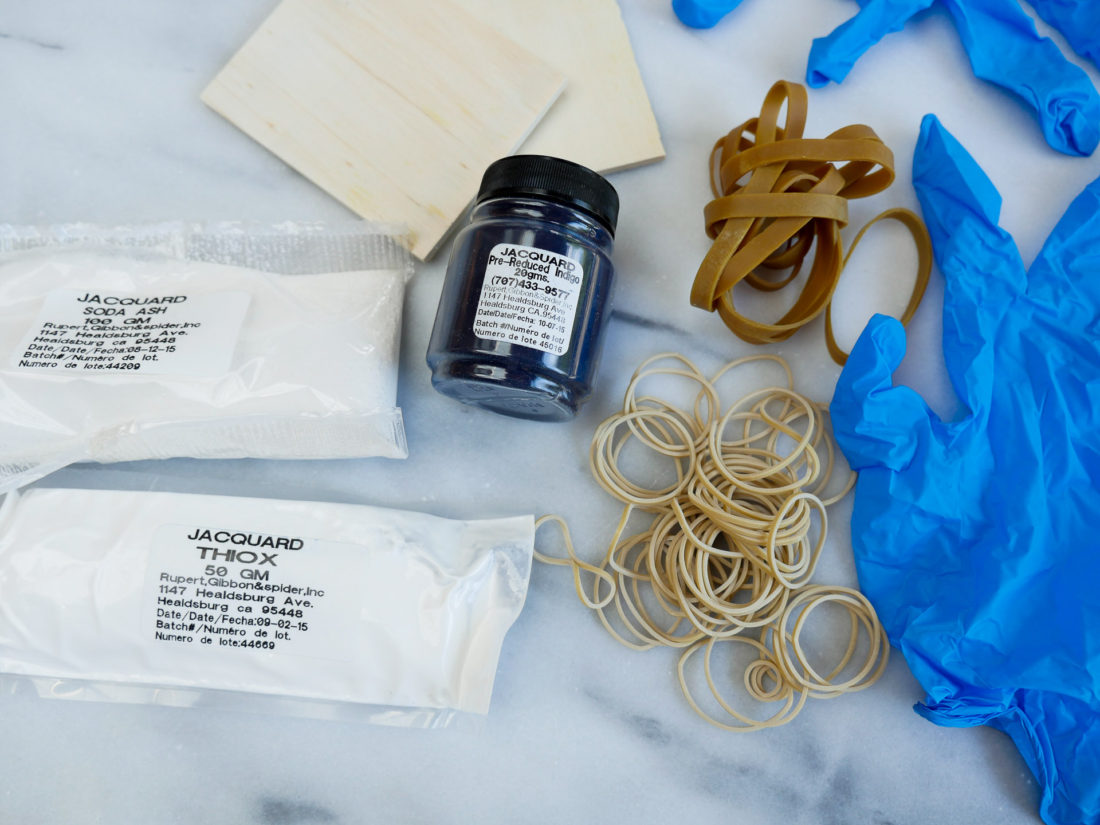 Materials…
1 Shibori Dye Kit (aka Indigo Dye Kit) NOTE: You will follow the directions in your own kit, since each unique kit has its own measurement of dye and thus its own necessary process.  Make sure to retain all directions and read them thoroughly before beginning your dye process
White Cotton dresses or materials.  NOTE: 1 vat of Shibori dye can dye lots of clothing, so experiment with some white napkins to try different binding techniques!
1 five gallon container or bucket
plastic gloves
1 disposable roasting pan (for holding bound fabric after dipping)
Plastic Drop Cloth
Mild detergent
long paint-mixing stick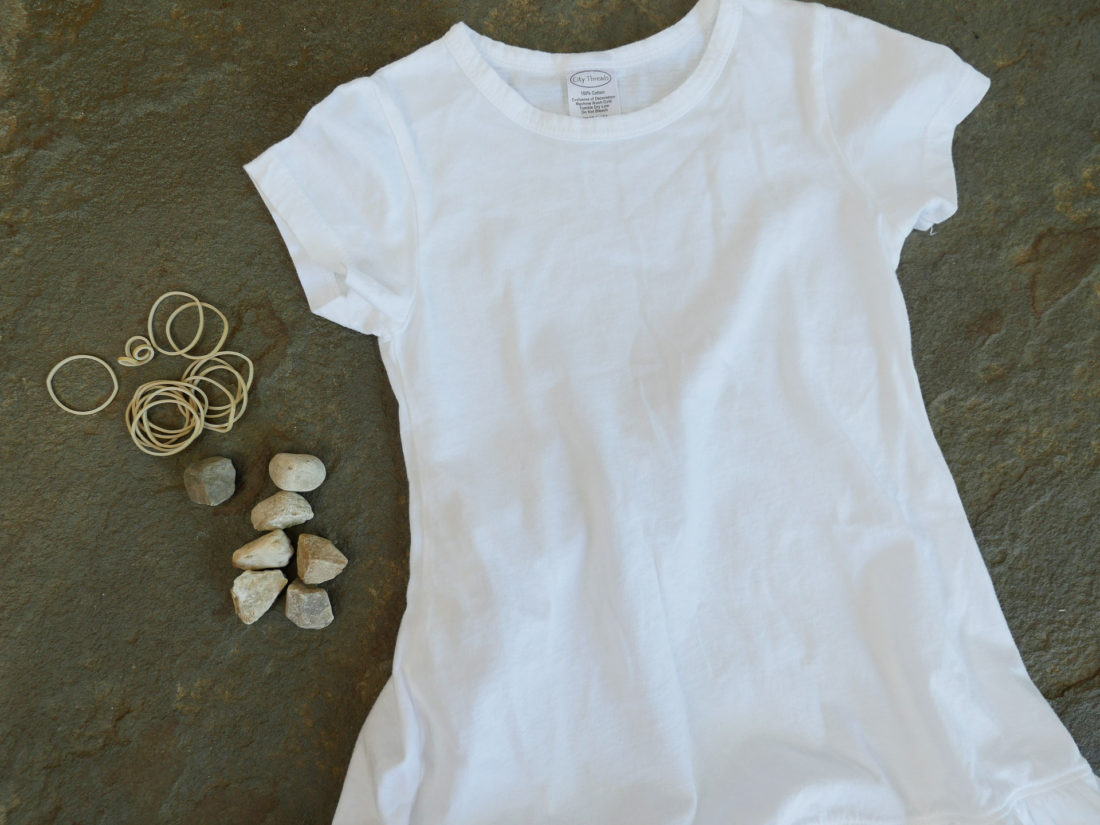 Directions…
Begin by setting up your work station.  Lay down a drop cloth outside or in a well ventilated area.  Prepare your dye bucket as per your box of dye's instructions. Put your disposable roasting pan beside the dye bucket, alongside your mixing stick.  Wear your disposable gloves (a MUST).  Now, bind your fabric.  There are tons of ways to do this (I mean, literally thousands) so it's really about experimentation and creativity!  I googled some methods.  I've included pics here of the techniques I used on our two dresses. After binding, wet your bundles of cloth very well with water and squeeze out the excess.  Now, dye as per your box instructions.  After oxidizing the dyed clothing in your roasting pan (this will all be in your instructions booklet), rinse out the fabric until water runs clear in the sink.  Unbind the fabric, and wash in warm water with mild detergent.  Tumble dry low.  Marvel at your creativity, and super chic Shibori fantasy!