The following content may contain affiliate links. When you click and shop the links, we receive a commission.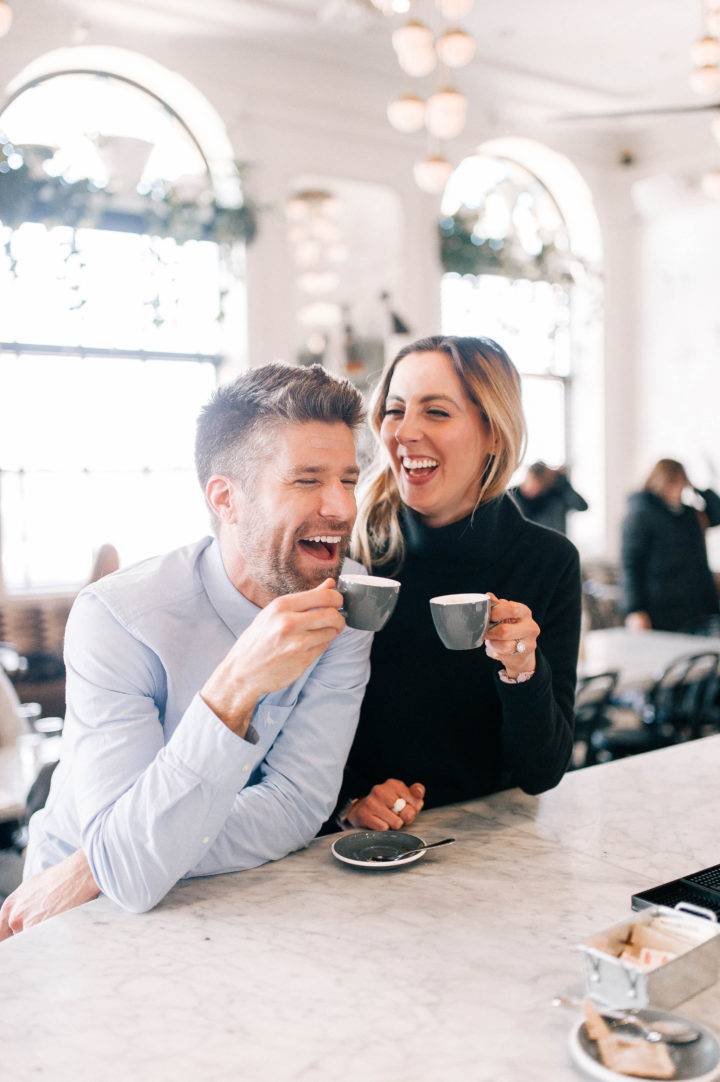 Marlowe and Major are my children, of course, but they are also parented equally by my lesser-seen but fabulous husband, Kyle! I've gotten so much interest from readers in how Kyle and I navigate the world of Parenthood together, and I thought it would be fun to start a new series on the blog where he and I can sit and discuss some parenting topics.  Welcome to the first installation of "Conversations With Kyle"! In this first one, we are tackling the concept of Fatherhood expectations.  I think Fatherhood has as many preconceived notions, culturally, that Motherhood does– and I was interested to hear Kyle's insights and opinions on this one.  Our entire conversation is below:
Eva: Before we had kids, did you have a preconceived notion of how you would be as a Dad? Did you ever think about Fatherhood, or what were some of your ideas surrounding that role at that time?
Kyle: It won't surprise you that I didn't have a ton of preconceived notions (laughs).

 

I think it really snuck up on me and surprised me– I didn't start really giving it a lot of thought until the first sonogram we did with Marlow that looked like an actual child.

 

I remember when we left the doctor's office that day I was kind of losing it, and it surprised you because you had obviously been thinking about it for so long and it was so real to you before it was to me.

 

And that was the first moment I started really thinking about the Dad I wanted to be…and I think I was overwhelmed by the reality that I was going to be a Father.

 

I didn't think really about the things I wanted to do– I was more overcome by the Dad I didn't want to be. 
Eva: Right! When you were a kid did you ever think about that? When did you think to yourself that you even wanted to be a Dad? Did you just assume that you would be a Dad one day?
Kyle:

 

I think I just assumed.

 

I think more it would be that I would have to think about NOT being a Dad.

 

I just expected it I guess.

 

I think what makes it hard– and I don't want to stereotype and say it's men, I'll just say it's me– I just lived in a very egocentric world and I didn't really open up to the idea of loving something and caring about something more than myself.

 

And having my first kid was the first time that that idea was not just a thought, but an actual feeling– it just happened to me that I felt that way.
Eva:

 

Leading in to that… I've always said that becoming a Mother is a revolutionary experience.

 

I feel like my life and how I looked at life just changed on a dime the minute Marlowe was born.

 

Did you feel that way? Or was that something that happened more gradually? How did that feel for you?
Kyle: Her birth was– and I mean I can't really describe because it's never happened to me before, and it's also never happened to me again.

 

Major's birth was different for some reason.

 

But in a weird way, it felt like my birth too.

 

It felt like I was starting a new life, and it felt very disjointing but euphoric.

 

There was a high for sure, and then there was a coming down off of that that was actually… confusing.

 

The first moment was so spectacular and high that the fog I went in to after that felt very incongruous– and I think it was just because I noticed the bond that you two were having, and I didn't feel like I was a part of that– from both of you in your own little world. And I think that I didn't want to interrupt that, and that was part of my more conscious thought…and then more of my subconscious feeling was feeling left out.
Eva: Yeah, I think that sometimes women don't understand that men can have a really visceral experience during birth that then sometimes doesn't feel like it has a place to land– do you know what I mean? Like how you were just saying that you know, afterwards we as Moms have a very culturally-understood role and place in the postpartum family.

 

But for men, that experience– it doesn't really have a space that is culturally understood to land and so maybe as a Dad it's possible to feel misunderstood and unmoored a bit trying to navigate those feelings and experiences.

 

It's not as talked-about.
Kyle: Well, and what's weird too– you know, Romantics talk about soulmates and Destiny and all these cosmic connections…it was weird to watch a soulmate encounter happen while you're in the room.

 

I watched you and Marlowe meet, and you guys were soulmates.

 

It was clear right from the start that your connection didn't start then– but it did for me.

 

I felt like I was late in a way, you know?
Eva: Do you think that that can add to the difficulty sometimes in transitioning in to Fatherhood for men? That there's all this joy but it also comes with feelings of isolation maybe? Like feeling a little bit lonely and not being able to really communicate that?
Kyle: Well I think what happens, too, is sometimes issues in a relationship that are either dormant or have become part of the norm– they metastasize and can become really harmful in those moments…because there's so much energy and there's a dynamic shift that you can't anticipate.

 

And I can't speak for men in general– but for me I think a lot of resentments or insecurities just magnified in those first few months after Lowie was born– because I just felt really insignificant and didn't feel like I had the same connection that I recognized between the two of you. I questioned if I was doing it wrong.
Eva: I definitely get that.

 

So, what's your favorite part about Fatherhood? If you had to distill it to one concept or dynamic what would you say?
Kyle:

 

I think the things I love the most are the forgiveness and the appreciation.

 

You know, kids forgive you if you aren't the most perfect person every day– and they appreciate the smallest things and details that we grownups could have missed.

 

And nothing beats coming home after work, and before they see me they hear my voice– and I can hear them yelling "Dad!" To be received that way, with that joy, constantly….I wish I could bottle that up.
Eva: So sweet.

 

So what was the transition from one to two kids like for you? How was that different that what you had anticipated?
Kyle: Well, we laughed about the fact that I felt parenting was hard for the first time…because I actually had to start parenting at that point… (laughs)
Eva: Mmmm hmmm…Like every single thing you were like "Why is this so hard? Newborns are so hard!" And I was like welcome to the club, buddy. (laughs).

 

I was like "It isn't this round that's hard! You're just here doing it for the first time." 
Kyle: Exactly.

 

Whoops. (laughs)

 

What was great about having two though was that I got to know Lowie a lot better– and we developed a much

 

stronger bond during the beginning of Major's life. I definitely think that was when I recognized how distant you and I had become, too.

 

With the first I think we did a really good job at recognizing the moments where our life had changed and distanced us and then put things in place– whether it be Date Nights or just cuddling on the couch watching a show– and with two kids those moments were much more sporadic and I think we didn't arrest that.
Eva: I agree with that! (laughs) So, how has Fatherhood been different as an experience or as a role than you imagined?
Kyle:

 

I think I've recognized the facade of being a parent.

 

As a kid you don't see your parents as scared, or without answers, you know? You see them as unflappable.

 

And that was the thing that I noticed– not only is it NOT easy, but there is no playbook, and you…
Eva: …and you never know if you're doing the right thing? (laughs)
Kyle: You NEVER know if you're doing the right thing (laughs). And I realized that sometimes with parenting it's about surrendering to the idea of imperfection. Because then not much scares you– when you're ok learning on the job.

 

I think that was the big surprise.

 

I'm still not the parent I'm going to be…it's a constantly evolving process and you're tweaking and testing…and there's just a lot of trial and error.

 

What's good is that it's in the most authentic moments, when you're not trying to be the perfect parent, that I think you make the strongest connections with your kids.
Eva:

 

Yeah, definitely.

 

So even in this "learning on the job", do you have any advice for new fathers? Things that either you wish somebody had told you, or that you wish you could have done differently?
Kyle:

 

With the first kid I would I could have known to take a back seat a little bit– and to understand that it's not about you…in a good way.

 

You can ride that first tough period by not retreating, but by actually leaning in to the discomfort of the transition and finding ways to help out.

 

I mean I remember looking at you breastfeeding and thinking "she is literally keeping this kid alive…and I've, like, changed a diaper".

 

You know? It's unusual for a father, I think, to take such a supporting role.

 

But you can really live in what's needed in that moment and not let it hurt you even if it makes you feel left out a bit. 
Eva: Right, like taking orders as opposed to giving orders. 
Kyle: Yeah.

 

And also not blaming yourself or thinking that there's something wrong with you if you don't have the connection your wife does with your kid right at the same time with the same intensity.

 

And remember that you're there to support two people.

 

You know, there are two people that are going through something and need you– and I think you can find a strength in knowing this is your time to show up for those people and be selfless….which I didn't do great at. (laughs)
Eva: (laughing) Yeah.

 

There was a learning curve in the Marlowe era for sure. (laughs) I was literally sitting here thinking "So…any regrets, Kyle?" Ha! I think people can relate to that, though.

 

That's why conversations like this are important.

 

People don't talk about it enough or know what to expect. 
Kyle:

 

I also regret trying to "be a good dad" right at the beginning.

 

You know what I mean? Like being frustrated at myself for not getting things right right at the start.

 

Being "right" shouldn't really come in to your thought process at the beginning.

 

I think finding your own new rhythm as a family, and listening to yourself is really important.

 

The hardest part about being a Dad is that it takes really good communication…
Eva: Do you mean with your partner or with your kids?
Kyle: Your partner, your kids, and yourself.

 

Really understanding yourself, too, and why you're feeling a certain way.

 

Getting to the root of that. Why am I finding this hard? What am I insecure about? Why am I getting frustrated? And then, understanding that every Dad is sitting there going through some version of that.

 

It's a collective experience. 
Eva: Thank you so much for sharing yours with me today!
Kyle: You're welcome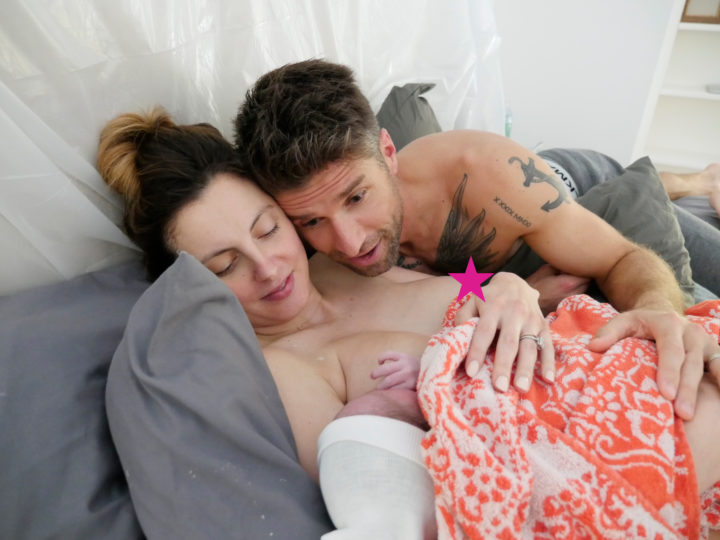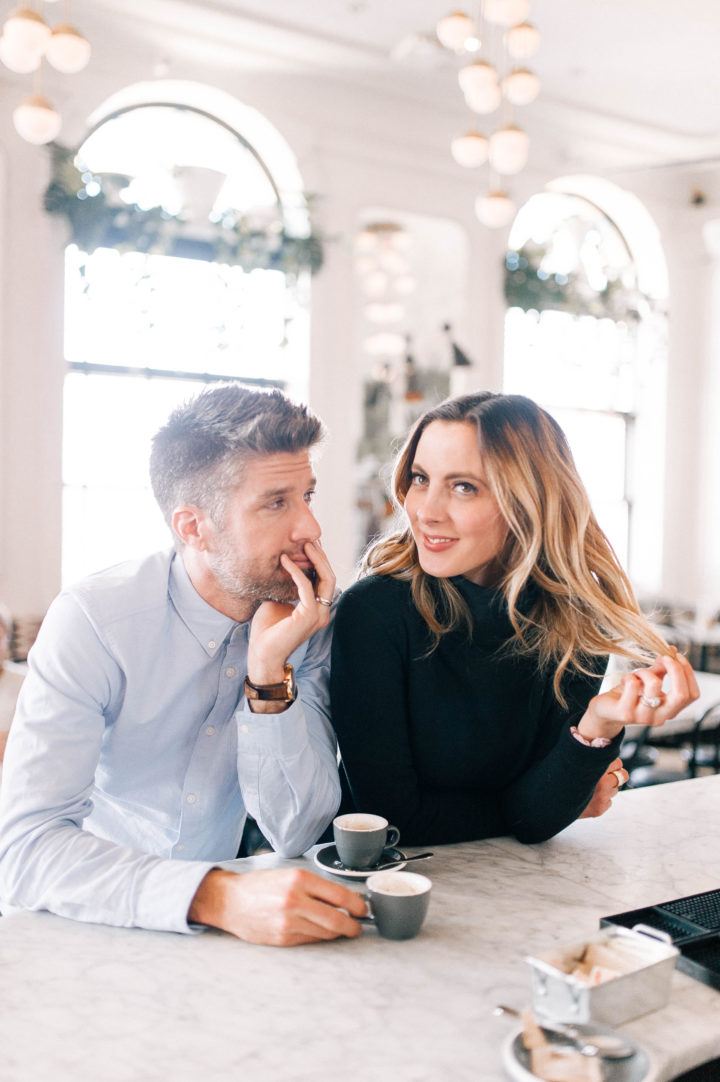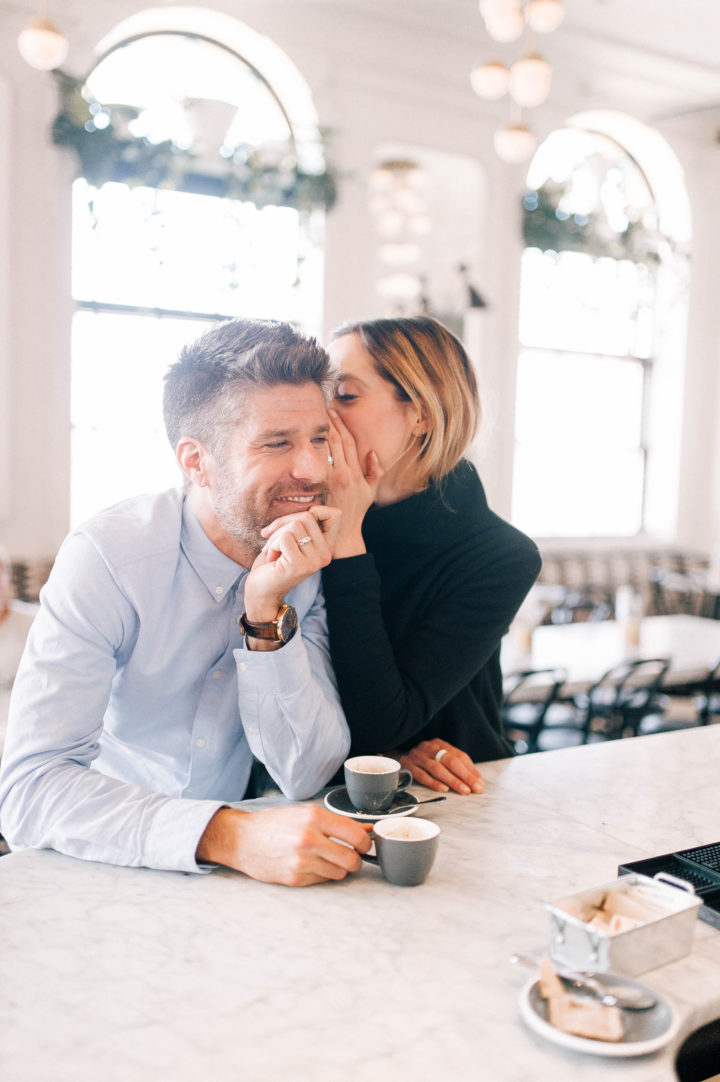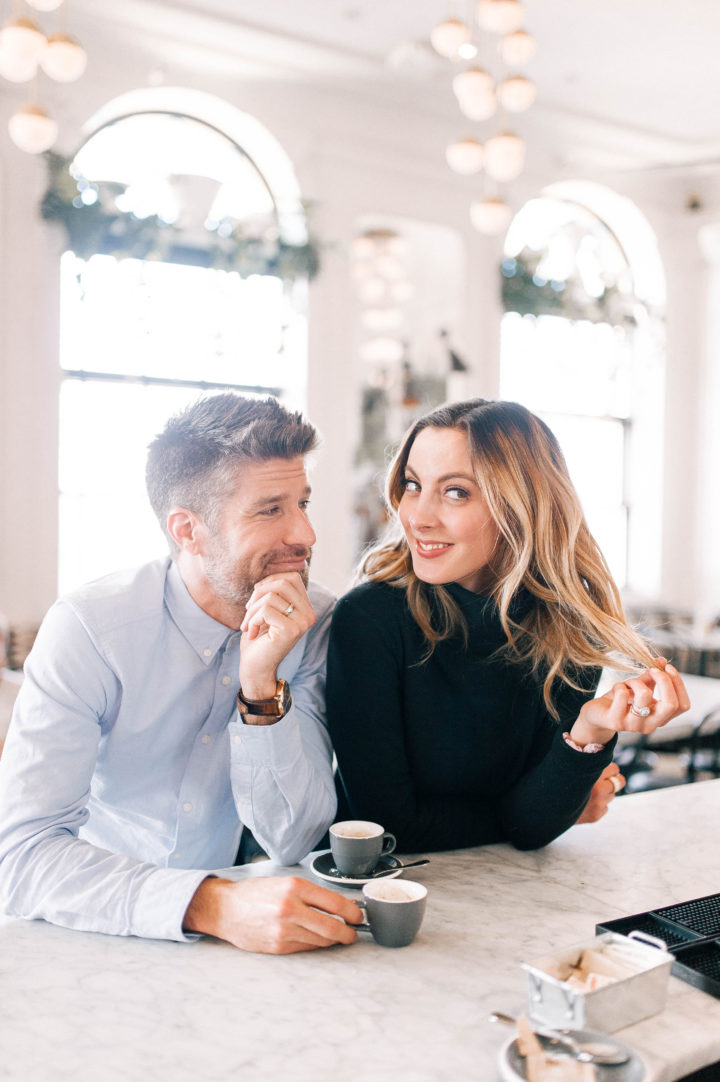 Photographs by Carter Fish