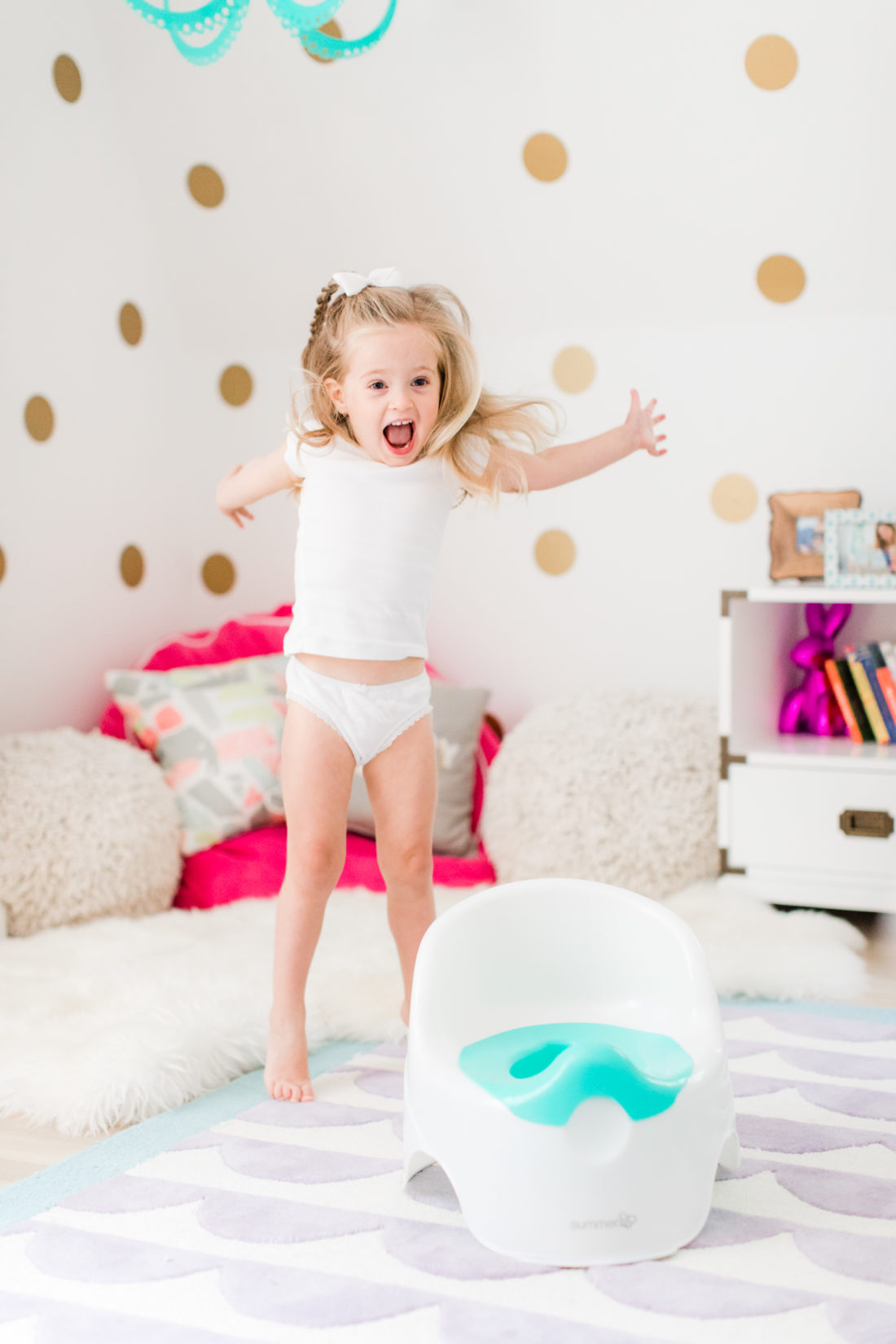 I'm very (extremely! overwhelmingly!) happy to report that our "Potty Training" days have coming to an end– meaning that Marlowe is Potty TRAINED! Hallelujah!!! We had a bit of a dramatic time gearing up for potty training, and the trenches of potty training were a definite overwhelming mess at times.  I mentioned in my Potty Files series that I would take Sleep Training over Potty Training any day of the week– and I still feel that way! It's been by far my most challenging parenting milestone.  I wanted to catch you all up on our last Potty Training chapter, and how we transitioned fully out of diapers.  Marlowe is now Night Trained as well (No Pull-up)! I will also remind you that I used THIS BOOK for training and totally love it! I highly recommend following it as closely as possible.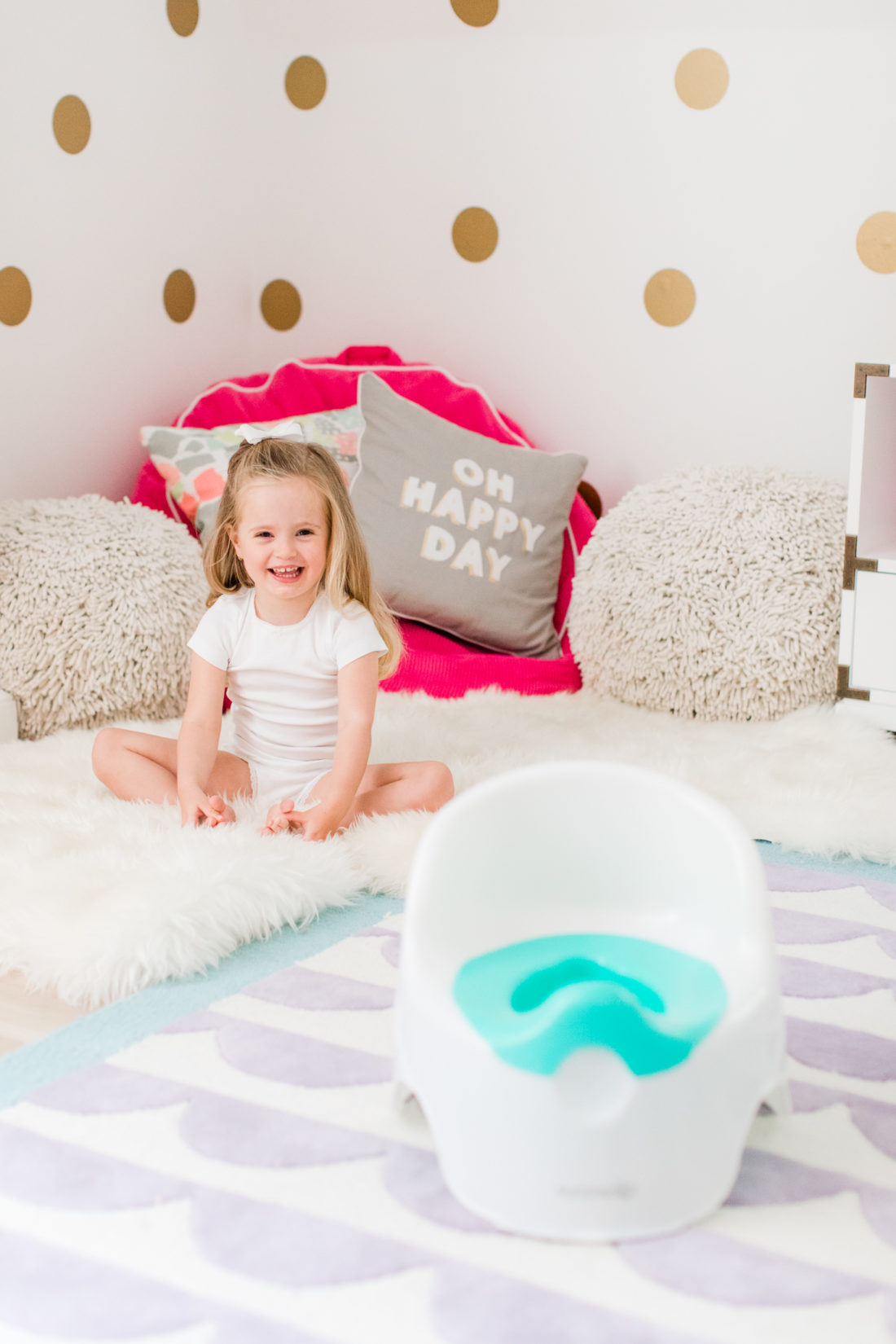 When I left off last, potty training was going pretty well at home and at school– except for the fact that Marlowe would NOT poop at school.  Kyle was referring to her as "Shit Break" behind her back, à la American Pie.  Let's take a moment to give my husband a few golf claps for that stellar movie reference. She would wait until she got home and poop on the little potty. It was a quick fix, but obviously not sustainable.  Well, the day after I published that Potty Files edition, she suddenly started pooping at school! It's as if she knew we were secretly calling her Shit Break behind her back and wanted to show us up! I arrived at school one day to pick her up, and they casually mentioned that she pooped on the potty.  I celebrated as if we had won the Superbowl.  From then on, pooping came as easily to her as pee on the potty, and things really started progressing.  Soon we were at the point where she would be in the middle of playing, and she would put her toy down, come over to us, and tell us she needed to use the potty.  Then it progressed to her just going and using the potty all by herself without even needing help! There was probably a week in between all these stages.  I got a step stool for the bathroom so that she could be a bit more independent.  She was peeing well in the "big" potty but still preferred to poop in the small one.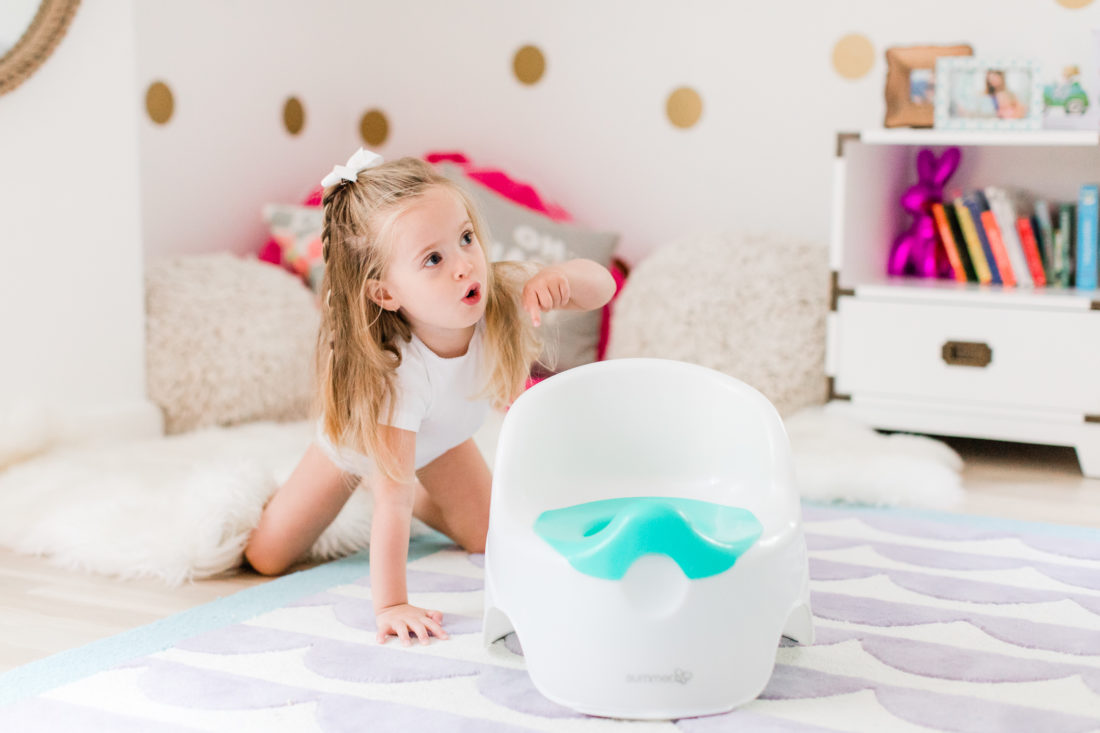 A few times I got cocky and forgot to remind her to pee before we left the house or something and she ended up having a little accident.  She wouldn't pee all the way, though, just kind of wet her pants and then look worried and say "Ummmm! I have to use the potty, Mom!!!" I would rush her to a bathroom and she would empty her bladder in to the toilet.  Aaaand then of course I felt like a giant jerk for forgetting to remind her about the potty because obviously I'm the parent in charge– and I should remember I'm dealing with a two year old and not a twenty two year old.  Whoops. Sorry, Marlowe!!! This piddle pad, and this portable potty, also saved the day a couple of times for last-minute potty needs while in the car.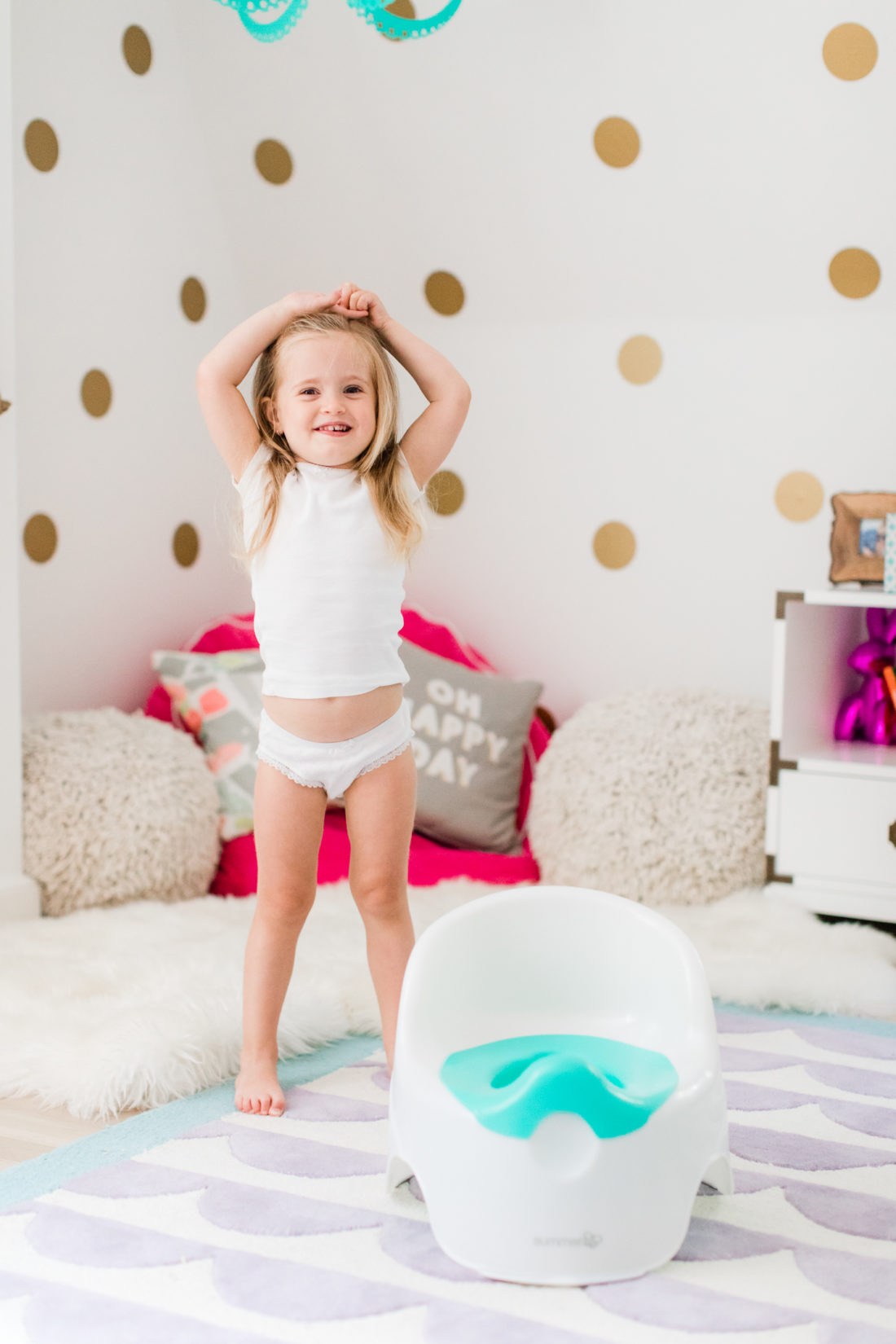 Night training was a different story, though. I kept putting a pull up on her at naps and at night time even though she was doing great with the potty.  I just figured it would be a huge nightmare to change the sheets in the middle of the night, and no nightmare at all to casually slip a pull up on her when she slept.  Then in the morning when she woke up, we would take her to use the potty immediately. After a couple weeks of waking up dry in the mornings, I started realizing that maybe I was giving her mixed messages.  By day, I was telling her "You're a big girl! You have to be responsible for putting your pee and poop in the potty!" and then at night I was basically telling her "You're a baby! Here's your diaper!" So one night I had a little conversation with her in the morning when we were changing her out of her (dry) pull-up.  I said, "Hey Lowie, you're doing great at not wetting your diaper at night time.  Do you think you still need to have this diaper at night? I think you're big enough now that we can take it away." She kind of looked at me, thinking, and then said, "Yeah, I'm pretty much done with this diaper." (LOL).  That night, I put a little potty in the corner of her room: "Marlowe, here's your potty.  If you wake up in the night and need to go pee or poop, or if you have to go pee or poop when you wake up in the morning, just go in here– and Mommy will dump it out in the morning.  DON'T dump it out yourself, please!" (This was secretly my nightmare: that she would be half awake at 3am and try to dump her pee out in the toilet and I'd end up with a urine flood in my hallway)
The first night we tried it out, I only slept like two hours– I was convinced I would be woken up in the night by a urine soaked toddler. But when she shuffled in to our bedroom at 7:30 the next morning, I rushed out of bed to bring her to the potty for her morning pee– and she very nonchalantly told me that she already went in her potty in her room.  Well, then! Sorry I didn't realize what a grown up you were! LOL. It's been like that every day since (about a month later)– and still no night accidents! I do have her pee in the potty right before she gets in bed, but then I allow her to pee at her own pace during the night and in the morning.  As far as she's told me she only pees in the morning right when she wakes up.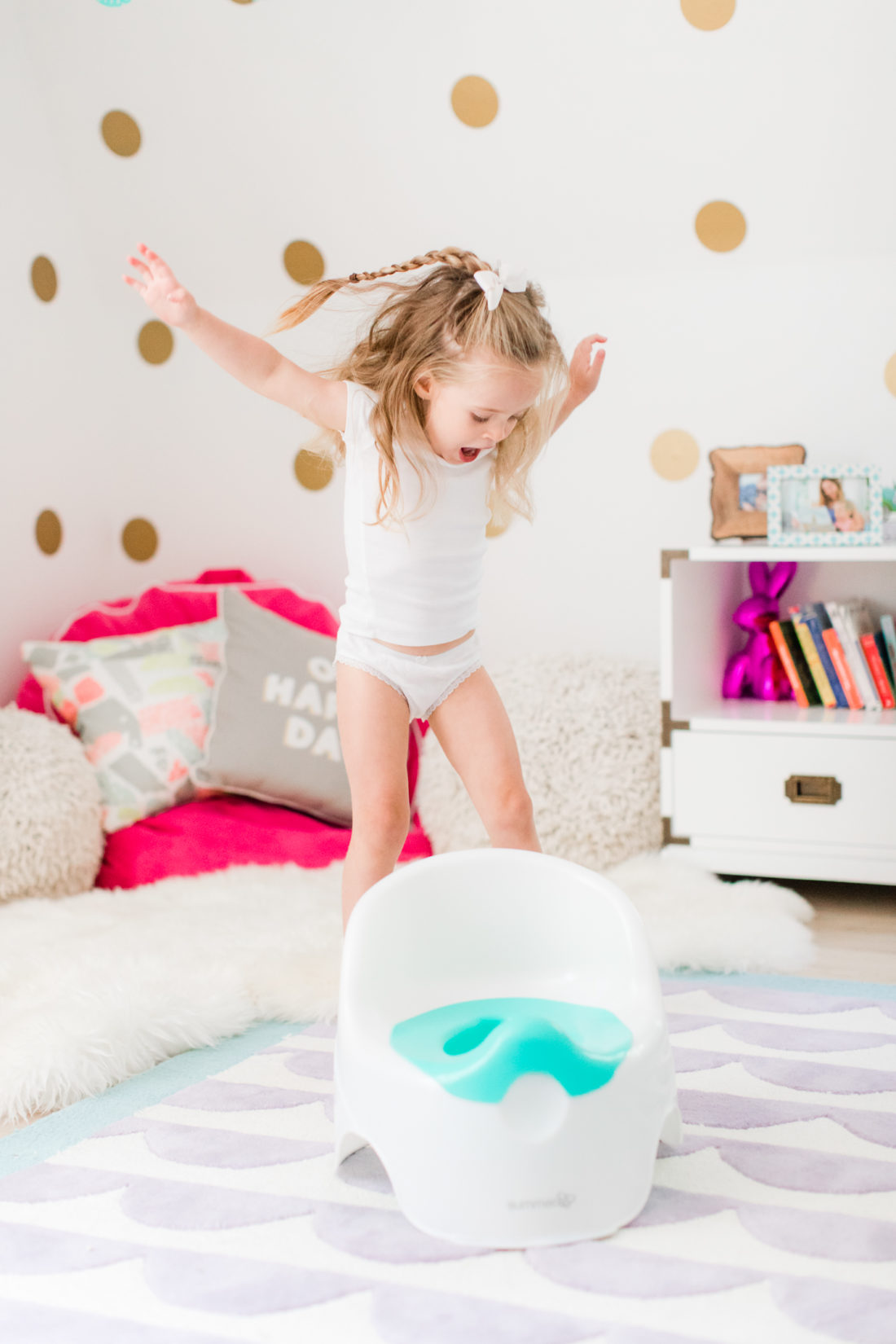 Sooooo….we're officially done!  I'm so proud of Marlowe for accomplishing this huge milestone, and pretty impressed that we made it through.  If you had asked me on nightmareish day two or three of Potty Training if my kid would be totally trained just a couple months later, I would have told you NO WAY.  It really taught me that being present in the moment during these transitional milestones with kids is time much better spent than worrying about the future.  Once we got over one or two humps it was smooth sailing! The experience also definitely taught Marlowe and I how to communicate better with one another.  I had to respect and trust in her– and she had to allow me to guide her along and teach her a new skill.  We have both come out of it feeling very proud of ourselves! LOL.
How was your "finishing touches" period with Potty Training your children? Please share in the Comments below!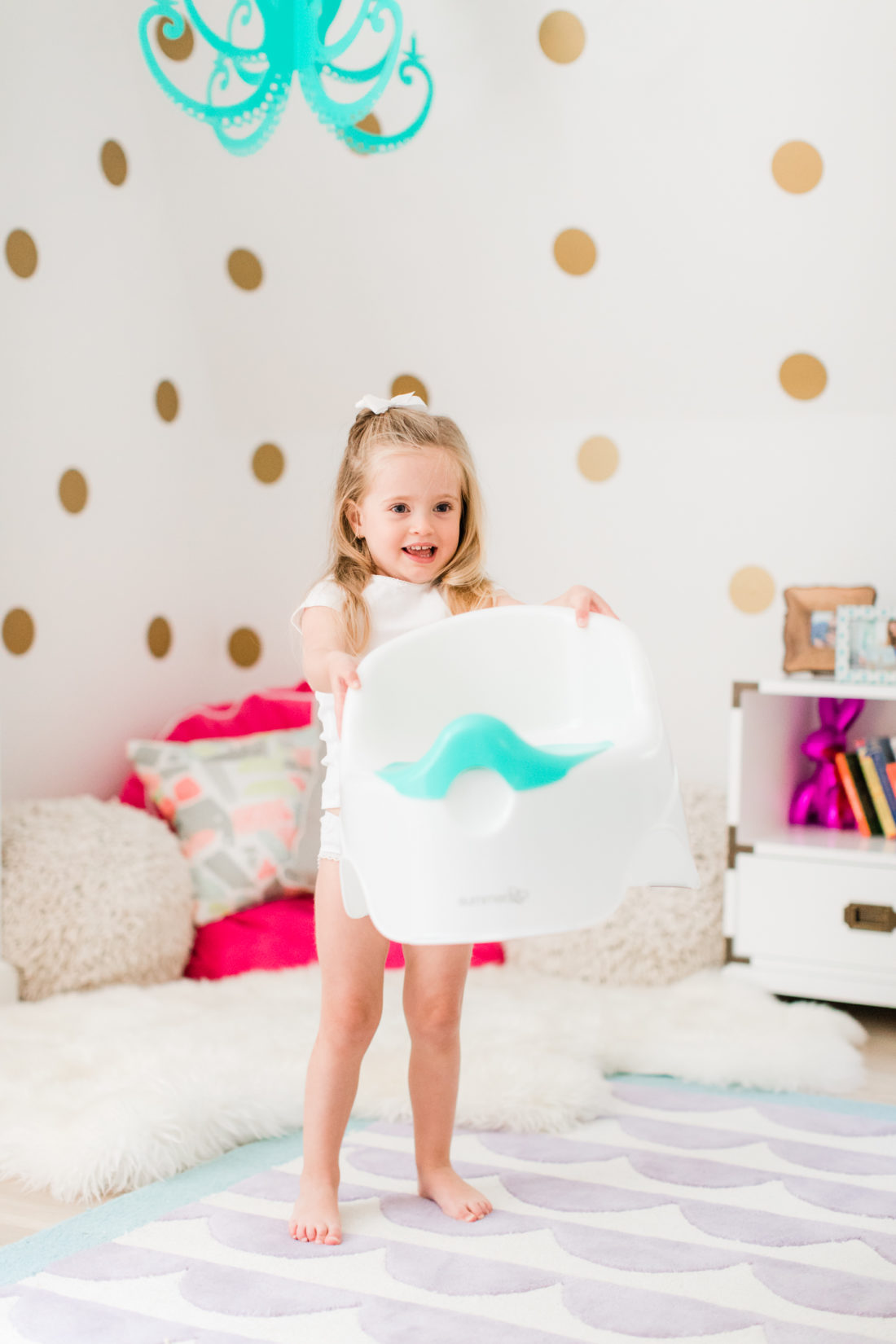 Photographs by Courtney Ann Photography
Save
Save
Save